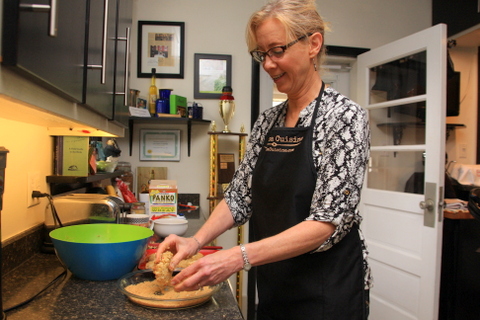 Rustic Cooking Refined: Iowan Robin Qualy Embraces Global Flavors
Call her a fusion of culinary creativity. While Robin Qualy has a strong German heritage, she loves Italian flavors. Although she didn't care for home ec (now family and consumer sciences) classes during her school years in Lytton, Iowa, this self-taught cook loves to experiment in the kitchen. Most of all, she's proud of her farm roots but takes a distinctly non-traditional approach to Iowa cooking.
It all started with a magnum of French champagne. "It was a gift from a client in Europe," said Qualy, a court reporter who lives in Lake City, Iowa. "It sounded fun to have a crab fest with the champagne, so we did."
The event evolved into a seafood fest with everything from clam chowder to crab cakes with remoulade (pronounced "rem-oo-laud") sauce. "Finding Emeril Lagasse's remoulade sauce recipe was a breakthrough," Qualy said. "While it had 18 ingredients, it showed me why chefs' food tastes so good, because everything is built up from all those layers of ingredients."
This also inspired Qualy's passion for showcasing global flavors. One of her favorite cookbooks is Marcella Hazan's "Marcella Cucina," which is filled with Italian recipes and interesting stories. Some of Qualy's creations, including Pain D'Epi, a wheat-stalk bread inspired by French baguettes, can take on a variety of flavors, from Italian to Greek. This offers her customers options if Qualy happens to be selling her baked goods at the Lake City Farmers Market or the Clear Lake Farmers Market.
Qualy's goal for this winter? Learn to prepare sushi. Through her part-time business, La Casa Cuisine, where she serves as an in-home guest chef, Qualy also enjoys sharing her best cooking tips, which include "reduce, reduce, reduce" to remove excess moisture and concentrate the flavors in sauces, "fresh, fresh, fresh" for everything from herbs to coffee beans, and "healthify" recipes by using more whole grains and vegetables, less sugar and healthier oils like olive oil.
By adding plenty of vegetables, Qualy "healthified" her chili recipe and took top honors in the 2016 Dell Blair Memorial Chili Cook-Off at Lake City's fall festival this September. "This contest has been around for a number of years, so I knew I needed to offer something unique," said Qualy, a first-time competitor. "Since there was no meat in the recipe, I used chipotle peppers in adobo sauce to add a hearty, smoky, spicy base."
Sharing her culinary creations with friends and family is important to Qualy, who credits her mother, Marlene Glasnapp of Lytton, for inspiring a love of family, food, cooking and baking. Qualy's advice to other home cooks? "Keep learning, and have fun refining your culinary techniques. Cooking is a skill you can use all your life."
Savor more Iowa food history
Want more fun Iowa food stories and recipes? Check out my top-selling "Culinary History of Iowa" book from The History Press, and order your signed copy today.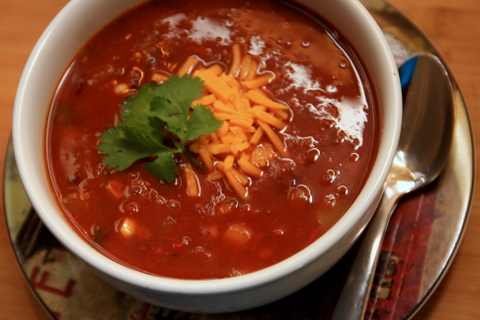 Championship Veggie Chili
Robin Qualy's unique chili won top honors in the 2016 Dell Blair Memorial Chili Cook-Off in Lake City this fall.
2 tablespoons canola oil
1 cup onion, diced
2 cups zucchini with skin, diced
1 / 2 cup red peppers, diced
1 / 2 cup yellow peppers, diced
1 / 2 cup orange pepper, diced
1 / 4 cup poblano or jalapeno pepper, diced (to taste)
2 teaspoons fresh garlic, minced
1/2 teaspoons salt
1/2 teaspoons black pepper
1 tablespoons cumin
2 tablespoons chili powder (to taste)
1 tablespoons sugar
1 box (32 ounces) unsalted vegetable stock (Qualy recommends the Kitchen Basics brand)
28-ounce can crushed tomatoes
28-ounce can garlic-celery-onion stewed tomatoes, diced or mashed
1 can green chilis, diced
2 tablespoons chipotle peppers in adobo sauce, diced
2 ears of sweet corn cut off cob, or 1 cup frozen corn, thawed
14-ounce can each white kidney, red kidney, and black beans – drained, rinsed, and mashed with potato masher
14-ounce can each white kidney, red kidney and black beans – drained and rinsed
In large pot, heat oil over medium heat. Add the onion and zucchini, cook about 5 min., then add peppers and garlic. Cook 5 more minutes. Add salt, pepper, cumin, chili powder and sugar. Cook until onion is translucent and zucchini is soft.
Pour in vegetable stock, crushed tomatoes, stewed tomatoes, green chilis and chipotle peppers in adobo sauce. Bring to boil, then reduce heat. Cover and simmer for 30 minutes. Add sweet corn, mashed beans and whole beans. Stir well; simmer another 30 minutes. Taste and adjust seasoning. Serve with shredded extra-sharp cheddar, snipped cilantro and blue corn chips.  Ole!  Ole!  Ole! Yield: 1 gallon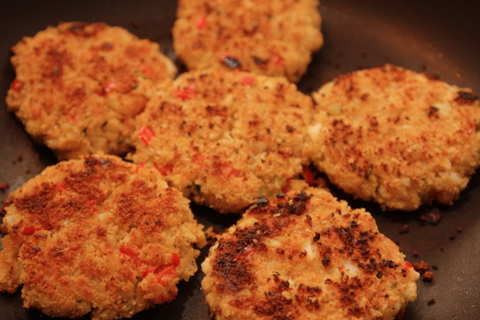 Crab Cakes with Remoulade Sauce
For the crab cakes:
2.5 cups crushed dry bread crumbs
3 6-ounce cans crab meat
1 / 3 cup salad dressing, Miracle Whip or mayo
1 / 2 cup red pepper, diced
2 stalks celery, diced
1 / 3 cup onion, diced
4 shakes of Louisiana hot pepper sauce (to taste)
2 teaspoons Old Bay seasoning
1.5 tablespoons lemon pepper seasoning
1 / 2 teaspoon salt
1 / 2 teaspoon black pepper
2 eggs
2 cups panko bread crumbs
Canola oil to generously coat surface of non-stick skillet
Combine bread crumbs, crab meat, salad dressing, red pepper, celery, onion, hot pepper sauce, Old Bay seasoning, lemon pepper, salt and black pepper. Taste test and adjust seasonings, as desired.
Add 2 eggs, lightly beaten. Form mixture into 10 2.5-inch patties. Firmly coat each crab cake with panko crumbs in pie plate. Heat canola oil until medium hot.  Patties should sizzle when touching oil. Fry five patties at a time, 5 minutes per side, or until dark brown.  Keep warm until serving with remoulade sauce on the side. Yield: 10 crab cakes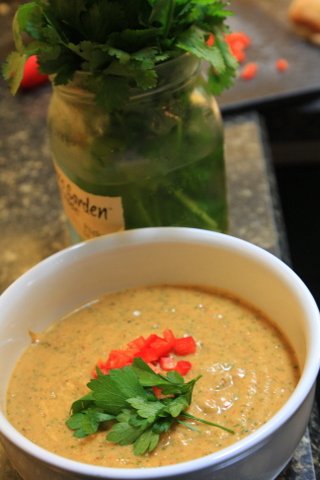 Remoulade sauce
1 cup salad dressing or Miracle Whip
1 / 4 cup ketchup
2 tablespoons extra virgin olive oil
2 tablespoons whole-grain mustard (such as whole-grain Dijon)
2 tablespoons horseradish
1 tablespoon Louisiana hot sauce
2 tablespoon lemon juice
2 tablespoons Worcestershire sauce
1 / 4 cup scallions (or regular onions), diced
1 / 3 cup celery, diced
1 / 2 teaspoon fresh garlic, minced
2 tablespoons fresh parsley, chopped
1 teaspoon Cajun seasoning
1 teaspoon Old Bay seasoning
1 teaspoon dill weed
1 / 2 teaspoon black pepper
2 teaspoons brown sugar
Blend all ingredients, using a blender or food processor with S-shaped chopping/blending blade. Pour into bowl, cover and refrigerate.  Best when served at room temperature. Laissez les bons temps rouler!  (Let the good times roll!)
Beef Asian Stir Fry
Brown sugar is a secret ingredient in this flavorful stir fry.
 1 pound lean steak (charcoal steak is a good option), sliced thinly against the grain into 2-inch-long strips
1 / 3 cup teriyaki sauce (liquid)
2 tablespoons canola oil for stir-frying
2 cups carrots, sliced
1 / 2 cup red peppers, sliced
8 ounces baby bella (cremini) mushrooms (one box), sliced
1 / 3 cup onion, sliced fairly big
1 / 2 of a fresh jalapeno pepper, seeded and deveined, small dice
8 ounces pea pods (can also substitute fresh green beans or broccoli florets)
1 8-ounce can bamboo shoots
1 8-ounce can water chestnuts, sliced
1 can baby corn
1 / 2 teaspoon fresh garlic, minced
1 / 2 teaspoon fresh ginger, grated (keep fresh ginger in freezer)
1 beef & broccoli seasoning packet (usually found near the gravy mixes in the grocery store)
1 cup water
6 tablespoons low-sodium soy sauce
1 / 2 cup teriyaki baste & glaze (thick consistency)
1 tablespoon cornstarch
2 tablespoons brown sugar
Red pepper flakes, as desired, for heat
Chopped cilantro, as desired, for flavor
8 ounces spaghetti, cooked and drained, or cooked rice
Marinate sliced beef in teriyaki sauce for 30 minutes to 1 hour. Heat oil in wok or large skillet to medium high. Add beef and stir-fry until almost fully cooked.  Remove and set aside.Add more oil if needed. Stir-fry carrots, red peppers, mushrooms, onion, jalapeno, pea pods, bamboo shoots, water chestnuts and baby corn until crisp-tender. Do not overcook the vegetables.
Note: if fresh green beans are substituted for pea pods, slice the beans on the diagonal. If using broccoli, do not add until the very end. Microwave broccoli until crisp-tender. Using the microwave method allows you to control the broccoli doneness, and keeps it bright green.
Add garlic and ginger, and stir-fry another minute.
In a separate bowl, whisk the contents of the beef & broccoli packet, water, soy sauce, teriyaki thick sauce, cornstarch and brown sugar until combined; add to hot wok mixture. Add beef.  Cook until hot and bubbling.
If using spaghetti, stir in drained spaghetti and combine. If using rice, do not combine with stir-fry mixture, but serve separately. Taste and adjust seasonings and heat.  Use red pepper flakes or jarred jalapeno juice to increase heat.  Top with cilantro, if desired. Serves 4.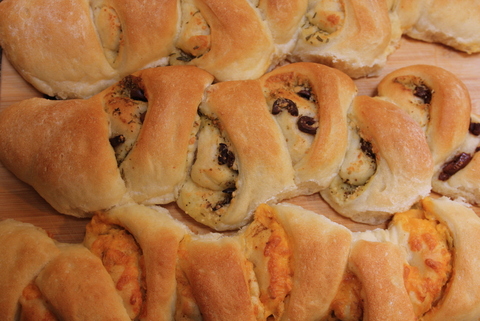 Pain D'Epi—Wheat Stalk Bread
This French-style bread can take on a variety of flavors, depending on the ingredients you add. Break off bite-sized pieces during the meal, and freeze the leftovers.

Prepare baguette dough:
1.5 cups warm water
1.5 tablespoons granulated sugar
1.5 tablespoons olive oil
4 cups bread flour
1 teaspoon kosher salt
2 teaspoons fast-rise (bread machine) yeast
Add ingredients to bread machine; let the machine handle the mixing and first rise.
 Spray countertop with cooking oil spray. Take dough out of bread machine and place on counter. Let dough rest 15 min. Divide into three portions.
Greek Pain D'Epi
2 teaspoons olive oil
1 teaspoon Greek seasoning (Cavender's is a good option)
8 Greek olives (Kalamata olives), sliced
2 tablespoons dry Parmesan cheese
Italian Pain D'Epi
2 teaspoons olive oil
One 6-inch length of fresh rosemary stripped and chopped (or 2 teaspoons dried rosemary)
2 tablespoons dry Parmesan cheese
Roll dough out with rolling pin to 14-inch by 5-inch shape. Pour on olive oil, sprinkle on other ingredients to make either the Greek or Italian Pain D'Epi. (Recipe yields three loaves.)
Roll up dough so it's 14 inches wide. Pinch to seal. Place dough on parchment-lined 11-inch by 17-inch cookie sheet (up to three bread loaves fit per cookie sheet). Using kitchen shears, make six cuts at a 45-degree angle to within half an inch of bottom of dough. Position each cut dough section in the opposite direction, keeping bottom of dough intact.
Cover with flour-sack cloth, or spray plastic wrap with cooking oil spray and cover. Let dough rise 45 minutes. Place pan in middle of preheated 425-degree oven. Mist inside of oven with water to create steam. Bake for 17 to 23 minutes, or until lightly browned.  Serve warm with olive oil for dipping.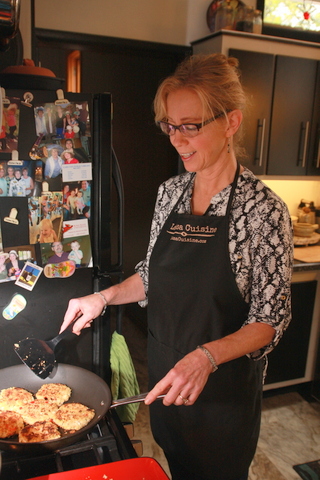 Chicken Piccata
3 tablespoons extra virgin olive oil
2 boneless, skinless chicken breasts, butterflied and pounded to approximately one-quarter inch thickness
Salt and pepper, to taste
Lemon & Butter Cream Sauce for Chicken Piccata
4 tablespoons butter
3 tablespoons shallots, minced
1 pound baby bella (cremini) mushrooms, sliced
1 / 3 cup white wine (Chardonnay is a good option)
1 tablespoon capers
1 / 4 cup lemon juice
1.5 tablespoons cornstarch
1 14-ounce can chicken broth or stock
3 / 4 cup heavy cream or half-and-half
Salt and pepper, to taste
1 pound angel hair pasta, cooked, drained and buttered
Parmesan or asiago cheese
Heat a generous amount of oil in large skillet over medium heat. Salt and pepper the chicken; sauté for approximately three minutes per side. Set cooked chicken aside, covered in foil, on baking sheet in 275-degree oven.  Continue sautéing all the chicken and place in oven.
Add butter to drippings in the skillet. Sauté shallots and mushrooms 5 to 7 minutes until browned. Increase heat and add wine, boiling 2 minutes to reduce the liquid.  Add capers and lemon juice; simmer two minutes. Dissolve cornstarch in chicken broth and add to pan. Boil mixture down for two to three minutes. Reduce heat and whisk in cream. Simmer until sauce thickens slightly.
Place chicken on pasta and ladle sauce over half the plate, top with Parmesan or asiago cheese.
Serves 4.
This article first appeared in Farm News, Oct. 2016 
P.S. Thanks for joining me. I'm glad you're here. 
@Copyright 2016 Darcy Maulsby & Co.