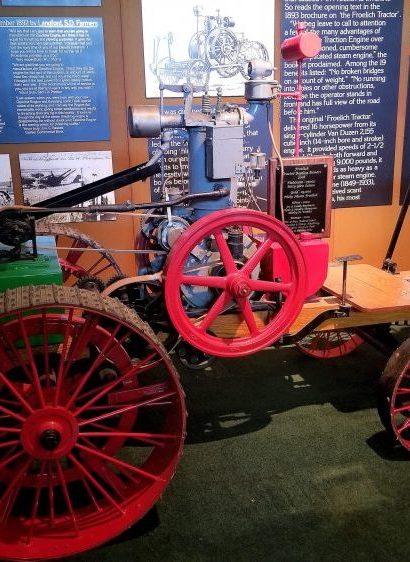 Machines that Changed America: John Froelich Invents the First Tractor in Iowa
Today, it's hard to imagine a cornfield without a tractor in the picture. I was thinking about tractor history when The History Channel featured "The Machines That Built America." I was glad to see they included the story of John Froelich, which I featured in my 2020 book Iowa Agriculture: A History of Farming, Family and Food.

Here's an excerpt:
Back in 1892 in the tiny village of Froelich in Clayton County, Iowa, however, folks were amused by what a local businessman, John Froelich, was saying.

This northeast Iowa entrepreneur (1849 -1933) believed that mechanical power had a great future—that someday traction engines would do the work of horses even on mid-sized and large farms. The locals had to admit, though, that Froelich had invented several handy gadgets, including a more efficient washing machine, plus he was a good businessman.

Froelich ran a grain elevator, plus he ran a well-digging business and operated a threshing rig. Every year he took a crew of men to Langford, South Dakota, to work the fields. Froelich had considerable experience with steam engines and knew their pitfalls. They were heavy and bulky. They were hard to maneuver. They were always threatening to set fire to the grain and stubble fields. On the flat prairie, with a strong wind blowing, that was no joke.

A frustrated Froelich decided he could invent a better way to power the engine. The solution was gasoline. Froelich and local blacksmith Will Mann came up a vertical, one-cylinder engine mounted on the running gear of a steam traction engine – a hybrid of their own making. They designed many new parts to make it all fit together, but it finally was done. The word "tractor" wasn't used in those days, but that's what Froelich invented.
A few weeks later Froelich and his crew started for the broad fields of South Dakota with the "tractor" and a new threshing machine. That fall they threshed 72,000 bushels of small grain. It was a success!

Later that fall, Froelich shipped his "tractor" to Waterloo, Iowa, to show some businessmen. Immediately, the men formed a company to manufacture the "Froelich Tractor." They named the company The Waterloo Gasoline Traction Engine Company and made Froelich the president.

Unfortunately, efforts to sell the practical, gasoline-powered tractor failed. Two were sold and shortly returned. The company then decided to manufacture stationary gas engines to provide income while tractor experiments continued, according to the Froelich Museum.

In 1895, the Waterloo Gasoline Engine Company was incorporated, but Froelich, whose interest was in tractors, not stationary engines, chose to withdraw from the company. The Waterloo Company continued to build stationary engines while trying to improve the tractor. In 1913 the model "L-A" was made.

In 1914, the first Waterloo Boy tractor, the Model "R" single-speed tractor, was introduced. Farmers liked it, and sales reached 118 within a year. When the Model "N" Waterloo Boy with two forward speeds was introduced, it was also successful.

When World War I led to rising farm prices and strong demand for dependable mechanical farm power, the concept of the tractor became so popular many tractor manufacturers sprung up in a matter of months. Deere and Company in Moline, Illinois, which manufactured a full line of John Deere implements, had been watching the progress of the Waterloo Engine Company and the increasing quality of its products.

Deere was looking for an established farm tractor to round out its line, and the Waterloo Engine Company fit the bill. Today, Deere's facility in Waterloo remains one of the largest tractor-producing plants in the nation.

Tractors of various types and sizes that make farming easier and more efficient are shipped to farmers all over the world. For this contribution, John Froelich will long be remembered, and the village of Froelich, Iowa, remains "Tractor Town U.S.A."

Tractor enthusiasts from around the globe travel to this tiny village to visit the birthplace of the tractor. At the 1891 general store, guests can view a scale model of the first "Froelich Tractor" made from the original blueprints. Perhaps the monument erected in 1939 near the general store best captures the essence of this unique place.

"In this village, John Froelich built the first gasoline tractor that propelled itself backwards as well as forward. Far-reaching in its effect on modern agricultural history, it moved out of this village and into the world in 1892. Later that year, Mr. Froelich joined with others in organizing the Waterloo Gasoline Traction Engine Company, which later became the John Deere Tractor Company."

Meeting the challenge of a reliable, durable tractor
This history took center stage at the 2018 Iowa State Fair in Des Moines, when a butter sculpture of the Waterloo Boy Tractor stood next to the world-famous Butter Cow in the John Deere Agriculture Building's 40-degree cooler throughout the fair, which ran from August 9-19.

To understand the significance of the Waterloo Boy, take a trip back in time, said Neil Dahlstrom, manager of the John Deere Archives and History. In the critical five-year stretch (1912-1917) prior to John Deere entering the tractor business, there were two key issues to address.

"First, what did farmers really want from a machine that would soon make the horse obsolete?" said Dahlstrom, who noted that salesmen, territory and branch managers, and Deere's top leadership scoured the country to understand what customers desired. Also, how could the equipment to be manufactured to be durable enough to stand up to daily farm use?

Deere had considered every imaginable idea. The company had developed one-, two- and four-cylinder concept tractors. Some ran on gasoline. Others ran on kerosene. Some had all-wheel drive. Others had front-wheel drive. The company even explored concepts like line steering, which was meant to replicate horse reins as the steering mechanism to ease farmers into power farming, Dahlstrom said.

A motorized cultivator, what Deere called a "Tractivator," was brought to market by several competitors, but Deere determined it did not provide any cost savings compared to horses.

The challenge of producing a durable tractor loomed large. In a letter to company president William Butterworth in 1915, Deere's superintendent of factories George Mixter noted that tractors offered by competitors up to that point "have not been built with the proper spirit behind the design and manufacture to insure their durability in the hands of the farmers." But if Deere could "build a small tractor that will really stand up for five or more years' work on the farm, I believe they will be a permanent requirement of the American farmer," Mixter wrote.

Deere ultimately found the solution with the Waterloo Boy tractor and acquired the Waterloo Gasoline Engine Company in Waterloo, Iowa, on March 14, 1918. Although anxious to start selling the Waterloo Boy, Deere dealers had to wait while Deere honored existing contracts, which did not expire until Dec. 31, 1918, Dahlstrom said.

Waterloo Boy makes its debut
Deere put its money where its instincts were. Over the next year, the company spent more than one-third of its advertising budget touting the Waterloo Boy tractor, Dahlstrom said.

Specifically, Deere invested $50,000 on tractor advertising in the year following its debut of the Waterloo Boy—approximately $747,000 in today's money. Another way to get the company's new product out in front of customers was to take it on the road – literally.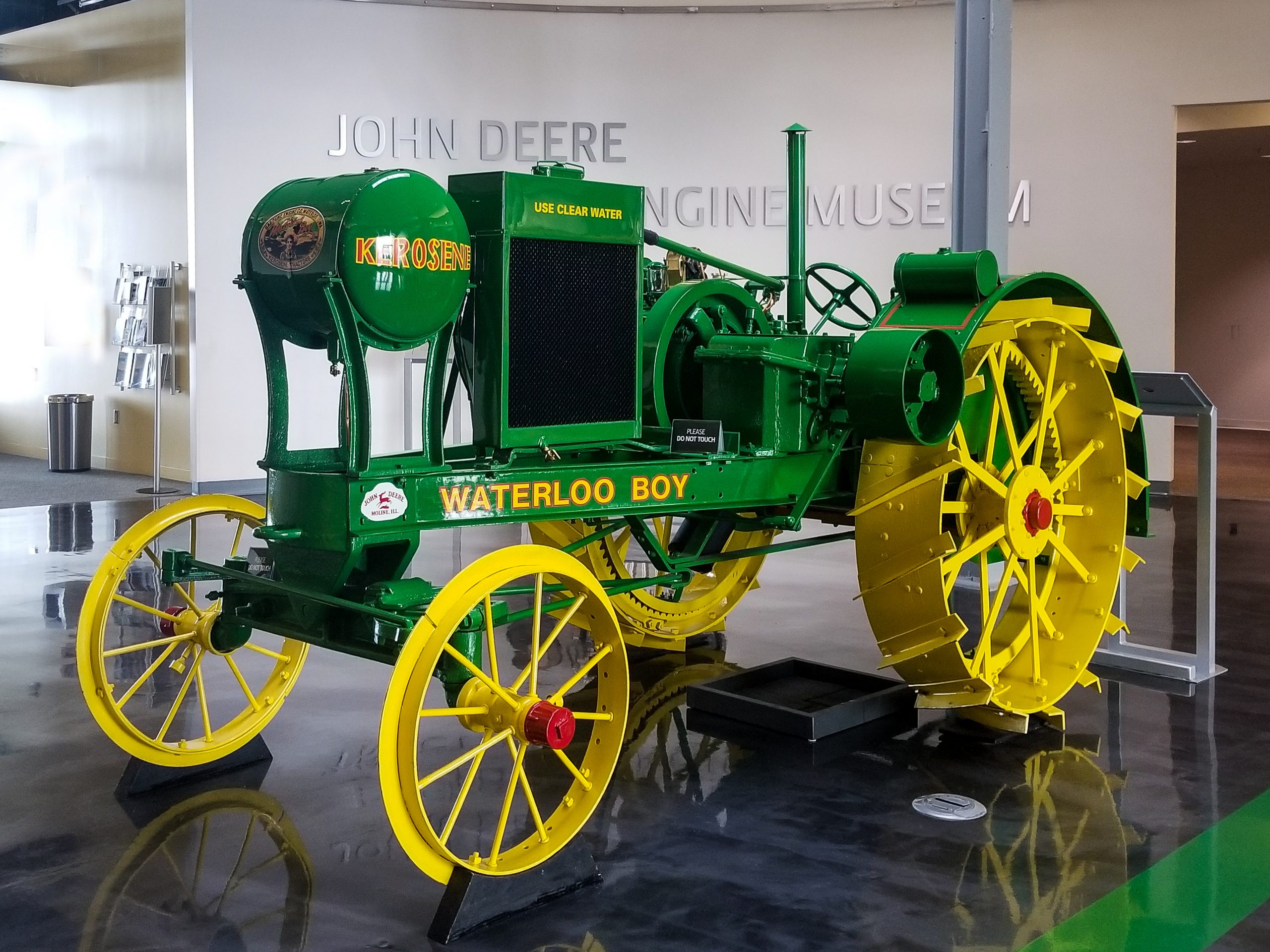 The National Tractor Demonstrations started to become more mainstream after being introduced in the United States in 1913. An eight-city, eight-week tour schedule was the perfect opportunity to unveil Deere's Waterloo Boy, Dahlstrom said. Salina, Kansas, served as the ideal backdrop in August 1918, since this was the nation's largest demonstration.

Deere had participated in tractor demonstrations since the original Winnipeg Agricultural Motor Competitions in Manitoba, Canada, in 1908 – but not with a tractor. Instead, Deere had paired its plows with leading tractor manufacturers. That changed now that the Waterloo Boy was part of the Deere family.

At Salina, Deere spared no expense, showcasing 12 Waterloo Boy tractors as the centerpiece of a display that included John Deere signs, Waterloo Boy signs and a copper leaping deer statue, Dahlstrom said. "There were two stars during this week of 100-degree days – 'ice water on tap' and the Waterloo Boy Model 'N' tractor," he added.

The Model "N" demonstrated its merits by pulling tractor plows, disc harrows and grain drills. Visitors were shuttled in three John Deere farm wagons pulled by Waterloo Boy tractors. By all accounts, the debut was a success.

"The award for the most elaborate, largest and most artistic exhibit tent at the Salina tractor show will undoubtedly go to the John Deere Plow company of Kansas City," wrote the editors of a Kansas City newspaper.

As Deere's advertising campaign swung into full gear, the Waterloo Boy tractor was promoted as the "best and most efficient tractor" on the market for farmers inclined to buy a tractor. By October 1918, readers of Deere's magazine, The Furrow, saw an advertisement for the line of Waterloo Boy tractors and stationary engines. The ad guaranteed the Waterloo Boy's "ample power for field and belt work."

In January 1919, with tractors now available through John Deere dealers, Deere's first print ad for the trade press appeared in The Farm Implement News. It featured two areas of emphasis: "A Good Tractor Backed by a Permanent Organization."

After years of development, John Deere customers and John Deere dealers finally had their John Deere tractor. "It took longer than the company expected, but a determination to do it right instead of doing it fast now brought the John Deere tractor to market," Dahlstrom said.

As a result, customers got "the assurance of more tractor work per dollar of fuel cost; longer tractor life with less repair cost; accessibility of parts that makes caring for the tractor simple and easy; and dependable power for all farm work."

The tractor era had officially arrived, and Iowa found itself at the epicenter of this growing industry.
Want more?
I invite you to read more of my blog posts if you value intriguing Iowa stories and history, along with Iowa food, agriculture updates, recipes and tips to make you a better communicator.
If you're hungry for more stories of Iowa history, check out my top-selling "Culinary History of Iowa: Sweet Corn, Pork Tenderloins, Maid-Rites and More" book from The History Press. Also take a look at my other books, including "Iowa Agriculture: A History of Farming, Family and Food" from The History Press, "Madison County," "Dallas County" and "Calhoun County" book from Arcadia Publishing. All are filled with vintage photos and compelling stories that showcase the history of small-town and rural Iowa. Click here to order your signed copies today! Iowa postcards are available in my online store, too.
If you like what you see and want to be notified when I post new stories, be sure to click on the "subscribe to blog updates/newsletter" button at the top of this page, or click here. Feel free to share this with friends and colleagues who might be interested, too.
Also, if you or someone you know could use my writing services (I'm not only Iowa's storyteller, but a professionally-trained journalist with 20 years of experience), let's talk. I work with businesses and organizations within Iowa and across the country to unleash the power of great storytelling to define their brand and connect with their audience through clear, compelling blog posts, articles, news releases, feature stories, newsletter articles, social media, video scripts, and photography. Learn more at www.darcymaulsby.com, or e-mail me at yettergirl@yahoo.com.
Let's stay in touch. I'm at darcy@darcymaulsby.com, and yettergirl@yahoo.com.
Talk to you soon!