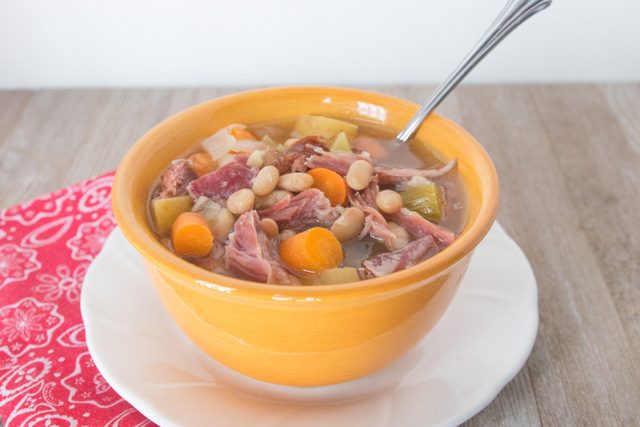 In Praise of Ham and Bean Soup
I've never understood why a smoky, delicious ham and bean soup is so hard to find. Heck, just a lackluster, ho-hum ham and bean soup is often hard to find.
I always figured no one knows more about ham and bean soup than Iowa farm cooks, especially when those who grew up on a hog farm like I did. Pork galore in all its forms was a staple on our family's dinner table for generations. Plus, soup night was always Sunday night at our farm—and it still is. What a treat when ham and bean soup is on the menu!
With its rich broth and smoky undertones, there's nothing like a hearty ham and bean soup to chase away the winter chill (or bitter cold, depending on what Mother Nature throws at us.) As I've refined my own recipe through the years, I've come to three conclusions:
1. You MUST have a thick, smoked ham hock (also known as a ham shank) to make the magic. No cubes of cured ham are going to cut it, if you want maximum flavor. This is a heavy-duty, low-and-slow kind of job for a tough, smoky ham shank.
2. We're blessed to have many great meat lockers in Iowa, a reflection of our thriving livestock industry, where I can get fabulous smoked ham hocks. One of my favorite suppliers? Lewright Meats in Eagle Grove, which has been serving northern Iowa since 1936.
3. Adding diced potatoes is a good thing for ham and bean soup. I like to add oomph to my cooking, and how can you go wrong with extra veggies? Adding potatoes might be a bit non-traditional for ham and bean soup, but that's how I roll.
The thing about ham and bean soup is that it can be a palette you fine-tune to your own tastes. Don't like garlic? Leave it out. Want more onions in the mix? Add another one. (As my dear neighbor and farm cook extraordinaire Alice Ann Dial taught me, onions are a cheap way to add lots of flavor.)
The story behind Congress and Bean Soup
"Thunderation," roared Speaker of the House Joe Cannon of Illinois. "I had my mouth set for bean soup! From now on, hot or cold, rain, snow, or shine, I want it on the menu every day."
Obviously, ham and bean soup isn't just a farm favorite. Turns out it has a rich history in the kitchens of Washington, D.C., too.
While ham and bean soup was a common item on the U.S. House of Representatives' menu before the turn of the 20th century, it became a permanent fixture in the institution when Speaker Joe Cannon of Illinois discovered that his favorite meal had not been prepared by the kitchen staff on a hot, summer day in 1904.
Cannon, who was the namesake of the Cannon House Office Building, served in the U.S. House for 46 years. Dismayed by that egregious menu omission in 1904, the Speaker directed that bean soup be served in the House every day, regardless of the weather.
More than a century after Speaker Cannon's decree, bean soup remains on the menu in the House Restaurant, making it one of the more longstanding and famous traditions in the House.
Members of the U.S. House aren't the only fans of ham and bean soup. It's also on the menu in the Senate's restaurant every day. There are several stories about the origin of that mandate, but none has been corroborated.
According to one story, the Senate's bean soup tradition began early in the 20th-century at the request of Senator Fred Dubois of Idaho. Another story attributes the request to Senator Knute Nelson of Minnesota, who expressed his fondness for the soup in 1903.
The recipe attributed to Dubois includes mashed potatoes and makes a 5-gallon batch. The recipe served in the Senate today does not include mashed potatoes, but does include a braised onion. Click here to check out both Senate recipes.
No matter how you like your ham and bean soup, here's my take on this American classic. Enjoy, and let me know what you think.

Darcy's Hearty Ham and Bean Soup
1 smoked ham hock (also called a smoked ham shank)—the meatier, the better
1 48-ounce jar great northern beans (I don't drain and rinse the beans—I add it all)
3 stalks celery, diced
3 carrots, peeled and sliced
3 to 4 medium potatoes, diced (I prefer Yukon Golds)
1 large onion, chopped
1 tablespoon garlic, minced
1 teaspoon fresh-ground pepper
Water or chicken stock
Salt, to taste
Place ham hock in slow cooker. Add beans, celery, carrots, potatoes, onion, garlic and pepper. Cover with water or chicken stock until slow cooker is full. (If using water rather than chicken stock, I often add 2 or 3 teaspoons of Better Than Bouillon chicken soup base to add more flavor.)
Cook on low for 8 to 10 hours. (I often prepare the soup in the evening and let it cook overnight.) Remove ham hock, allow it to cool, and remove ham from the bone. Add ham back to the soup. Taste the soup to see if it needs salt. Add salt, if desired. (Some ham hocks add enough flavor to the broth that no salt is needed.)
• Note: homemade soup often develops more flavor if you let it sit in the refrigerator overnight and serve the soup the next day. This Hearty Ham and Bean Soup is so good, though, that I understand if you dig in right away!
P.S. Thanks for joining me. I'm glad you're here. 
Want more?
Thanks for stopping by. I invite you to read more of my blog posts if you value intriguing Iowa stories and history, along with Iowa food, agriculture updates, recipes and tips to make you a better communicator.

If you like what you see and want to be notified when I post new stories, be sure to click on the "subscribe to blog updates/newsletter" button at the top of this page, or click here. Feel free to share this with friends and colleagues who might be interested, too.
Also, if you or someone you know could use my writing services (I'm not only Iowa's storyteller, but a professionally-trained journalist with 20 years of experience), let's talk. I work with businesses and organizations within Iowa and across the country to unleash the power of great storytelling to define their brand and connect with their audience through clear, compelling blog posts, articles, news releases, feature stories, newsletter articles, social media, video scripts, and photography. Learn more at www.darcymaulsby.com, or e-mail me at yettergirl@yahoo.com. 
If you're hungry for more stories of Iowa history, check out my top-selling "Culinary History of Iowa: Sweet Corn, Pork Tenderloins, Maid-Rites and More" book from The History Press. Also take a look at my latest book, "Dallas County," and my Calhoun County" book from Arcadia Publishing. Both are filled with vintage photos and compelling stories that showcase he history of small-town and rural Iowa. Order your signed copies today! Iowa postcards are available in my online store, too.
Let's stay in touch. I'm at darcy@darcymaulsby.com, and yettergirl@yahoo.com.
Talk to you soon!
Darcy
@Copyright 2018 Darcy Maulsby & Co.