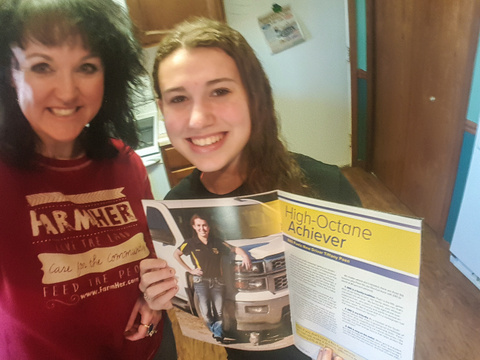 High-Octane Achiever: Ethanol Fuels New Driver Tiffany Poen
Most of us can vividly remember getting our driver's license and our first car—our first taste of independence and grown-up responsibility. Fuzzier, however, is our first solo trip to fill up at the pump and the likely confusing choice we made purchasing gas. Not for Tiffany Poen, a new driver (and my awesome neighbor!) who is deliberate with her fuel choice.
Ethanol fuels her new adventure and, just like the truck she inherited from her grandfather, the choice was a matter of passing down a family tradition.
"I really looked forward to getting my license and inheriting my grandpa Bob's truck," said Poen, 17, a high school junior from Lake City, Iowa. "This truck is special because my grandma Betty used to ride in it before she passed away in 2013 from complications of cancer."
Family is important to Poen, who credits her grandfather, mom, and dad for teaching her to drive on the gravel roads near her family's farm. After completing a driver's education course, Poen was excited to receive her official driver's license, which has opened up a new world of possibilities.
"I can go where I want," said Poen, a high school basketball cheerleader and dancer who drives to practices at the local dance studio and joins friends at the community-owned movie theater where she volunteers.
No matter where she's headed, there are three big reasons why Poen fills her flex-fuel truck with E85 (a blend of 85 percent ethanol):
1. E85 is a family tradition. Poen is the fifth generation of her family to farm. Her family raises corn that's converted into ethanol. "My family only uses ethanol," explained Poen, who plans to study agricultural business at Iowa State University and wants to pursue an ag sales career. "We're proud that it's a homegrown fuel that supports America's farmers."
2. E85 is eco-friendly. As a member of the South Central Calhoun FFA, Poen is growing her knowledge of agriculture while expanding her leadership skills. "Farming is focused on preserving our natural resources. I like how E85 is a clean energy source that helps protect the environment."
3. E85 is easy on the wallet. When you're a student, you have to make your money count. Poen appreciates how E85 and other ethanol blends are budget-friendly. "I want to make the best choices, and that includes E85."
It was so much fun to interview Tiffany for this article, which appeared in the Winter 2017 issue of American Ethanol magazine, which is distributed nationwide. As you can see, even one of the Poen's kittens got in on the act!
P.S. Thanks for joining me. I'm glad you're here. 
@Copyright 2017 Darcy Maulsby & Co.