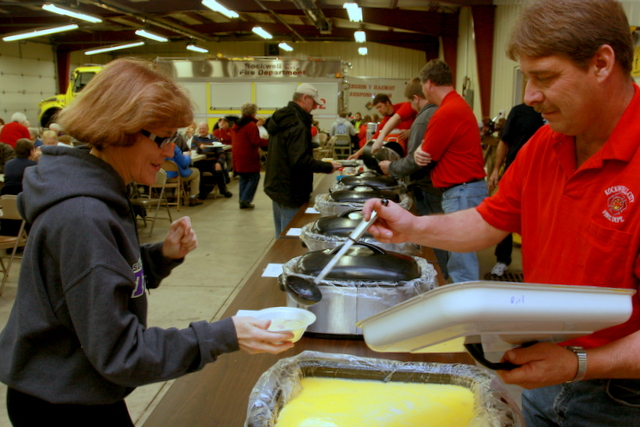 Mmm, Mmm Good: Soup's on at the Rockwell City Fire Department
While soup is often considered little more than a prelude to something bigger, that's not the case at the Rockwell City Fire Department. Throughout the winter, roasters filled with homemade chili, cheesy chicken noodle soup and other favorites make the fire station one of the hottest destinations in town.
"We typically serve 300 to 400 people at each supper," said Duane Murley, a well-known farm broadcaster who has served on the Rockwell City Fire Department for 21 years. "Many times we have a line out the door."
Murley and his fellow firefighter, Phil Hammen, co-chair the soup suppers, which are held the second Sunday of November, December, January and February from 4 p.m. to 6:30 p.m. at the fire station in Rockwell City. There's no set fee to attend the soup suppers, which are supported by free-will donations.
"This isn't so much a money maker as it's a way for the community to come together," said Murley, who noted at the soup suppers have been held each winter for nearly seven years.
Many of the guests come from Rockwell City, Lake City, Manson and Twin Lakes. "I like to stop by and help support another local fire department," said Josh Waller, who serves on the Manson Fire Department and the Calhoun County Farm Bureau board.
While each soup supper includes standard items such as potato soup and chili, the firefighters also mix things up with cheeseburger soup and other options. Each December, local supporters donate ingredients for the oyster stew, which is always a big hit. "They always have lots of good soup here and lots of variety," said Toni Kerns of Rockwell City.
The firefighters often begin making their soups on Thursday or Friday before the Sunday soup supper. "The key to a good soup is to give it enough time to develop plenty of flavor," said Phil Hammen, who co-chairs the soup suppers.
Perhaps the simplest—yet most talked-about—menu items are the famous lettuce sandwiches. These are just what they sound like—leaves of lettuce sandwiched between two slices of bread spread with mayonnaise or butter.
"These started as a joke," said Murley, who recalled his mother-in-law's stories of eating lettuce sandwiches during her school days at Jolley. "Now people look forward to them so much that we often use seven pounds or more of lettuce during our soup suppers."
From the lettuce sandwiches to the homemade soups, the firefighters want guests to relax and reconnect with friends and family. "It's not just about the food," Murley said. "It's about being part of the community."
8-Can Soup
People often ask if this flavorful soup really contains eight cans of ingredients. Yes it does, says Shane Voith, who has served as Rockwell City's fire chief, who often multiplies this recipe by five to make this hearty soup for the soup supper.
1 can Hormel chili with beans
1 can Hormel chili, no beans
1 can sliced potatoes, undrained
1 can cut green beans, undrained
1 can whole-kernel corn, undrained
1 can mixed vegetables, undrained
1 can vegetable beef stew
1 can steak and potato soup
1 packet of powdered ranch dressing
Combine all ingredients in a large slow cooker, kettle or roaster. Cook on low all day, or for 2 to 3 hours on high to get the soup hot.
Sweet Chili
Jonathan Wetter, a Rockwell City volunteer firefighter, got this recipe from a friend. It's reminiscent of both a sweet chili and calico beans.
Half a pound of bacon, cooked and diced
1 pound ground beef, browned
1 can lima beans, drained
1 can butter beans, drained
1 can kidney beans, undrained
1 can pork-and-beans, undrained
1 small onion, chopped
16-ounce can crushed pineapple
1 tablespoon mustard
4 tablespoons molasses
2 tablespoons vinegar
1 / 2 cup brown sugar
1 teaspoon Worcestershire sauce
1 / 2 cup ketchup
Combine all ingredients. Cook on low in a slow cooker or roaster for a few hours until hot.

Firehouse Chili
Duane Murley, co-chair of the fire department's soup suppers, often makes three roasters of this chili, including one batch with hot peppers for a spicier chili.
7 pounds hamburger, browned
2 gallons Bush's chili beans
2 gallons diced tomatoes
1 gallon tomato juice
Hot peppers, diced—optional
Cookies Flavor Enhancer, to taste
Chili powder, to taste
Combine all ingredients in a kettle, slow cooker or roaster. Cook on high for several hours or on low all day.
Potato Soup
Phil Hammen, co-chair the fire department's soup suppers, specializes in this filling Potato Soup. This recipe makes enough to fill one roaster.
15 pounds potatoes, diced and boiled until tender
3 onions, diced
3 ham steaks, cubed
1 1 / 2 gallons 2% milk
2 sticks butter
Combine all ingredients in roaster. Cook until soup is heated through.

Cheesy Chicken Noodle Soup
This perennially popular soup is prepared by firefighter Kyle Welander of Rockwell City. When he cooks for the soup suppers, he boils eight whole chickens, removes the meat from the bones and saves the liquid to make homemade chicken broth.
1/4 cup butter, melted
1/4 cup flour
3 cups chicken broth
1 cup milk
2 cups Velveeta processed cheese, cubed
2 cups egg noodles, cooked
2 cups cooked, diced chicken
Melt butter in a large saucepan and add flour. Add chicken broth and milk. Cook, stirring occasionally on medium-high heat, until the mixture starts to bubble and thicken. Add cubed Velveeta cheese, and stir until melted. Pour mixture into larger pan or kettle. Add 2 cups of cooked egg noodles and 2 cups cooked, diced chicken. Cook on low. To fill a roaster, multiply this recipe by eight.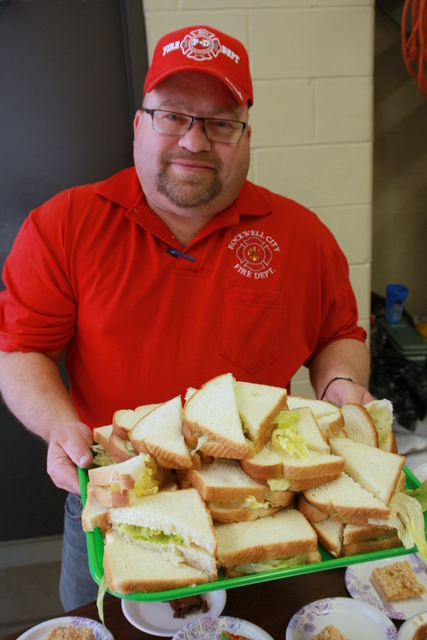 Calhoun County's Famous Lettuce Sandwiches
Sliced bread
Mayonnaise or butter
Lettuce
Spread slices of bread with mayonnaise or butter. Top the bottom slice with a few leaves of lettuce. Add top slice of bread to complete the sandwich.
Lois Hensel's Cake
Shelly Hammen of Rockwell City often makes desserts for the fire department's soup suppers, including this incredible cake that was made famous by Lois Hensel, a long-time cake baker from Lake City. This recipe has been copied from a local cookbook.
2 packages Betty Crocker white cake mix, plus 1 1 / 2 cups from a third box of cake mix
7 / 8 cup egg whites
3 cups water
1 / 2 cup vegetable oil
1 1 / 2 teaspoons almond flavoring
1 / 2 teaspoon butter flavoring
Place cake mixes in mixer bowl. Add 2 cups of water and start mixing. Add egg whites, vegetable oil, almond flavoring, butter flavoring and remaining 1 cup of water. Continue mixing for 2-3 minutes until batter is smooth.
Line two sheet-cake pans (10.5 inches by 15.5 inches by 1 inch) with typing paper (paper may overlap). Pour half of the batter into the first pan. (This should weigh about 3.5 pounds or a bit more.) Place this pan on top oven rack. Bake 10 minutes at the recommended baking temperature on the cake mix box.
Stir the rest of the batter a bit with a spatula. Pour this batter into second cake pan. When first cake tests done (by a light touch of a finger) after about 20 minutes, remove cake from oven. Place second cake on top rack in oven. Bake until done.
Cool the first cake about 10 minutes, and run a knife around the four sides to loosen. Place a few layers of newspaper on both the cake top and on a bigger board. Holding securely, turn cake over onto the board, and peel liner paper off the cake. The brown on top of the cake will now adhere to the newspaper; peel off newspaper.
Place prepared board over cake, holding securely. Turn board and cake over, and place liner paper on cake. Place this in a plastic bag and freeze. It will be easy to trim the four sides with a serrated knife when cake is removed from the freezer.
Have icing ready. Stack four to five piece of 10.5-inch by 15-inch cardboard covered with tinfoil to hold each cake.
Lois Hensel's Cake Icing
3 / 4 cup egg whites
4 pounds powdered sugar, divided
4 large "blobs" of Crisco shortening
1 teaspoon salt
1 / 2 cup water
1 teaspoon almond flavoring
1 / 2 teaspoon butter flavoring
1 / 2 teaspoon (or more) lemon flavoring
2 teaspoons clear vanilla
Place egg whites in mixer bowl. Add a pound of powdered sugar. Mix, and add shortening and salt. As you continue to mix, add water, remaining powdered sugar, almond flavoring, butter flavoring, lemon flavoring and clear vanilla. Don't beat—just mix until smooth and until the right consistency is reached, scraping the sides of the bowl with a spatula. Add more powdered sugar, if needed.
This feature originally ran in Farm News. 
P.S. Thanks for joining me. I'm glad you're here. 
Want more?
Thanks for stopping by. I invite you to read more of my blog posts if you value intriguing Iowa stories and history, along with Iowa food, agriculture updates, recipes and tips to make you a better communicator.

If you like what you see and want to be notified when I post new stories, be sure to click on the "subscribe to blog updates/newsletter" button at the top of this page, or click here. Feel free to share this with friends and colleagues who might be interested, too.
If you're hungry for more stories of Iowa history, check out my top-selling "Culinary History of Iowa: Sweet Corn, Pork Tenderloins, Maid-Rites and More" book from The History Press. Also take a look at my latest book, "Dallas County," and my Calhoun County" book from Arcadia Publishing. Both are filled with vintage photos and compelling stories that showcase he history of small-town and rural Iowa. Order your signed copies today! Iowa postcards are available in my online store, too.
Also, if you or someone you know could use my writing services (I'm not only Iowa's storyteller, but a professionally-trained journalist with 20 years of experience), let's talk. I work with businesses and organizations within Iowa and across the country to unleash the power of great storytelling to define their brand and connect with their audience through clear, compelling blog posts, articles, news releases, feature stories, newsletter articles, social media, video scripts, and photography. Learn more at www.darcymaulsby.com, or e-mail me at yettergirl@yahoo.com. 
Let's stay in touch. I'm at darcy@darcymaulsby.com, and yettergirl@yahoo.com.
Talk to you soon!
Darcy
@Copyright 2018 Darcy Maulsby & Co.