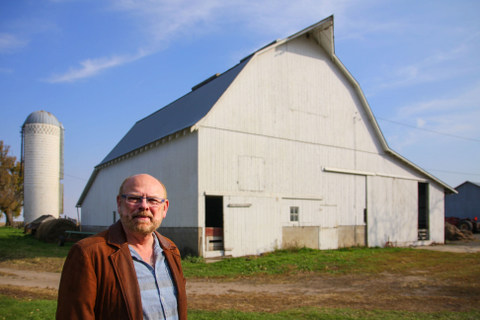 Barn Helped Inspire Master Craftsman to Create Dobson Pipe Organ Builders
When a sow kicked a heat lamp into the straw one cold January night in 1954 and burned down the barn on the Carroll County farm where Lynn Dobson's family lived, no one imagined how much impact the blaze would have. It became a defining moment for Dobson, however, even though he was only four years old at the time.
"When the barn was rebuilt that summer, I wanted to be out working with the carpenters all the time," said Dobson, founder of Dobson Pipe Organ Builders Ltd. of Lake City, which constructs fine pipe organs for churches, universities and other clients. "The carpenters told my mom they didn't mind, and they even gave me small tools to 'work' with, including a hammer and screwdriver."
Once the Wilson brothers from Farnhamville completed the new barn, they were hired each summer to work on other construction and remodeling jobs for various outbuildings at the Jasper Township farm. "These construction projects were a highlight of growing up on the farm," said Dobson, who also learned carpentry skills from his father, Elmer, who was a cabinetmaker as well as a farmer. "My imagination was fired up."
"They feel like cathedrals"
Dobson admits he enjoyed building things much more than farming. That didn't mean he didn't have his share of chores to do on the farm, however. His father liked raising livestock, so there were usually eight to 10 milk cows to care for, along with feeder calves, hogs and chickens. In fact, the barn was built for milk cows, said Dobson, who noted that Bill Troxel from Lanesboro picked up milk from the farm.
The barn also housed stock cattle. Dobson will never forget the little bull calf that had to be bucket fed after its mother died. "He had always been so gentle, but one night he decided to pin me against the barn. His horns pushed into the wall and his head was right against me. I never had to feed him again after that."
Other activities inside the barn were much less threatening. Dobson enjoyed playing in the barn with his sisters and building forts in the straw bales. Sometimes he climbed the ladder that extended to the peak of the roof. "I'd catch little pigeons and try to tame them and raise them as pets," he said.
The barn was always a hub of activity, Dobson added. While Elmer Dobson phased out of the dairy business in the early 1960s, he continued raising hogs and farrowed sows in the barn. He maintained his livestock operation for many years until he and his wife, Muriel, retired and moved to Lake City in the early 1980s.
After Dobson graduated from Glidden High School in 1967, he studied art at Wayne State College in Nebraska, where he earned his undergraduate degree in 1971. In 1974, he established Dobson Pipe Organ Builders, which recently designed, built and installed a customized pipe organ for the 2014 observance of the 750th anniversary of the founding of Merton College at Oxford, the oldest university in the English-speaking world.
In a way, the inspiration to create this massive organ, known as Opus 91, can be traced to the Carroll County barn that captured Dobson's interest as a boy. "Barns are grand buildings, and I'm inspired by their magnificent spaces," he said. "They feel like cathedrals inside."
Pipe organ builder hits a high note
Note from Darcy: I wrote this feature below on Dobson Pipe Organ builders in 2013. 
The journey that started on a farm near Lake City has taken an Iowa pipe-organ company international, thanks to the creative vision and entrepreneurial skills of Lynn Dobson.
Dobson Pipe Organ Builders Ltd. designed, built and installed a customized pipe organ for the 2014 observance of the 750th anniversary of the founding of Merton College at Oxford, the oldest university in the English-speaking world. "It's very unusual for American organ builders to send organs to Europe," said Dobson, who noted that construction on the organ started in 2011. "It hardly ever happens."
Made of quarter-sawn white oak from the southern United States, this masterpiece (known as Opus 91) rises 46 feet tall, stretches 26 feet wide, weighs about 16 tons and features hand-carved designs. It also contains nearly 3,000 pipes, which range in size from a drinking straw to a telephone pole.
Opus 91 is a 52-rank mechanical key action organ, which means that there are mechanical links that directly connect each of the keys to valves under the pipes. This kind of organ was created before the advent of electricity and generally is preferred among premier organists.
While this is Dobson Organ's first overseas project, the company had built 90 organs since 1974 before creating "Opus 91" for Merton College. "We've never built the same organ twice," said Dobson, the company's president and artistic director.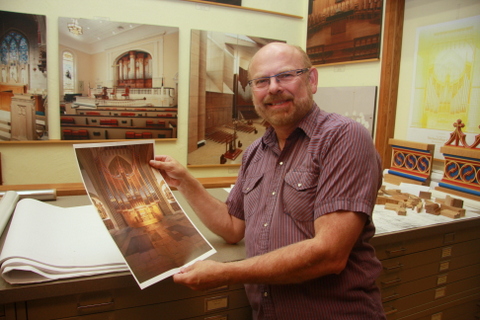 Organ building, like many centuries-old crafts, is becoming increasingly rare. Companies like Dobson's are even fewer, with an estimated half dozen nationwide. As I look back at the last 40 years of my life, organ building was a good career for me. It gave me a chance to be creative and work with many creative people over the years. I've also had the chance to travel and see and do an almost unimaginable variety of things that I realize have made my life a very satisfying one. Dobson grew up on a farm south of Lake City, where he learned about woodworking from his father, a skilled carpenter and cabinetmaker. While attending Nebraska's Wayne State College, studying art and industrial education, Dobson tinkered with an old, non-working pipe organ in the college administration building. By the time he left, it was playable.
This inspired him to start his own company, which started as a two-man operation and has grown to include 19 skilled employees. They include voicers, pipe makers, cabinetmakers and general organ builders who work in a 1890s-vintage shop located on Lake City's city square. The company has built about 20 new organs for customers in Iowa, including the Lake City Union Church, Westminster Presbyterian Church in Des Moines and the First Reformed Church in Orange City. The firm has restored an additional 20 organs across Iowa.
Dobson's reputation has also earned the company acclaim across the United States. Some of the company's largest projects include the organs at the Cathedral of Our Lady of the Angels in Los Angeles, the Kimmel Center for the Performing Arts in Philadelphia and St Thomas' Church, New York City.
"I think every day is more exciting," Dobson said. Even though the economy and a changing cultural and religious climate are great challenges for us in the organ building field the fact is we're still able to be creative and work with good people. What could be better than that?
Want more?
Thanks for stopping by. I invite you to read more of my blog posts if you value intriguing Iowa stories and history, along with Iowa food, agriculture updates, recipes and tips to make you a better communicator.

If you like what you see and want to be notified when I post new stories, be sure to click on the "subscribe to blog updates/newsletter" button at the top of this page, or click here. Feel free to share this with friends and colleagues who might be interested, too.
Also, if you or someone you know could use my writing services (I'm not only Iowa's storyteller, but a professionally-trained journalist with 20 years of experience), let's talk. I work with businesses and organizations within Iowa and across the country to unleash the power of great storytelling to define their brand and connect with their audience through clear, compelling blog posts, articles, news releases, feature stories, newsletter articles, social media, video scripts, and photography. Learn more at www.darcymaulsby.com, or e-mail me at yettergirl@yahoo.com. 
If you're hungry for more stories of Iowa history, check out my top-selling "Culinary History of Iowa: Sweet Corn, Pork Tenderloins, Maid-Rites and More" book from The History Press. Also take a look at my latest book, "Dallas County," and my Calhoun County" book from Arcadia Publishing. Both are filled with vintage photos and compelling stories that showcase he history of small-town and rural Iowa. Order your signed copies today! Iowa postcards are available in my online store, too.
Let's stay in touch. I'm at darcy@darcymaulsby.com, and yettergirl@yahoo.com.
Talk to you soon!
Darcy
@Copyright 2018 Darcy Maulsby & Co.  Blog posts may only be reprinted with permission from Darcy Maulsby.