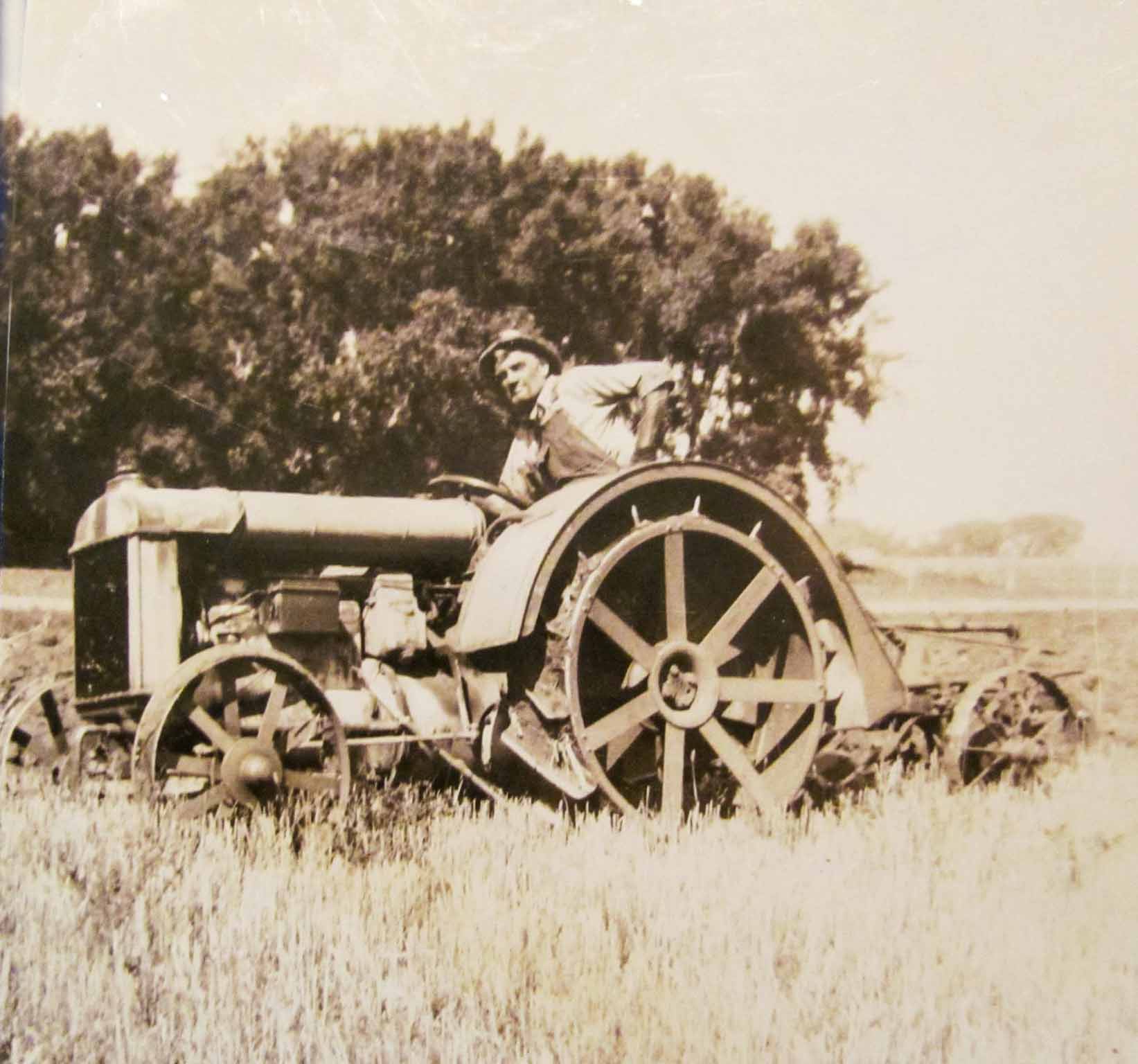 When Agriculture Entered the Long Depression in the Early 1920s
The culture of Iowa agriculture hasn't only been shaped by good times. The farm crisis that started in the 1920s, a decade before the Great Depression engulfed America, shook rural Iowa to its core. In the post–World War I era, the Golden Age of Agriculture was over, and farmers throughout the Midwest began to suffer the effects of an increasing economic depression that culminated at the close of the 1920s with the stock market crash.
"To understand the nature of the agricultural problem more clearly, it needs to be said that farming is a difficult and uncertain profession," noted Gary D. Dixon in his thesis "Harrison County, Iowa: Aspects of Life from 1920 to 1930," which he presented in 1997 to the Department of History to earn his Master of Arts degree from the University of Nebraska–Omaha. "The farmer has no control over the prices he pays for goods or, more importantly, for what he can ask for his own products, as he 'buys in a seller's market, and he sells in a buyer's market."
It was definitely a seller's market during World War I, when all sectors of the American economy produced as much as possible to help the war effort. It was profitable, as well as patriotic, to raise crops at top capacity. But then the war ended on November 11, 1918.
"Government price supports for agriculture were kept through 1920, when the guaranteed prices on wheat and other crops were terminated," Dixon noted. "The government ended loans to European nations at the same time, which meant they were unable to purchase U.S. agricultural products."
This is what had kept the exports going, and exports had driven the boom in the U.S. farm economy. In the years just after World War I, prices for farm goods fell by half, as did farmer income. The Federal Reserve raised the credit rate just when the farmer needed its help the most, so money tightened up. Banks did not renew notes, but mortgages and bills still came due. To make it worse, the railroads raised their freight rates, so it was more expensive to get the crops to market, Dixon noted.
Farm income fell from $17.7 billion in 1919 to $10.5 million in 1921—nearly a 41 percent drop. In Iowa, farm values that had almost tripled between 1910 and 1920 plunged during the 1920s. In Harrison County in southwest Iowa, 1930 land values of $41 million reflected a drop of more than $35 million from 1920, Dixon said. In addition, Harrison County's total crop values, which in 1919 were more than $10.8 million, fell to roughly $5.7 million by 1924. "Taxes on the remaining income, and the other expenses incurred in farming, remained as high as they ever were, or increased," Dixon added.
While there had been a historic growth in the number and size of farms in the nation until 1920, that soon changed. Then the farm population showed net losses of 478,000 in 1922 and 234,000 in 1923. The more lucrative prospects of the city lured many of the best of the younger generations away, Dixon said.
Banding Together in Farmer Cooperatives
In response to these troubling developments, some farmers began organizing with their neighbors so their shared concerns could be heard at the county, state and national level. Some turned to groups like the Iowa Farmers Union, which had formed in 1915 to help members work together to strengthen the independent family farm through education, legislation and cooperation.
Others turned to a new group, the Iowa Farm Bureau Federation (IFBF), which had formed on December 27, 1918, during a meeting in Marshalltown. The sSeventy-two county Farm Bureau groups from across Iowa voted unanimously during this meeting to form a state federation. These farmers knew that they needed a stronger voice in legislation governing their industry, improved marketing for their ag products and better relationships with other related industries, including meatpackers and the railroads.
"We regard this movement as one of the most sensible efforts toward an organization of farmers that has yet been made," said Henry A. Wallace, the editor of Wallaces' Farmer, who went on to become U.S. secretary of agriculture and vice president of the United States.
The IFBF also helped support the cooperative marketing movement that had been gaining momentum, noted Tim Neiss, IFBF historian. Ag cooperatives had started to form in Iowa by the mid-1800s in response to unfair business practices by the railroads that hurt competition and lowered the prices farmers received for their products. Farmers began banding together to market their products more efficiently, at higher prices, as well as to buy inputs at lower cost.
One of these early Iowa cooperatives was Farmers Cooperative Elevator of Marcus, which was incorporated on December 12, 1887. The Marcus location, which is now part of First Cooperative Association based in Cherokee, remains the oldest active cooperative elevator in the nation.
While organizing into farm organizations and cooperatives appealed to some farmers, other farmers decided to move in a much more radical direction—one of that would culminate in the Farmers Holiday movement and the near-lynching of an Iowa judge in Le Mars. Get the whole story in my book Iowa Agriculture: A History of Farming, Family and Food, which is published by The History Press the week of April 27, 2020.
Want more?
Thanks for stopping by. I invite you to read more of my blog posts if you value intriguing Iowa stories and history, along with Iowa food, agriculture updates, recipes and tips to make you a better
If you're hungry for more stories of Iowa history, check out my top-selling "Culinary History of Iowa: Sweet Corn, Pork Tenderloins, Maid-Rites and More" book from The History Press. Also take a look at my latest book, "Dallas County," and my "Calhoun County" book from Arcadia Publishing. Both are filled with vintage photos and compelling stories that showcase he history of small-town and rural Iowa. Order your signed copies today! Iowa postcards are available in my online store, too.
If you like what you see and want to be notified when I post new stories, be sure to click on the "subscribe to blog updates/newsletter" button at the top of this page, or click here. Feel free to share this with friends and colleagues who might be interested, too.
Also, if you or someone you know could use my writing services (I'm not only Iowa's storyteller, but a professionally-trained journalist with 20 years of experience), let's talk. I work with businesses and organizations within Iowa and across the country to unleash the power of great storytelling to define their brand and connect with their audience through clear, compelling blog posts, articles, news releases, feature stories, newsletter articles, social media, video scripts, and photography. Learn more at www.darcymaulsby.com, or e-mail me at yettergirl@yahoo.com.
Let's stay in touch. I'm at darcy@darcymaulsby.com, and yettergirl@yahoo.com.
Talk to you soon!
Darcy