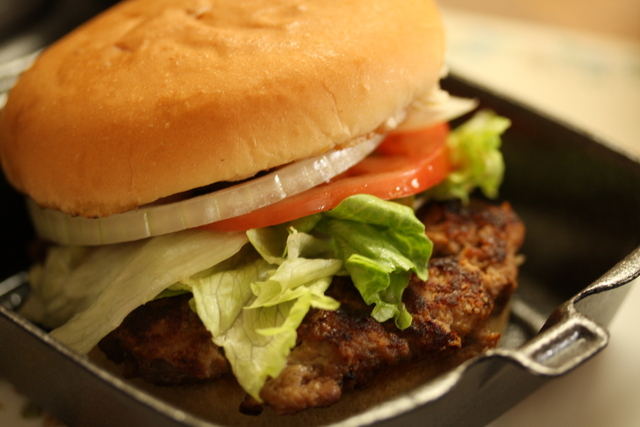 Get Your Grill On: How to Build a Better Burger
Love the thrill of the grill? I sure do, especially when I'm crafting a thick, juicy burger I can sink my teeth into. While we talk a lot about burgers during May Beef Month, how much do you really know about this American icon?
The classic hamburger we know and love today is very much an American invention. Stemming from German culinary roots, the burger-on-a-bun phenomenon gained widespread fame at the 1904 St. Louis World's Fair.
Disaster struck two years later, however, when Upton Sinclair's novel "The Jungle" (remember the book's lurid details from high school literature class?) detailed the unsavory side of the American meatpacking industry. Ground beef became a prime suspect, since it could easily be adulterated with questionable additives.
The hamburger might have faded away as a long-forgotten fad were it not for Edgar Ingram and Walter Anderson. When they opened their first White Castle restaurant in Kansas in 1921, White Castle countered the hamburger's unsavory reputation by becoming bastions of cleanliness, health and hygiene. This paved the way for national hamburger chains founded in the post-World War II boom years, including McDonald's.
Best burgers, Iowa style
Iowa has made its own distinctive contributions to America's burger history. Consider the wildly popular Iowa's Best Burger contest, sponsored by the Iowa Cattlemen's Association (ICA) and the Iowa Beef Industry Council (IBIC). Iowans submitted more than 9,200 nominations for this year's contest. Nearly 500 Iowa restaurants were represented in 2017 in the total nominations, setting a new record for the contest.
As a former judge of Iowa's Best Burger contest, I can tell you how tough it is to pick a winner. Iowans know how to make bodacious burgers, a story I made sure to include in my "Culinary History of Iowa" book.
Size matters when it comes to the Gunderburger at the Irish Shanti, which made the 2017 Top 10 list. The famous Gunderburger started in the late 1970s to put the tiny northeast Iowa community of Gunder on the map. The first Gunderburgers were a smaller version of the one served today. As the Gunderburger started growing in size in the 1990s, its notoriety also grew.
Another 2017 Top 10 Best Burger in Iowa contender is the Ankeny Diner, which offers Maytag Burgers, featuring Iowa's famous Maytag blue cheese, sautéed onion and Monterey jack cheese. Don't care for blue cheese? Maybe you'd prefer the Rarebit Burger, served open-faced and topped with spicy Cheddar cheese sauce.
Rarebits were legendary at the iconic Younkers Tea Room in downtown Des Moines for decades. An Iowa-style rarebit burger elevates the traditional Welsh rarebit, which incorporates leftover bits of cheese and the end-of-the-loaf slices of stale bread for a quick supper.
Speaking of Des Moines, the historic East Village is the home of the incomparable Zombie Burger. A previous Top 10 Best Burger in Iowa contender, Zombie Burger serves "gore-met" creations made from the shop's own custom three-cut beef burger blend. With locations in downtown Des Moines, Ankeny, West Des Moines and the Iowa City area, Zombie Burger is distinguished by classics from the Undead Elvis (a burger paired with peanut butter, fried bananas, bacon, American cheese and mayo) to the Walking Ched (a burger featuring bacon, Cheddar cheese, caramelized onions and mayo on a deep-fried macaroni-and-cheese bun).
Hungry yet?
If all this inspiration has you craving top-quality, Iowa beef, here are my top tips to make your best burgers ever:
• Choose fresh 80/20 ground beef, which provides enough fat to keep your burgers juicy and flavorful.
• Worcestershire sauce adds a whole new depth of flavor to burgers. Add in a healthy dollop and mix it into the meat before forming the patties.
• Use your thumb to create a dimple or well in the center of each patty on the bottom. This helps ensure that the burgers cook evenly. Don't worry—the indentation will hardly be noticeable by the time the burgers are ready.
• Cook your burgers over medium heat.
• As the patties cook, sprinkle them liberally on both sides with a mixture of salt, fresh-ground pepper, Lawry's seasoning salt, garlic powder and onion powder.
• Avoid using your spatula to press down on your burgers while cooking. Don't let all those flavorful juices escape.
• Allow your burgers to rest for a few minutes before serving. This will ensure that the juices redistribute into the meat. Enjoy!
Have any favorite burger recipes or cooking tips? I'd love to hear them. Now go get your grill on!
Hungry for more?
Want more burger inspiration? Check out my blog post on the Lake City Drive-In, where owner Larry Irwin is not only a beef booster, but someone who sees burgers as the perfect palette for culinary creativity with his Burger of the Month flavors. (Don't miss my recipe for Meatloaf Burgers!)
If you're hungry for more stories of Iowa history, Larry is kind enough to carry my books at the Lake City Drive-In. Not close to Lake City? I invite you to visit my online store, where you can purchase my top-selling "Culinary History of Iowa: Sweet Corn, Pork Tenderloins, Maid-Rites and More" book from The History Press, as well as my "Calhoun County" book from Arcadia Publishing, which showcases the history of small-town and rural Iowa. Order your signed copies today! Iowa postcards are available in my online store, too.
One more thing–check out more of my blog posts if you want more Iowa stories, history and recipes, as well as tips to make you a better communicator. If you like what you see and want to be notified when I post new stories, be sure to click on the "subscribe to blog updates/newsletter" button at the top of this page. Let's stay in touch!
This originally appeared as one of my weekly columns in Farm News. 
P.S. Thanks for joining me. I'm glad you're here. 
@Copyright 2017 Darcy Maulsby & Co.