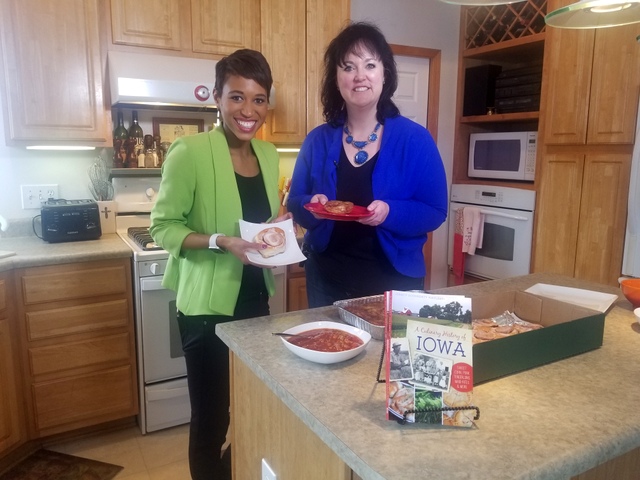 Are You on Team Cinnamon Roll?
It's every marketer's dream–a topic so compelling that no one can ignore it, and everyone wants to talk about it. Here in Iowa, this kind of topic revolves around that school-lunch classic–chili and cinnamon rolls.
Yep, it's a thing, and it's a beloved tradition here in my hometown of Lake City. I'll never forget the comforting aroma of homemade rolls (caramel rolls, most of the time) filling the school, including our 1920s-vintage three-story high school. As if it weren't hard enough to concentrate in math class, I had that enticing aroma to distract me–but oh what sweet torture!
I'm reliably informed that chili and cinnamon rolls are still a favorite school lunch in the local school district, as well as other schools around the state.
So when it was time to write the manuscript for my second book, "A Culinary History of Iowa," I started talking to sources about the history of chili and cinnamon rolls. Not only did I discover that no one seems to remember the origins of this phenomenal combo, but it's not something that every Iowa school kid grew up with.
Some people had never heard of it. Others said their school served peanut butter sandwiches with chili. There were those who couldn't imagine chili without cornbread. Still others, including a friend from Minnesota, were revolted. "That makes no sense! That's like eating scrambled eggs and birthday cake together!" said one Minnesota native.
Whether you love it or hate it, seems like everyone has an opinion about chili and cinnamon rolls. Click here for a snippet from my Culinary History of Iowa book to help whet your appetite about the history of chili and cinnamon rolls–along with an amazing recipe!
This food combo is also a surprisingly newsworthy topic. A reporter from the Des Moines Register interviewed me for the recent article "The history behind Iowa's unique taste for chili and cinnamon rolls."
The day after that story ran, I received an email from Jodi Long, a reporter for TV-13, the NBC affiliate in Des Moines. She wanted to do a segment on the history of chili and cinnamon rolls, so we filmed the segment last Friday. As soon as it aired on the early morning news segment this past Monday, I started getting comments, kudos and questions on Facebook and beyond.
(I love the Team Cinnamon Roll and Team Cornbread idea that Jodi included in her Facebook post. To watch the news segment, click here!)
I learned three things from this experience:
1. Realize that things you take for granted might be quite newsworthy, and look for ways to showcase these stories. (Your website, newsletter, e-newsletter, social media posts, press releases, videos, podcast or other communication tools might be just the place to share these stories.)
2. Respond quickly when the media wants to interview you about a topic. Reporters need to know sooner rather than later whether you can help them. Don't miss the opportunity for free publicity.
3. Invite people to join the conversation. So I want to know–are you on Team Cinnamon Roll or Team Cornbread?
Want more?
Thanks for stopping by. I invite you to read more of my blog posts if you value intriguing Iowa stories and history, along with Iowa food, agriculture updates, recipes and tips to make you a better communicator.

If you like what you see and want to be notified when I post new stories, be sure to click on the "subscribe to blog updates/newsletter" button at the top of this page, or click here. Feel free to share this with friends and colleagues who might be interested, too.
Also, if you or someone you know could use my writing services (I'm not only Iowa's storyteller, but a professionally-trained journalist with 20 years of experience), let's talk. I work with businesses and organizations within Iowa and across the country to unleash the power of great storytelling to define their brand and connect with their audience through clear, compelling blog posts, articles, news releases, feature stories, newsletter articles, social media, video scripts, and photography. Learn more at www.darcymaulsby.com, or e-mail me at yettergirl@yahoo.com. 
If you're hungry for more stories of Iowa history, check out my top-selling "Culinary History of Iowa: Sweet Corn, Pork Tenderloins, Maid-Rites and More" book from The History Press. Also take a look at my latest book, "Dallas County," and my Calhoun County" book from Arcadia Publishing. Both are filled with vintage photos and compelling stories that showcase he history of small-town and rural Iowa. Order your signed copies today! Iowa postcards are available in my online store, too.
Let's stay in touch. I'm at darcy@darcymaulsby.com, and yettergirl@yahoo.com.
Talk to you soon!
Darcy
@Copyright 2019 Darcy Maulsby & Co.  Blog posts may only be reprinted with permission from Darcy Maulsby.