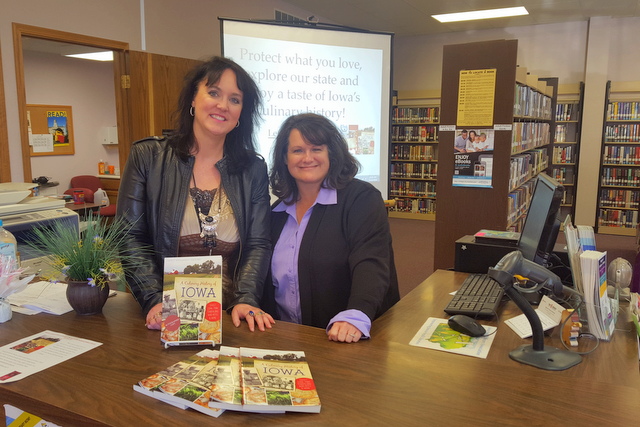 Iowa Eats! Why Radio Iowa, Newspapers and Libraries are Hungry for "A Culinary History of Iowa"
Everyone has an Iowa food story, even those doubters who sounded incredulous when I first proposed my idea for my "Culinary History of Iowa" book. Their amusement, followed by the inevitable question, "Iowa has a culinary history?" quickly dissolved into stories of Maid-Rites, potlucks and more.
The media, Iowa libraries and others across the state have really embraced these stories, too. I was honored to offer book programs and signings at the Ruthven Public Library and beautiful Kendall Young Public Library in Webster City. I was also pleased that the Webster City Freeman Journal ran a feature story on my book, at Pat Powers from KQWC Radio in Webster City interviewed me in a broadcast that has now popped up on Radio Iowa.
Need a fun read or a great gift idea? Click here to visit my online store, where you can purchase copies of "A Culinary History of Iowa," a unique set of 15 vintage images from "A Culinary History of Iowa," and my first book, "Calhoun County," which shares the remarkable, illustrated history of small-town and rural Iowa through the eyes of those who lived it.

November 19th, 2016 by Ric Hanson
http://www.kjan.com/index.php?cat=3&paged=2
From pork tenderloins to sweet corn to Jell-o, a new book is out focused on Iowa foods and the flavors that make the state so delicious. The book, "A Culinary History of Iowa," traces the popular tastes of Iowans through the years, according to author Darcy Dougherty Maulsby, of Lake City.  "We do have great cuisine," Maulsby says. "It's funny. When the book came out, I had some people questioning, 'Iowa has a culinary history?' We sure do. I said, 'Just starting thinking what defines Iowa food,' and everybody always comes up with an answer." Maulsby says she's done research for the book by exploring all four corners of the state and everything in between.
"I've been working on it in bits and pieces for almost 20 years in my career as an ag journalist," Maulsby says. "I've traveled the state and met with some of Iowa's finest chefs and lots of great old-school farm cooks. I've seen the spectrum of really awesome Iowa food and it's been so much fun to collect all of these stories and photos in one place." Some might categorize it as a cook book but Maulsby says it's more than that.
"It's the story behind the things that define Iowa food," Maulsby says. "Whether that's Maid-Rites, Dutch letters from Pella, there's so many fun stories, Laura Ingalls Wilder turns up in there, the Younkers Tea Room, all of these amazing traditions, meat lockers, sweet corn, all of the things that make Iowa food great." Find the book at the Amazon and Barnes & Noble websites as well as at: www.darcymaulsby.com. (Radio Iowa)
Iowa Eats: Maulsby pens book on the state's culinary history
NOV 16, 2016
by ADRI SIETSTRA, Webster City Freeman Journal reporter
asietstra@freemanjournal.net
Author Darcy Maulsby will be bringing Iowa food stories to life during a free program Thursday evening at 6:30 p.m. at Kendall Young Library. The program will feature a cooking demonstration with book signing to follow.
"You'll love this fun, fast-paced program filled with stories, rare vintage photos and surprising recipe tips. Be prepared to dig into the remarkable stories behind Iowa classics like Maid-Rites, breaded pork tenderloins, Iowans' obsession with Jell-O, and our distinctive chili-and-cinnamon roll phenomenon,"said Maulsby. "I'll also share practical, proven tips on how to preserve your own family's history and food traditions."
Maulsby, 43, is a self-described foodie and home cooking enthusiast from Lake City. She began baking and cooking in grade school while growing up on the farm. She entered many cooking contests at the Calhoun County Expo while a member of the Lake Creek Go-Getters 4-H Club.
"Food writing is a large part of my work as a small-business owner, freelance writer and marketing specialist who focuses on agriculture. I work with clients ranging from the National Pork Board to Farm News, where I often interview chefs and home cooks, create recipe pages and write feature stories that highlight the farm-to-fork connection," said Maulsby.
In 2007, Maulsby completed the Master Food Preserver course through University of Illinois Extension. She earned her bachelor's degree in journalism/mass communications and history from Iowa State University (ISU) and also earned her master's degree in business administration from ISU.
Maulsby's jams have won blue ribbons at the Iowa State Fair, and cookies have earned top honors at the Clay County Fair. She is also a certified Kansas City Barbecue Society judge.
Maulsby credits a variety of sources for the inspiration for her new book.
"The stories in "A Culinary History of Iowa" have come from the Iowa State Fair, as well as long-time restaurant owners, experienced farm cooks, candy shop owners and other foodies throughout Iowa,"Maulsby said.
Maulsby is excited to share some of Iowa's culinary history with attendees Thursday evening.
"Everyone has a food story. Sometimes we don't realize just how unique-and tantalizing-Iowa's food traditions are. If you like to travel, you'll walk away from this program inspired to explore Iowa, where you can sample flavors from around the globe without leaving the state," said Maulsby. "If you have an appetite for adventure, you can't do better than Iowa when it comes to history, agriculture and one-of-kind culinary experiences."
Signed copies of her book "A Culinary History of Iowa" will be available for $24 a copy.
LINDSAY ANDERSON, Kendall Young Librarian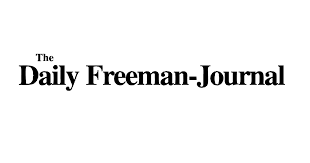 We Midwesterners are known far and wide for our excellent, down-home cuisine. Having only lived in Iowa for two years, I have already eaten enough to be amazed at Iowa's particular brand of culinary delights.
Have you ever wondered why Iowans cook – and eat – so well, and from where your signature recipes and food traditions originate? Iowa author and Lake City native, Darcy Maulsby, explores these and other food stories in her recently published book, Culinary History of Iowa. In it, she discusses everything from Maid-Rite classics to Iowan's homemade cinnamon rolls (served with chili, of course). The Library is delighted to be hosting Maulsby at Kendall Young Library on Thursday, November 17 at 6:30pm for a presentation, book signing and cooking demonstration. Maulsby has been featured in the Iowa History Journal, Our Iowa magazine, Iowa Public Radio, and more. During Maulsby's fun, interactive program, she will serve up fascinating tidbits related to more than 150 years of Iowa cuisine from all corners of the state.  Attend this free event and discover how Iowa's delectable cuisine is quintessentially Midwestern, grounded in its rich farming heritage and spiced with diverse ethnic influences.
On the Shelf
If all this talk of food has left you hungry, here are some titles that can help get some great, local Iowa eats cooking in your kitchen:  The following cookbooks were recently added to the Library's Genealogy Reference collection.  While we do not allow these unique cookbooks to be checked out, you are welcome to browse them and make copies of any recipes that catch your eye.
The Famous Old Webster City Cook Book
Curated by The Ladies' Aid Society of the Congregational Church in 1916, this cookbook boasts only "tried and tested" local recipes, including everything from waffles and pancakes, to salads and corn breads. A fun addition: the past page of this cookbook includes "Discoveries and Household Hints," a delightful list of tips and tricks from some early 1900s kitchen experts.
4-H & Friends Cookbook
Assembled in honor of the Hamilton County 4-H program's 70th anniversary in 1987, this nearly 400-page volume is painstakingly indexed, and boasts over 13 sections of recipes. Explore and discover some delightful gems; experiment with recipe choices ranging from "Shoo-Fly Cake" to "Gramma's Hamburger Soup".
St. Paul's Lutheran Church Anniversary Cookbook
Compiled by the ALCW of St. Paul's Lutheran Church of Williams, Iowa in 1987 to commemorate their 75th anniversary, this volume boasts more than 250 pages of hardy, time-tested eats that will satisfy your hunger and delight your taste buds. Try your hand at everything from "Buttermilk Cinnamon Bars," to "Zucchini Date Pecan Loaf," to "Highbrow Haddock."
Try out these locally celebrated recipes for some delicious mealtime fun, and don't forget to join us at the Library with Darcy Maulsby on Thursday, November 17 at 6:30pm for an unforgettable (not to mention delicious) journey into Iowa's culinary past.
Order you copies today!
Click here to visit my online store, where you can purchase copies of "A Culinary History of Iowa," a unique set of 15 vintage images from "A Culinary History of Iowa," and my first book, "Calhoun County," which shares the remarkable, illustrated history of small-town and rural Iowa through the eyes of those who lived it.