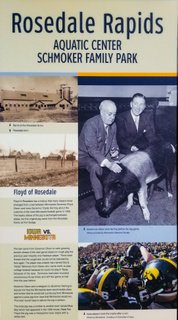 Iowa's "Peacemaker Pig" Floyd of Rosedale Helped Calm Racial Tensions
If you follow college football in the Midwest, especially if you're a University of Iowa Hawkeye football fan, you may know the story of Floyd of Rosedale. A bronze statue of the pig, Floyd of Rosedale, is exchanged between the two states. The original pig himself came from Rosedale Farms at Fort Dodge in north-central Iowa.
The whole deal emerged from a bet between Iowa Governor Clyde Herring and Minnesota Governor Floyd Olson about the outcome of the 1935 Iowa-Minnesota football game, but this story involves something much deeper than a famous pig and a bronze trophy.
The problem started the previous year, on Saturday, October 27, 1934, when rough play was directed towards one Iowa Hawkeye running back, Ozzie Simmons. Simmons was a rarity in that era: a black player on a major college football team. Dubbed the "ebony eel" by some sportswriters of the era, Simmons had come north to play football when he wasn't allowed to play football in his home state of Texas, due to his race.
America in the 1930s included Jim Crow laws in southern states, which segregated blacks from whites. In northern states, no such laws existed, but discrimination was still widespread.
Simmons' talent couldn't be denied, however, and he attracted the attention of a young Iowa sports broadcaster perched high above the field. That broadcaster, who would become President Ronald Reagan, became an Ozzie Simmons fan, noted Minnesota Public Radio (MPR), which aired the story "The Origin of Floyd of Rosedale" in 2005. Reagan described a trademark Simmons' move during a telephone interview with legendary Iowa sports broadcaster Jim Zabel of WHO Radio in Des Moines.
"Ozzie would come up to a man, and instead of a stiff-arm or sidestep or something, Ozzie — holding the football in one hand — would stick the football out," Reagan said. "And the defensive man just instinctively would grab at the ball. Ozzie would pull it away from him and go around him."
There were no dazzling runs against Minnesota, however, in the 1934 game at Iowa. Simmons was knocked out three times, leaving the game for good by halftime. The Gophers overwhelmed Simmons and the rest of the Iowa team, beating them 48-12.
While Minnesota went on to win the national championship that year, Iowa fans at the game were outraged by how Minnesota played, in Iowa City claiming the defense deliberately went after Iowa Simmons hard. (Just 11 years earlier, Iowa State's first black athlete, Jack Trice, died of injuries sustained in a game at Minnesota in 1923.)
How Floyd of Rosedale was born
In 1935, the Rosedale Trophy debuted in an attempt to generate some goodwill between the two schools. Ahead of the 1935 game, Herring warned Minnesota not to pull the same stunts it did the year before. "If the officials stand for any rough tactics like Minnesota used last year, I'm sure the crowd won't," Herring said.
Olson sent a telegram to Governor Herring to assure him that the Minnesota team would tackle clean. To help calm the growing tension ahead of the next Minnesota-Iowa football game, Olson also went on to say that he would bet a prize pig from Minnesota against a prize pig from Iowa that Minnesota would win the big game. The loser would have to deliver the pig in person.
"Dear Clyde," stated Olson's telegram to Herring. "Minnesota folks are excited over your statement about the Iowa crowd lynching the Minnesota football team. If you seriously think Iowa has any chance to win, I will bet you a Minnesota prize hog against an Iowa prize hog that Minnesota wins today."
The Iowa governor accepted, and what became known as the Floyd of Rosedale prize was born. Herring apparently followed Olson's cue. He joked it would be hard to find a prize hog in Minnesota, since they all were so "scrawny."
Word of the bet reached Iowa City as the crowd gathered at the stadium. Things calmed down, and the game proceeded without incident. Minnesota won 13-7.
The prize pig from Iowa was a Hampshire boar, black with a white belt. He was later named the Floyd of Rosedale after Minnesota's governor. In the week following the big game, Herring delivered the live pig to the Minnesota Capitol building in St. Paul and took Floyd inside to meet Olson.
After the hog's trophy days were over, Floyd spent his remaining days on a farm in southeast Minnesota. Floyd died of hog cholera in July 1936, about eight months after he made the front page. The real Floyd, Governor Olson, passed away less than a month later, dying of cancer in August 1936.
(Ironically, Floyd the hog wasn't the only celebrity in his family. Floyd of Rosedale was the brother of another famous boar, Blue Boy, who had appeared in the 1933 movie "State Fair.")
Leaving a legacy
All these years later, the famous Floyd of Rosedale endures as one of college football's most famous trophies. Floyd of Rosedale's legacy is also preserved in a marker by the Rosedale Rapids Aquatic Center in Fort Dodge.
Simmons, whose story prompted the Floyd of Rosedale trophy, never took much interest in the trophy, in part because of the era of racial discrimination it recalled. He was denied a chance to play professional football, because the National Football League banned black players at the time, noted MPR. He played some minor league ball, joined the Navy and eventually became a Chicago public school teacher.
"When Ozzie Simmons stepped onto the field in October, 1934, to play Minnesota, he entered a national drama that's still playing out today," MPR noted. "All Simmons wanted was a chance. The trophy is an ever-present reminder of how precious that right is."
More to come!
These are the kinds of stories I'm sharing in my new book, "Iowa Agriculture: A History of Farming, Family and Food," which will be released by The History Press on Monday, April 27, 2020.  Watch for more updates!
Want more?
Thanks for stopping by. I invite you to read more of my blog posts if you value intriguing Iowa stories and history, along with Iowa food, agriculture updates, recipes and tips to make you a better
If you're hungry for more stories of Iowa history, check out my top-selling "Culinary History of Iowa: Sweet Corn, Pork Tenderloins, Maid-Rites and More" book from The History Press. Also take a look at my latest book, "Dallas County," and my "Calhoun County" book from Arcadia Publishing. Both are filled with vintage photos and compelling stories that showcase he history of small-town and rural Iowa. Order your signed copies today! Iowa postcards are available in my online store, too.
If you like what you see and want to be notified when I post new stories, be sure to click on the "subscribe to blog updates/newsletter" button at the top of this page, or click here. Feel free to share this with friends and colleagues who might be interested, too.
Also, if you or someone you know could use my writing services (I'm not only Iowa's storyteller, but a professionally-trained journalist with 20 years of experience), let's talk. I work with businesses and organizations within Iowa and across the country to unleash the power of great storytelling to define their brand and connect with their audience through clear, compelling blog posts, articles, news releases, feature stories, newsletter articles, social media, video scripts, and photography. Learn more at www.darcymaulsby.com, or e-mail me at yettergirl@yahoo.com.
Let's stay in touch. I'm at darcy@darcymaulsby.com, and yettergirl@yahoo.com.
Talk to you soon!
Darcy
One response to "Iowa's "Peacemaker Pig" Floyd of Rosedale Helped Calm Racial Tensions"