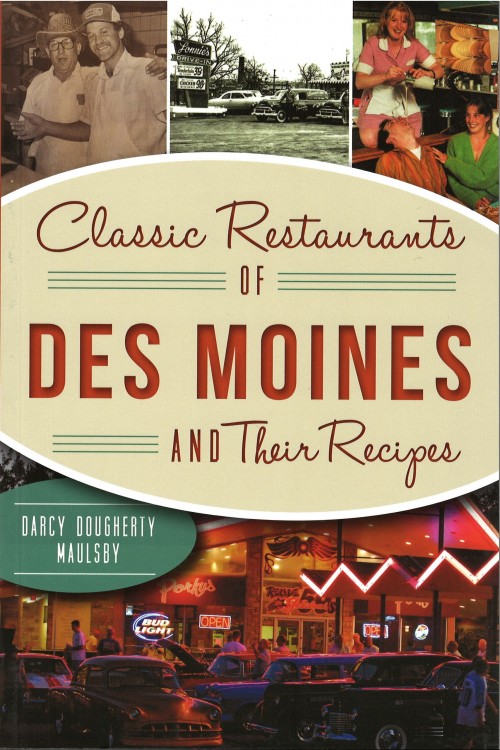 Classic Restaurants of Des Moines and Their Recipes
Price: $28 (includes autographed book, sales tax, shipping and handling)
Item Code: DARCY105
Details
With Italian steakhouses, the Younkers Tea Room and Stella's Blue Sky Diner, Des Moines's culinary history is tantalizingly diverse. It is filled with colorful characters like bootlegger/"millionaire bus boy" Babe Bisignano, a buxom bar owner named Ruthie and future president of the United States Ronald Reagan. The savory details reveal deeper stories of race relations, women's rights, Iowa caucus politics, the arts, immigration and assimilation. As you read Classic Restaurants of Des Moines and Their Recipes, don't be surprised if you experience sudden cravings for Steak de Burgo, fried pork tenderloin sandwiches and chocolate ambrosia pie, à la Bishop's Buffet. Author Darcy Dougherty Maulsby serves up a feast of Des Moines classics mixed with Iowa history, complete with iconic recipes and vintage photographs and illustrations.
"Wow! Perhaps my most cherished book in my library! A must-have book for anyone that has ever enjoyed the food scene here in Des Moines. Thank you, Darcy Dougherty Maulsby, for such a fabulous trip down memory lane. This book is one of the best things to come out of the year 2020!"
--Chef George Formaro, Des Moines, Iowa
"Hi! I ordered multiple copies of you Des Moines restaurant book. I sent one to my 107-year-old aunt in Des Moines. I thought she might enjoy some of the history and remember hearing about the different places. Of course she knew Younkers Tea Room, and she knew Babe Bisignano enough to speak with him. And she had heard of Ruthie, too! My cousin's wife works as a nurse/aide where my aunt lives, and she has been enjoying the book, too, including the applesauce bread recipe. Your book is enjoyed!"
--Tedra Towne, Boone, Iowa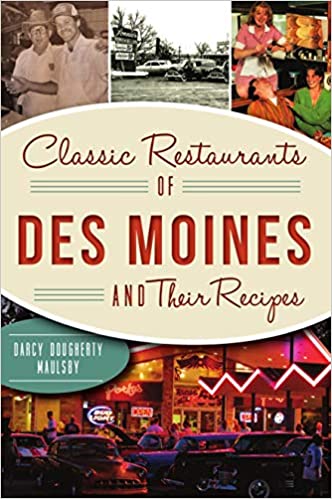 Paperback : 208 pages
Product Dimensions : 6 x 0.31 x 9 inches
Publisher : The History Press (November 2, 2020)
Chapters:
1. Midwestern Roots Mixed with Ethnic Accents (including King Ying Low and the chop suey craze)
2. Authentic Italian Influences
3. Babe, You've Got What it Takes (Legendary restauranteur Babe Bisignano)
4. Fine Dining: Steakhouses, Supper Clubs and Steak de Burgo
5. A Taste of Elegance at the Younkers Tea Room
6. Cooking Up Change: Restaurants, Race Relations and Civil Rights
7. Diners, Drive-Ins, Food and Fun
8. Eat, Drink and Be Merry: From Ronald Reagan to Ruthie (A Des Moines bar owner and legend)
9. Dinner Theaters in Des Moines Mixed Entertainment and Good Eats
10. Downtown Des Moines and the Revitalization of Court Avenue
11. Savor a Taste of the Iowa Caucus
12. Changing Times and the Future of Des Moines Dining