Books By Darcy Dougherty Maulsby
Love a Great Read?
This new hardcover, illustrated book is the first in-depth, non-fiction history of Dallas County, Iowa, in nearly 80 years! No Iowa county has influenced American history more than Dallas County. It propelled Harry Truman to an unlikely victory in the 1948 presidential campaign, following a fiery speech he delivered to 100,000 farmers on a sweltering September day at the National Plowing Match near Dexter.
Just 15 years earlier, a shoot-out near Dexfield Park marked the beginning of the end for infamous outlaws Bonnie and Clyde and the notorious Barrow Gang.
Dallas County, located just west of Des Moines, has produced several major-league baseball players (among them Bob Feller and Hal Manders), a US congressman (David Young), and Nile Kinnick, the 1939 Heisman Trophy winner and University of Iowa football legend whose grandfather George Clarke, of Adel, served as Iowa's governor from 1913 to 1917.
Today, Dallas County is one of the fastest-growing counties in America and remains a region of opportunity with a rich heritage of small-town living, farming, coal mining, and the immigrant experience. This 128-page book from Arcadia Publishing is filled with intriguing black-and-white, vintage photos on nearly every page, along with stories from Adel, Perry, Waukee, Granger, Woodward, Dexter, Linden, Minburn, Dawson, Dallas Center, Van Meter, Redfield, Bouton, surrounding rural areas and ghost towns. Darcy will be happy to sign each copy of Dallas County you order here!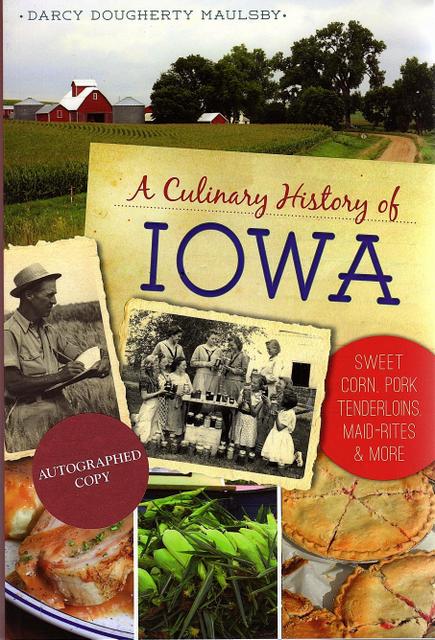 The Culinary History of Iowa: Sweet Corn, Pork Tenderloins, Maid-Rites and More
Pull up a chair to the kitchen table and prepare to enjoy a remarkable journey through 150+ years of Iowa's food history. Filled with recipes, stories and photos, this unique book showcases Iowa's delectable cuisine, which is quintessentially Midwestern, grounded in a rich farming heritage and spiced with diverse ethnic influences. Classics like fresh sweet corn and breaded pork tenderloins are found on menus and in home kitchens across the state. At the world-famous Iowa State Fair, a dizzying array of food on a stick commands a nationwide cult following. From Maid-Rites to the moveable feast known as RAGBRAI, discover the remarkable stories behind Iowa originals, and savor an array of mouthwatering photos. Find recipes for favorites ranging from classic Iowa ham balls and Steak de Burgo to homemade cinnamon rolls--served with chili, of course! Click here to shop Darcy's online store, order your signed copy directly from Darcy today, and savor a fun, tasty adventure into Iowa history!
Remember--books make a great gift!
What others are saying:
Dear Darcy,
I so enjoyed your talk at the library in Monticello—every bit as much as I enjoyed your book. When I brought the book home from the library, I had a hard time putting it down. You put so much history in your book and showed how it defined the food habits [of Iowans]. Some of the history I remember from my school days and some from more recent reading. The most interesting "new" history was the information about the seed men [Earl May and Henry Field] from Shenandoah, Iowa; the sister [Jessie Field Shambaugh] who brought science and home economics to the country schools; and the KMA radio homemakers. I could go on and on, but suffice it to say---your book was pure enjoyment.
Sincerely,
Barb Ahlrichs, Monticello, Iowa
"We love this book! When I showed it to my brother, Bob, and my mom, and they also thought it was great. Our employees at Archie's Waeside are ordering it too, not just because of Archie's, but because a lot of them grew up throughout the state. I put "A Culinary History of Iowa" on my Facebook page and the Archie's Waeside Facebook page, so relatives and customers are very excited. It's a wonderful, historical book for all of us who love Iowa. This book is also a great gift idea for our children, other relatives, and friends. What a way to relive our memories of our childhood!"
--Lorrie Luense, LeMars, Iowa (Lorrie's family owns the James Beard-award-winning steakhouse Archie's Waeside, a three-generation business that has been a LeMars icon for more than 60 years)
"Here's a great gift idea!! I took 8 of these with me to California as gifts when I was there a few months ago, and they went over very well. It's a very well written book and was written with love from Darcy Dougherty Maulsby!"
--Patrick Palmer, Hampton, Iowa, owner of The Computer Guy
Click here to see why readers are giving A Culinary History of Iowa five-star reviews on Amazon!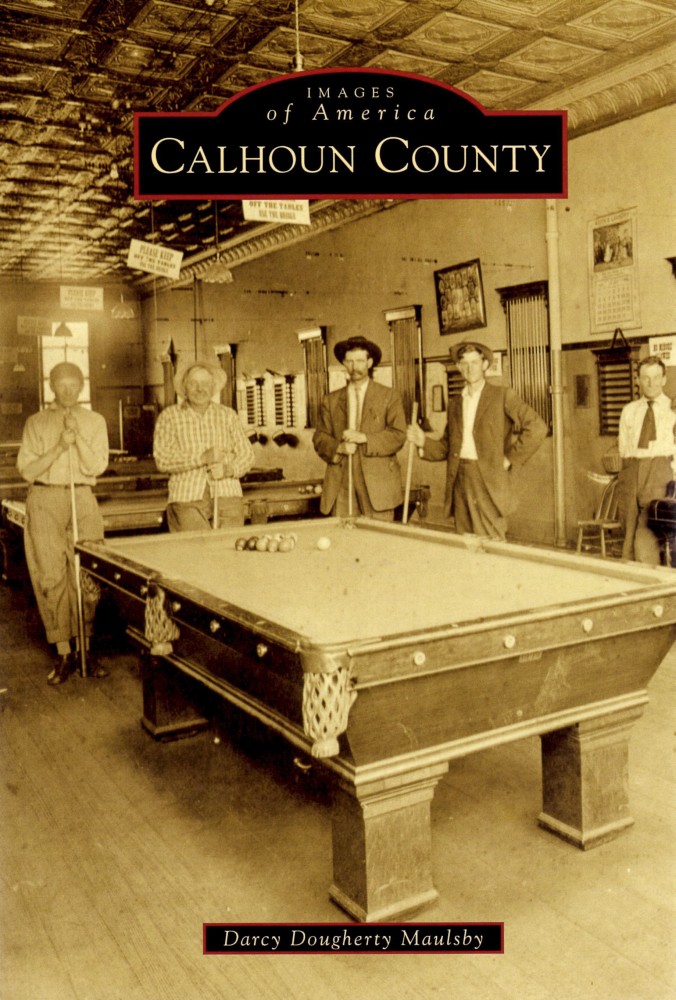 Calhoun County
Ready to unlock the secret history of Iowa? Calhoun County from Arcadia Publishing offers remarkable glimpses into the past and present. View the history of small-town, rural Iowa through the eyes of those who lived it, from the birth of the railroad and prairie towns to and the growth of some of most productive farms in the world. Intriguing stories abound in Calhoun County, which claims two nationally acclaimed authors as native sons, became the target of a daring bank robbery by Bonnie and Clyde in the 1930s, and welcomed Babe Ruth in 1940 (but not on the baseball field). Calhoun County offers a well-researched pictorial journey designed for native Iowans, transplanted Iowans, and those curious about the evolution of small towns and farms in the Midwest. Click here to order your signed copy today and enjoy rare glimpses into past eras that have shaped Midwestern life today.
Want to see how others have reviewed Calhoun County on Amazon?

What others are saying:
"The time is right for this unique book. We're less than a generation away from some of this history being lost forever, so it's great to see it preserved through these interesting stories and pictures. "Calhoun County" is a fascinating journey that will keep you turning the pages to see what's next." --Duane Murley, broadcaster and host of the KWMT Power Lunch show


"If you want to understand today, you have to study yesterday, noted author Pearl Buck. In Iowa, studying yesterday means discovering the history of our great state's small towns and farms. Come along on this remarkable journey with Darcy Dougherty Maulsby, who not only knows Iowa agriculture, but is a skilled storyteller who brings history to life." --Iowa Secretary of Agriculture Bill Northey
-----------------
"To understand Iowa, you need to understand the legacy of its small towns and rural communities. "Calhoun County" shows these roots run deep and make Iowa what it is today--a special place where people care about their heritage, cherish their small-town spirit, and work together to create a better future." --Kim Reynolds, lieutenant governor of Iowa

-----------------
"I loved Iowa the minute I came here to play football for the Iowa Hawkeyes. The more I explore this great state, the more I appreciate Iowa's farms and small towns. The interesting stories and photos in "Calhoun County" reflect the competitive spirit, teamwork and strong sense of community that make rural Iowa such an extraordinary place." --Chuck Long, Iowa Hawkeye football legend, former NFL player, and CEO/executive director of the Iowa Sports Foundation
-----------------
"I bought this book as a Christmas gift for my father-in-law, and he loved it! When I visited him recently, he told me every story in the book. He loves history. Thanks so much!" --Kim Fjerstad, Lytton, Iowa

Signed copies of Darcy's books are available on request. For more information on Darcy's books, visit her Online Store and Media/News/Events page.