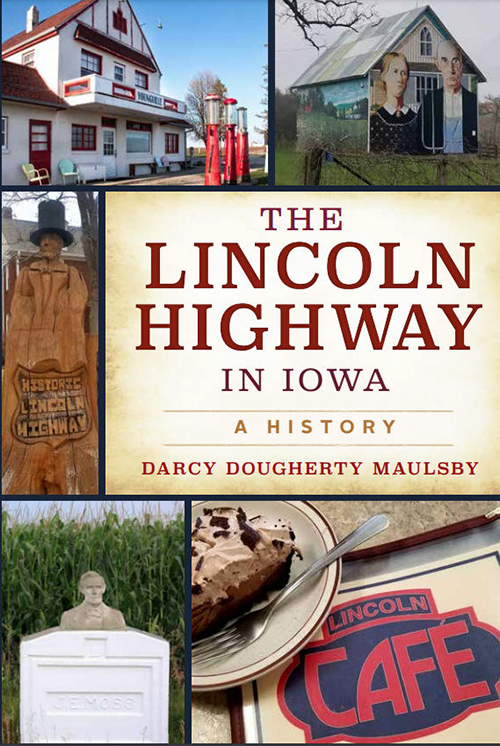 The Lincoln Highway in Iowa--A History
Price: $30
Item Code: DARCY111
Details
Enjoy the ultimate Iowa road trip!
Nothing says freedom like the great American road trip, especially when you cruise the historic Lincoln Highway in Iowa. A forerunner of the interstate system, the Lincoln Highway became America's first coast-to-coast road in 1913, passing through Iowa from Clinton to Council Bluffs.
If you've ever traveled on an interstate—or any paved road, for that matter—you owe a debt of gratitude to the visionaries who promoted the Lincoln Highway to connect the country. The development of the Lincoln Highway and its legacy today reflects a tremendous story of American innovation, community spirit, freedom and an unshakable belief in a brighter future. What's remarkable is that as much as 85% of the original highway is still drivable in Iowa, according to the Lincoln Highway Association (LHA). While it's hard to imagine now, there were almost no good roads to speak of in the United States, especially in Iowa, as late as 1912.
Most roads were just dirt: bumpy and dusty in dry weather, muddy and impassable in wet weather. It was much easier to take the train—or just stay home. Still, Iowans were restless, especially after Henry Ford introduced the Model T in 1908. As automobile fever spread, an entrepreneur named Carl Fisher took note. His Indianapolis Motor Speedway proved successful, especially after he paved it with brick. By 1912, Fisher dreamed of another grand idea: a highway spanning the continent.

It was a long, hard journey to make this dream a reality, but by Oct. 31, 1913, the LHA dedicated the route of the Lincoln Highway state today can compare to Iowa when it comes to getting a sense of what it might have been like for earlier generations of motorists on the Lincoln Highway," Maulsby said. "We can check into some of the same places travelers did decades ago, like the Lincoln Hotel in Lowden," Maulsby said. "We can eat in the same restaurants, like the Lincoln Café in Belle Plaine, Taylor's Maid-Rite in Marshalltown or the Pink Poodle Steakhouse in Crescent. Curious about the story behind the mysterious Moss markers north of Scranton?
Do you know what supper club near the Lincoln Highway served gangsters like John Dillinger and Al Capone—and you can still eat there today? Wondering why an old grain elevator in Woodbine showcases a massive art installation? You'll pass the test with flying colors—and impress your friends—when you delve into Iowa's amazing Lincoln Highway history. There are countless pieces of the past just waiting to be re-discovered along the Lincoln Highway in Iowa.

Along the way, you can still find inspiring stories of dynamic entrepreneurs, people who care about their community, and rural revitalization, mixed with historic preservation, along the Lincoln Highway. This is the ultimate Iowa road trip, especially if you want to experience the real America.

*** Since Darcy believes you should always include a recipe, you'll find an array of recipes inspired by restaurants, past and present, along the Lincoln Highway in Iowa, from Mile High Lemon Chiffon Pie to Classic Iowa Breaded Pork Tenderloin Sandwiches!

This one-of-a-kind book is Illustrated with a stunning array of vintage and modern photos along the Lincoln Highway in Iowa. Order your signed copy today, and savor a fun, tasty adventure into Iowa history! ($30 price includes the book, tax, shipping and handling)
"You don't have to be an Iowan to enjoy reading Darcy Maulsby's latest book, The Lincoln Highway in Iowa: A History. The book is well researched and well written. If you are traveling though Iowa on I-80 and want to experience the Iowa history of the Lincoln Highway, veer off to the north about 30 miles and get off at Highway 30. Along with learning some Iowa history of the Lincoln Highway, you will experience the charm and hospitably of many small Iowa towns and good eating places along the way. Be sure to take Darcy's book with you as a guide." --Mick McCarville, Iowa native and history buff
"My husband, Tim just recently finished reading your Lincoln Highway book. He absolutely loved it! He has always enjoyed history, so it was right up his alley. Now when he retires, he wants to travel the Lincoln Highway (instead of Route 66). He mentioned several times what a wonderful author you are. I just wanted to pass that compliment along. Thank you for being our local author! Now, I need to read this book!" --Jeri Woodward, retired teacher, Lorhville, Iowa
Paperback: 208 pages
Publisher: The History Press (released Oct. 10, 2022)

Chapters:
Chapter 1: Getting Iowa Out of the Mud
Chapter 2: Clinton County
Chapter 3: Cedar County
Chapter 4: Linn County
Chapter 5: Benton County
Chapter 6: Tama County
Chapter 7: Marshall County
Chapter 8: Story County
Chapter 9: Boone County
Chapter 10: Greene County
Chapter 11: Carroll County
Chapter 12: Crawford County
Chapter 13: Harrison County
Chapter 14: Pottawattamie County
Chapter 15: The Lincoln Highway Rolls On