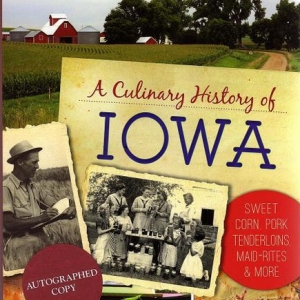 A Culinary History of Iowa: Sweet Corn, Pork Tenderloins, Maid-Rites & More (paperback book from the American Palate series)
Price: $28 (includes book signed by the author, tax, shipping and handling)
Item Code: DARCY103
Details
Iowa's delectable cuisine is quintessentially Midwestern, grounded in its rich farming heritage and spiced with diverse ethnic influences. Classics like fresh sweet corn and breaded pork tenderloins are found on menus and in home kitchens across the state. At the world-famous Iowa State Fair, a dizzying array of food on a stick commands a nationwide cult following. From Maid-Rites to the moveable feast known as RAGBRAI, discover the remarkable stories behind Iowa originals, and savor an array of mouthwatering photos. Find recipes for favorites ranging from classic Iowa ham balls and Steak de Burgo to homemade cinnamon rolls--served with chili, of course! Author Darcy Dougherty Maulsby serves up a bountiful history of tasty tradition. Order your signed copy today, and savor a fun, tasty adventure into Iowa history! ($28 price includes signed copy of the book, sales tax, shipping and handling)
Paperback: 192 pages
Publisher: The History Press (August 1, 2016)
Series: American Palate
Chapters:
Chapter 1: Settling Iowa
Chapter 2: Immigrants Influence Food Traditions
Chapter 3: Farm Fresh Foods
Chapter 4: Meat Galore
Chapter 5: Small-Town Life
Chapter 6: City Style and Fine Dining
Chapter 7: Fairs, Traditions and Celebrations
Chapter 8: Dairy Good
Chapter 9: Bootlegging, Beer and Beverages
Chapter 10: Iowa Classics
Chapter 11: It Takes an Iowan
Chapter 12: The Future of Iowa Food
What others are saying:
Dear Darcy,
I so enjoyed your talk at the library in Monticello—every bit as much as I enjoyed your book. When I brought the book home from the library, I had a hard time putting it down. You put so much history in your book and showed how it defined the food habits [of Iowans]. Some of the history I remember from my school days and some from more recent reading. The most interesting "new" history was the information about the seed men [Earl May and Henry Field] from Shenandoah, Iowa; the sister [Jessie Field Shambaugh] who brought science and home economics to the country schools; and the KMA radio homemakers. I could go on and on, but suffice it to say---your book was pure enjoyment.
Sincerely,
Barb Ahlrichs, Monticello, Iowa

"We love this book! When I showed it to my brother, Bob, and my mom, and they also thought it was great. Our employees at Archie's Waeside are ordering it too, not just because of Archie's, but because a lot of them grew up throughout the state. I put "A Culinary History of Iowa" on my Facebook page and the Archie's Waeside Facebook page, so relatives and customers are very excited. It's a wonderful, historical book for all of us who love Iowa. This book is also a great gift idea for our children, other relatives, and friends. What a way to relive our memories of our childhood!"
--Lorrie Luense, LeMars, Iowa (Lorrie's family owns the James Beard-award-winning steakhouse Archie's Waeside, a three-generation business that has been a LeMars icon for more than 60 years)
"Here's a great gift idea!! I took 8 of these with me to California as gifts when I was there a few months ago, and they went over very well. It's a very well written book and was written with love from Darcy Dougherty Maulsby!"
Patrick Palmer, Hampton, Iowa, owner of The Computer Guy