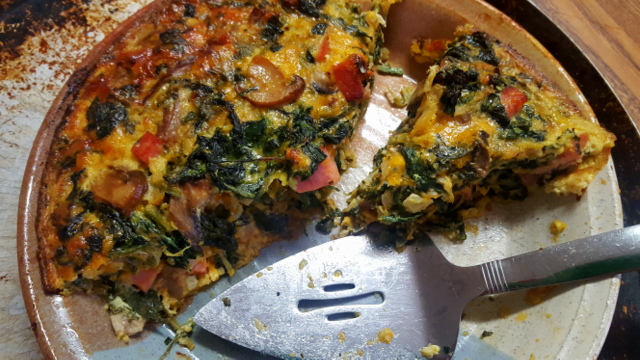 A ham for Easter dinner has been a tradition in my family for as long as I can remember.  It's no wonder, since I grew up on a farrow-to-finish hog farm in Calhoun County, Iowa. Ever wonder why ham became an Easter tradition?
In the days before refrigeration, hogs were harvested in the fall. The hams were preserved by curing (salting and/or smoking). This process took a long time, and the first hams were ready to eat in the spring. Ham, then, was a natural choice for the Easter celebration.
The National Pork Board recently conducted a Ham Research Study (wouldn't you love that job?) and found that that 69 percent of Americans served ham for Easter dinner in 2016. Also, 55 percent of consumers enjoy ham as an everyday meal. I'm certainly one of them.
If you have leftover ham this Easter, why not power up your next meal with my Crustless Quiche? This recipe is incredibly simple, flavorful and packed with veggies and protein. What more could you ask for?
Crustless Spinach and Ham Quiche
1 tablespoon olive oil
1 cup chopped onion
1 cup sliced fresh mushrooms (or 2 cans sliced mushrooms)
Diced red and orange peppers, if desired
1 package (10 ounces) frozen chopped spinach, thawed and drained
1 cup chopped, fully cooked ham
5 large eggs
3 cups shredded Cheddar or Monterey Jack cheese
1/8 teaspoon fresh-ground pepper
In a large skillet, saute onion and mushrooms in oil until tender. Add spinach and ham; cook and stir until the excess moisture is evaporated. Cool slightly. Beat eggs; add cheese and mix well. Stir in spinach mixture and pepper; blend well. Spread evenly into a greased 9-in. pie plate or quiche dish. Bake at 350° for 40-45 minutes or until a knife inserted in center comes out clean. Yield: 8 servings. Enjoy!
Want more Iowa culture and history?
Read more of my blog posts if you want more Iowa stories, history and recipes, as well as tips to make you a better communicator.
If you're hungry for more stories of Iowa history, check out my top-selling "Culinary History of Iowa: Sweet Corn, Pork Tenderloins, Maid-Rites and More" book from The History Press, as well as my Calhoun County" book from Arcadia Publishing, which showcases the history of small-town and rural Iowa. Order your signed copies today! Iowa postcards are available in my online store, too.
P.S. Thanks for joining me. I'm glad you're here. 
@Copyright 2017 Darcy Maulsby & Co.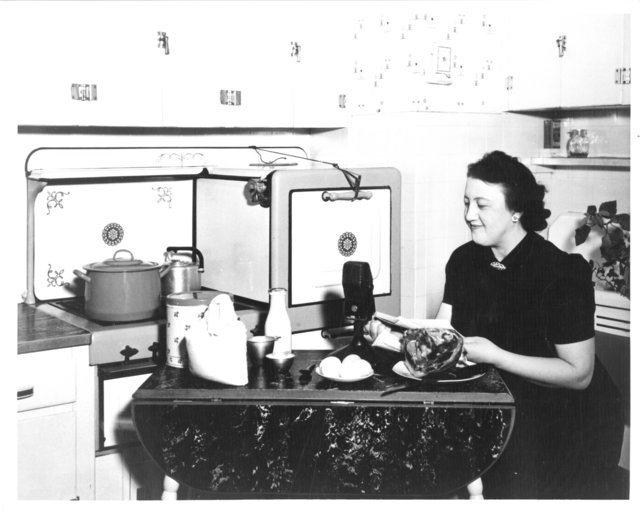 Long before there was Martha Stewart, there were KMA's radio homemakers. These creative, talented ladies from southwest Iowa revolutionized women's roles far beyond their humble farm kitchens starting in the 1920s. As they delighted Midwestern audiences by sharing their favorite recipes and providing down-home, daily visits with their radio friends, some of the women also became successful entrepreneurs along the way.
Their story begins in the early 1920s with the debut of a fabulous new invention called radio. In 1925, when a local businessman named Earl May began broadcasting KMA Radio-960 from Shenandoah, Iowa, to promote his seed and garden business. The station gained a following by airing practical information designed to help with the day-to-day life in Midwestern farm kitchens.
Before long, KMA was a trusted friend throughout the wide listening area, offering inspiration, companionship, and all manners of domestic counsel. The power of this connection can't be understated when you consider the era—a time when farm wives were much more isolated than today due to poor roads, limited social opportunities and long days filled with endless chores.
A roster of personable, lively women who quickly became known as the KMA Radio Homemakers hosted KMA's daily radio programs, including the Home Hour, the Stitch and Chat Club, and the KMA Party Line, while live cooking demonstrations drew thousands to the KMA auditorium in Shenandoah.
Broadcasts reached across the Midwest
The radio homemakers' history is also linked to Earl May's local competitor, Henry Field, another nursery and garden entrepreneur who seized on the power of radio to help expand his business. Field recruited family members to go on the air, including his sister, Leanna Field Driftmier, who began broadcasting "The Mother's Hour," which became "Kitchen Klatter." Without any training, Leanna sat down at the microphone and just started talking about her home, family, recipes, household tips, advice for child- rearing and whatever news seemed worth sharing during the afternoon show.
In 1930, Leanna broke her back in a car accident but wanted to continue her show, despite her injuries. The radio equipment was brought to her home, and she broadcast from her bed and later from her kitchen table. The show became so popular amongst listeners that it was eventually was broadcast in six Midwestern states.
Neighboring on the air
As the radio homemakers' concept gained momentum, local farm women like Evelyn Birkby began broadcasting from their kitchens in the 1950s. In her show "Down a Country Lane" on KMA Radio, Birkby would discuss her family and share snippets from her daily life, as well as offer suggestions for making the home a more pleasant place to live. Birkby called this phenomenon "neighboring on the air," and it met a vital need when farm life could often be isolating.
Fans would follow the doings of favorite homemakers for years, tuning in each day the same way they'd listen to episodes of radio soap operas. Of course, recipes figured prominently in the broadcasts, with old-fashioned, Midwestern fare focused on meat and potatoes, hearty casseroles, cakes, pies, cookies and more.
Kitchen Klatter became home-grown success
Through the years, a line of Kitchen Klatter products (including food flavorings, bleach and more) was developed and sold over the radio by broadcasters like Leanna Driftmier. In addition, a monthly Kitchen Klatter magazine was circulated to thousands of Midwestern readers who enjoyed the articles, letters and recipes like Company Ham and Potatoes, Emerald Mint Sauce (made from Kitchen Klatter Mint Flavoring), Mary's Pineapple Pie and Grandma's Oatmeal Cookies. The Kitchen Klatter enterprise and the radio homemakers endured for a number of years, with some of the broadcasts lasting until the 1990s.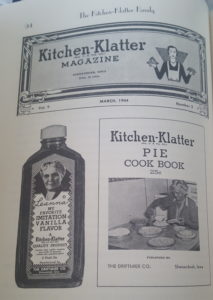 Recipes preserve a taste of Iowa history
In 1991, Evelyn Birkby published the fascinating book "Neighboring on the Air," where you can almost hear the voices of the KMA homemakers while you get a taste of their philosophy of life and sample their recipes. You can learn how to make hearty Midwestern fare ranging from Sour Cream Apple Pie from Florence Falk, "The Farmer's Wife," to Six-Layer Washday Dinner from Doris Murphy, who took to the air in 1949 with her "Party Line" broadcast.
You'll get a sense what a grueling schedule the radio homemakers often endured as they broadcast radio shows out of their kitchen while their own family life went on about them. These ladies also knew the needs and interests of their audience, because they, too, were well acquainted with hard work, hard times and making do.
Through it all, the radio homemakers were Martha Stewart and Dear Abby all rolled into one as they shared news about their children, home beautification tips and their trusted recipes. Thousands of devoted listeners depended on them for weekly entertainment, information, humor and continuity. These listeners considered the radio homemakers a valued part of their lives, which is reflected in the longevity of the radio shows. The radio homemakers' remarkable contributions are an enduring legacy to power of Iowa farm women and add unforgettable flavor to Iowa's rich culinary heritage.
Six-Layer Washday Dinner
Like today's busy working women, Iowa's radio homemakers like Doris Murphy knew the value of being able to put a hearty, nutritious meal on the table without a lot of fuss. No doubt her recipe featured home-grown and home-canned vegetables.
2 cups hamburger
1 small onion, chopped
2 cups diced potatoes, raw
½ cup uncooked rice
1 cup sweet peppers, cut fine
1 cup diced carrots, raw
1 pint tomatoes
Brown hamburger and onion together. Combine meat, onion, potatoes, rice, peppers, carrots and tomatoes. Season with salt and pepper. Cover with water. Cook 2 hours in 350-degree oven.
Want more Iowa culture and history?
Read more of my blog posts if you want more Iowa stories, history and recipes, as well as tips to make you a better communicator.
If you're hungry for more stories of Iowa history, check out my top-selling "Culinary History of Iowa: Sweet Corn, Pork Tenderloins, Maid-Rites and More" book from The History Press, as well as my Calhoun County" book from Arcadia Publishing, which showcases the history of small-town and rural Iowa. Order your signed copies today! Iowa postcards are available in my online store, too.
P.S. Thanks for joining me. I'm glad you're here. 
@Copyright 2017 Darcy Maulsby & Co.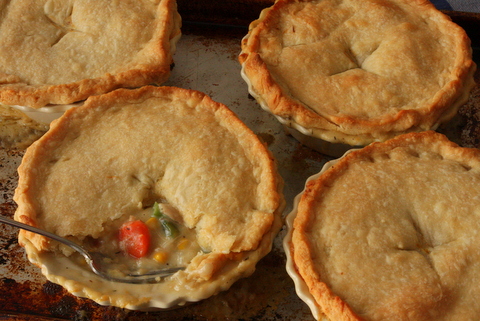 As a food writer, here's my foolproof equation: Pi Day (3/14) + old-fashioned chicken pot pie = true Iowa comfort food. Foodies like me aren't nearly as concerned about the ratio of the circumference of a circle to its diameter (which is approximately 3.14159), UNLESS that pie is either a sweet or savory creation. Check out my recipe for Old-Fashioned Chicken Pot Pie (it's what's on the menu for lunch at the farm today!), including a recipe for the easiest—and tastiest—homemade pie crust.
I tip my hat to my friend Marlene (Lasher) Glasnapp of Lytton, Iowa, for the fantastic, lard-based pie crust recipe I've included below the pot-pie recipe. When you compare notes with an experienced farm cook like Marlene, don't be surprised if you find new ways to break the "rules" of pie baking outlined in the cookbooks.
"I don't use ice water when I make my pie crusts, and I prefer old-fashioned enameled pie tins to other types of pie dishes," says Marelene, who grew up on a farm near Lake City and lives with her husband, Roger, on their farm south of Lytton. "Basically, I try to keep things as simple as possible."
That includes sticking with tried-and-true favorites, such as her mother's flavorful lard pie crust recipe, which Marlene has relied on for more than 60 years. I love this pie crust for three big reasons, including 1) it's so easy, 2) it tastes great, and 3) lard-based crusts are one of the most forgiving, easy-to-work with pie pastries I've encountered.
Enough talk–let's cook!
Old-Fashioned Chicken Pot Pie
This recipe is hearty, filling and makes enough for two 9-inch pot pies. If you're not feeding a crowd, this freezes well.
2 cups diced potatoes
2 cups sliced carrots
1 cup butter
1 cup chopped onion
1 cup all-purpose flour
2 teaspoons salt
1 teaspoon dried thyme
3/4 teaspoon pepper
3 to 4 cups chicken broth
1-1/2 cups milk
4 cups cubed cooked chicken
1 cup frozen green beans
1 cup whole-kernel corn
Pie crust (either 2 packages of refrigerated pie pastry or homemade pie crust—see recipe below)
Preheat oven to 425 degrees Fahrenheit. Place potatoes and carrots in a large saucepan; add water to cover. Bring to a boil. Reduce heat; cook, covered, 8-10 minutes or until crisp-tender; drain. (I save the vegetable broth for future cooking adventures.)
In a large skillet, heat butter over medium-high heat. Add onion; cook and stir until tender. Stir in flour and seasonings until blended. Gradually stir in broth and milk. Bring to a boil, stirring constantly; cook and stir 2 minutes or until thickened. Stir in chicken, green beans, corn and potato mixture; remove from heat.
Roll out your homemade pie crust, and cut the dough into a circle big enough to cover your pie plate. OR, unroll a pre-made pastry sheet into each of two 9-in. pie plates; trim even with rims. Add chicken mixture. Unroll remaining pastry; place over filling. Trim, seal and flute edges. Cut slits in tops.
Bake 35-40 minutes or until crust is lightly browned. Let stand 15 minutes before cutting.
Freeze option: Cover and freeze unbaked pies. To use, remove from freezer 30 minutes before baking (do not thaw). Preheat oven to 425°. Place pies on baking sheets; cover edges loosely with foil. Bake 30 minutes. Reduce oven setting to 350°; bake 70-80 minutes longer or until crust is golden brown and a thermometer inserted in center reads 165°. Yield: 2 potpies (8 servings each).
World's Best Pie Crust
For more than 60 years, my friend Marlene Glasnapp has relied on this classic Iowa recipe, which yields up to 6 crusts per batch.
5 cups flour
1 teaspoon salt
1 pound lard
1 cup water
Combine flour and salt. Cut lard into the flour mixture. Add water, a little at a time, mixing quickly and evenly until dough just holds together in a ball. Divide dough for six crusts. (The crusts can be frozen for later use, and Marlene often rolls hers out before freezing.)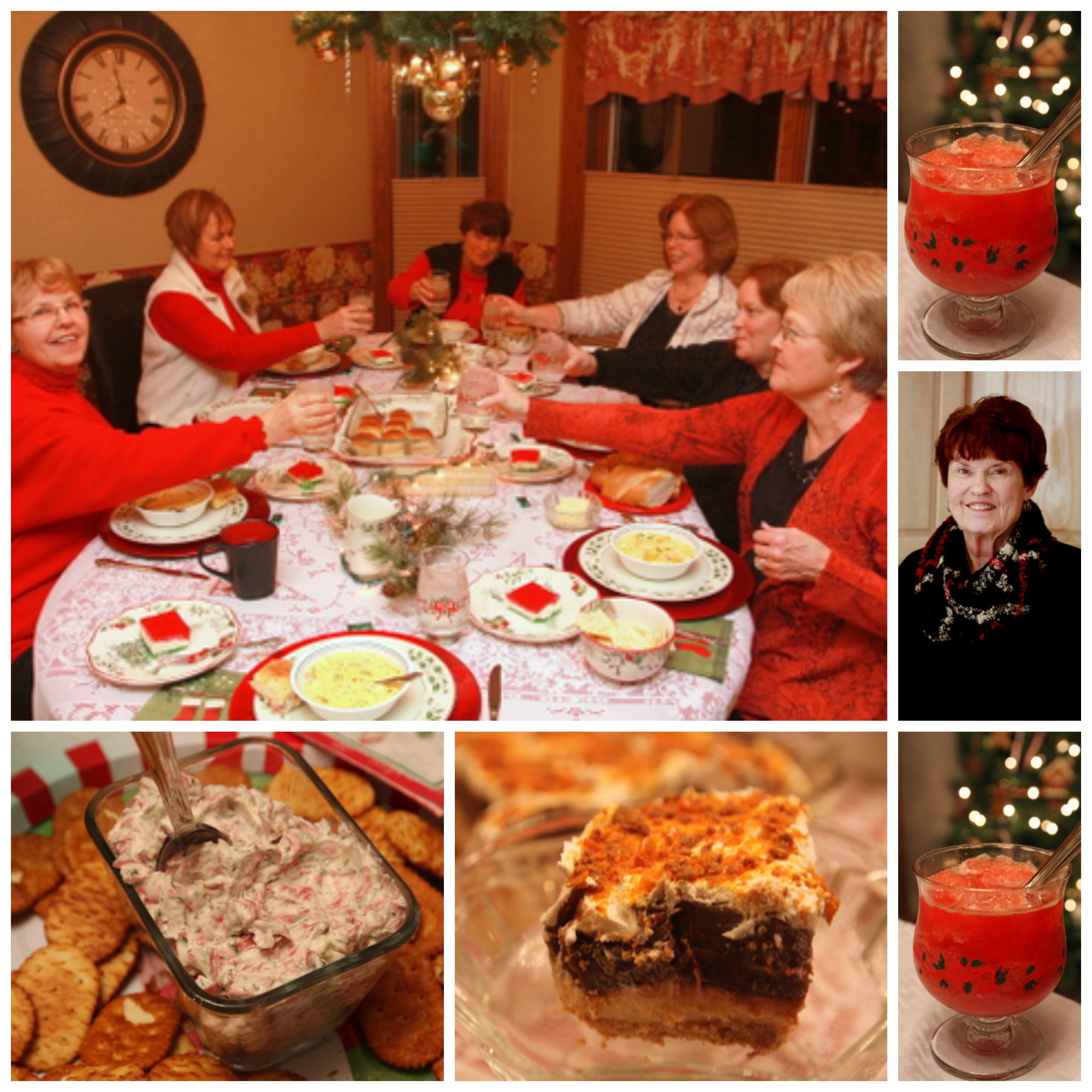 While one of Lake City's oldest clubs likely wouldn't have had any farm women for members when the group formed the 1890s, a farm wife (who is also my mom) is now the club's president and has belonged to the group longer than any other member.
"This was originally a very formal club where the ladies in town served white-tablecloth-style dinners and used their good china and silverware," said Jan Dougherty of Lake City, president, who joined the Shakespeare Club in 1972. "Now we're much more relaxed and just like to have fun."
Part of the fun involves cooking classes, preparing homemade treats for the "lunch" following the meeting and sharing recipes. The group has visited Sweet Things Bakery in Lake City and recently enjoyed a cooking class taught by Robin Qualy of Lake City, who runs La Casa Cuisine and teaches people how to make homemade pasta and more.
"I like the camaraderie and enjoy getting to know people better through Shakespeare Club," said Pam Feld of Lake City, who joined the group a few years ago.
Organized in 1894, the Shakespeare Club holds the honor of being the second oldest club in Lake City. It was organized by four young women interested in their social and intellectual advancement. Programs were arranged to study the lives and works of famous authors, although the greater part of each year was devoted to the works of Shakespeare. Later, the programs were diversified to include the study of music and the arts, as well as the cultures of Europe and South America.
During World War 1, Shakespeare Club members held benefit teas and auctions to raise money for the Red Cross. In the 1920s, a three-day celebration was held to commemorate the club's silver anniversary. Parties, picnics, and a presentation of a picture to the library were part of the festivities. "The Shakespeare Club is famous for doing things right," quoted the Lake City Graphic newspaper in 1923.
Through the years, club members have been instrumental in supporting the progress of schools and the local library, as well as civic improvements. As it has for years, the group continues to meet in members' homes, and each meeting includes a program or special activity and ends with a luncheon.
"I like meeting in people's homes," said Pat Albright of Lake City. "It's a comfortable feeling where we can be ourselves and enjoy each other's company."
This also appeals to Jan McClue, who hosted the group's 2016 Christmas party at her home near Lanesboro. "I like that we're a group for fun, and I enjoy the interesting outings we go on around the area."
One of the group's favorite destinations is Studio Fusion in Fort Dodge, where members design their own glass picture frames, dishes, jewelry and more.  No matter where they meet, however, snacks and homemade treats are always on the agenda. "Good food has always been part of Shakespeare Club, and I think it's neat the club has lasted all these years," Dougherty said. "Our motto could be, 'We don't meet if we don't eat.'"
Healthy Tortellini Corn Chowder
Smoky bacon combines with tender cheese tortellini for a creamy and comforting take on the usual corn chowder, which is one of my favorite soup recipes. I served it at the Shakespeare Club's 2016 Christmas party at Jan McClue's home near Lanesboro. 
5 slices bacon
1 large onion, chopped
2 ribs celery, chopped
1 cup red, orange, yellow peppers, diced
2 cups fresh, canned or frozen corn kernels (about one and a half cans of canned corn)
2 cups chicken broth
1 cup sliced carrots
⅓ c unbleached or all-purpose flour or Wondra flour
3 cups 1% milk
⅓ cup chopped fresh basil, or 1 teaspoon dried basil
½ teaspoon salt
¼ teaspoon fresh ground pepper
8 ounces low-fat fresh or frozen cheese tortellini, cooked and drained
1 cup frozen green beans
1 to 2 cups diced ham, optional
Set a Dutch oven over medium heat. Add the bacon. Cook for 1 minute, or until it releases some of its moisture. Add the onion, celery, and bell peppers. Cook for 5 minutes, or until the vegetables are soft. Add the corn, broth and carrots. Bring to a boil over high heat. Reduce the heat to medium. Simmer for 15 minutes.
Place the flour in a medium bowl. Gradually add the milk, whisking until smooth. Pour mixture into the Dutch oven. Stir until well-blended. Add the basil, salt and pepper. Cook, stirring occasionally, for 3 minutes, or until the soup thickens. Add the tortellini, green beans and ham, if desired. Cook for 2 minutes, or until heated through.
Beef Dill Dip
This tasty dip from Jan McClue is simple to make and can be served with bagel wedges or crackers. 
1 16-ounce carton sour cream
2 tablespoons parsley
2 teaspoons Accent seasoning
2 packages dried beef, chopped
1 1 / 2 cup Miracle Whip
2 teaspoons dill weed
1 medium onion, finely chopped
Mix all ingredients together. Serve with crackers or bagel wedges.
Cheesy Artichoke Dip
This three-ingredient appetizer from Jan Dougherty of Lake City takes only minutes to make.
1 package cream cheese
1 can artichoke hearts, drained
2 cups shredded mozzarella cheese
Combine all ingredients. Bake at 350 degrees, or until top of the dip lightly browns.
Celebration Slush
This simple slush from Jan McClue, a Shakespeare Club member who lives on a farm near Lanesboro, makes any party more festive.
12 ounces frozen lemonade
12 ounces frozen limeade
1 1 /2 quarts cranberry-apple juice
1 / 2 cup granulated sugar
2 cups strawberry schnapps
2 cups water
Combine all ingredients and freeze in a plastic container, like an ice cream bucket. To serve, add a splash of lemon-lime soda pop, raspberry vodka or strawberry daiquiri.
Taco Soup
This flavorful soup from Marie Schwarm of Lake City is sure to please on a cold winter day.
1 pound of ground beef (cooked and drained)
1 can of corn 1 can great northern beans
1 can black beans
1 can red beans
1 medium size can of diced tomatoes
1 packet of Hidden Valley dressing mix
1 packet of taco seasoning
1 cup of water
Tortilla chips
Sour cream
Shredded cheese
Combine all ingredients in crockpot (do not drain the beans) except tortilla chips, sour cream and cheese.  Cook on low for 6 to 8 hours. Serve with chips, sour cream and cheese. To spice up the soup, add a small can of diced green peppers.
Chili Bean Salad
This fresh, healthy recipe comes from Sharon Richardson of Lake City.
1 15-ounce can chili beans, heated Chopped tomatoes
Fresh spinach or lettuce, chopped
Corn chips
Make a bed of fresh spinach or chopped lettuce on plate. Top with chopped tomatoes and chili beans that have been heated. Top with crushed corn chips.
Peanut Butter Dessert
This creamy, sweet Peanut Butter Dessert from Shakespeare Club member Pam Feld of Lake City offers an enticing ending for any meal. 
For the crust:
1 cup finely-chopped cashews
1 cup all-purpose flour
1 / 2 cup butter
Cream cashews, flour and butter together. Press mixture into baking pan. Bake at 350 degrees for 25 to 28 minutes.
First layer of filling:
8 ounces cream cheese
1 / 3 cup creamy peanut butter
1 cup powdered sugar
1 cup whipped cream topping
Combine cream cheese, peanut butter, powdered sugar and whipped cream topping. Spread over cooled crust.
Second layer of filling:
2 2 / 3 cups milk
1 package chocolate instant pudding
1 package vanilla instant pudding
Combine milk and the two pudding mixes. Chill in refrigerator. When set, layer mixture on top of peanut butter layer.
Top dessert with whipped cream topping and pieces of chopped candy bars. Butterfinger and Heath work well.
Savor more Iowa food history
Want more great recipes and Iowa food stories? Check out my top-selling "Culinary History of Iowa" book from The History Press, and order your signed copy today. 
P.S. Thanks for joining me. I'm glad you're here. 
@Copyright 2017 Darcy Maulsby & Co. 
Who would have thought pickle wraps (a.k.a. pickle roll-ups) would be the hot food topic this holiday season? Of course, you don't need a holiday to celebrate if you want to enjoy some "Iowa sushi," as I explained to Des Moines Register reporter Courtney Crowder recently.
Here's the great article from Courtney, along with my take on why pickle wraps are so undeniably Iowan (along with recipes, of course!) 
Is This Iowa's Favorite Appetizer?
Courtney Crowder , ccrowder@dmreg.com8:28 a.m. CST December 15, 2016
http://www.desmoinesregister.com/story/entertainment/dining/2016/12/14/iowas-favorite-appetizer/94676550/
My obsession with "Holiday Pickle Wraps" — also known as "Iowa Sushi" or "Lutheran Sushi" — began with a Facebook post.
Just before Thanksgiving, fellow reporter John Naughton posted a picture of a Hy-Vee display replete with cream cheese, pickles, dried beef and a sign noting that it was time for "Holiday Pickle Wraps." Above the photo he wrote, "Sure sign you're in Iowa."
To me, the sign and its gathered foodstuffs might as well have been in a foreign language. Pickle wraps? Naughton's post should have read: "A sure sign you're not from Iowa."
After living in the Hawkeye State for two years, I like to think I have at least a passing grasp on what is Iowan, but here I was simply gobsmacked by pickle wraps. What exactly are pickle wraps? Are these truly Iowan or just a quick appetizer Iowans are co-opting? And, most importantly, aren't they incredibly salty?
"No, they're not overly salty," I was assured by Darcy Maulsby, lifelong Iowan and author of "A Culinary History of Iowa: Sweet Corn, Pork Tenderloins, Maid-Rites & More."
"Pickle wraps are very, very popular in Iowa," Maulsby added. "So many friends say pickle wraps are the first thing on the appetizer tray to go at their parties."
Traditionally, a pickle wrap begins with a pickle (obviously), which is then slathered in cream cheese, wrapped in ham and cut into bite-sized pieces. However, there are variations on the general pickle wrap theme, Maulsby said. Some people sheathe the ham with a tortilla and others don't use ham at all, instead opting for a dried beef encasement. Others make pickle wrap dip, where all the indigents of a pickle wrap are blended together and served with crackers.
"This is definitely a Midwestern thing," Maulsby said. "You go to Arizona, Oklahoma, California, Michigan, they've never heard of a pickle wrap. Some Wisconsin and Minnesota people do know about pickle wraps, but I think Iowans should embrace this as our own, for sure."
The exact genesis of the pickle wrap — or pickle roll-up as it is also called — is unknown, but Maulsby said the appetizer most likely originated as a modification of an old-world German recipe.
"I think of this as being in the same category as the fried breaded pork tenderloin, as far as its German-ness goes," she said. "Anytime you have a German community or a place with a strong German heritage, you got pickles and red meat and that is two-thirds of a pickle wrap right there."
As with its origins, the enduring legacy of the pickle wrap is up for grabs as well. So what is it that keeps Iowans coming back to the simplest of hors d'oeuvres?
"It's the pickle wrap's flavor sensation, and it's a texture thing, too," Maulsby said. "It does everything a good food should do: It's interesting to the palate. The tang of the pickle plays nicely off of the smooth cream cheese and salty meat. The crunch of the pickle is in contrast to the creaminess of the cream cheese. As a food, it does so many things well."
The best thing about the pickle wrap is that it is soeasy to make that even I, a cooking novice, feel confident in my abilities to master the roll-up. Simply slather, wrap and cut. But Maulsby urges chefs not to rest on their pickle wrap laurels, but to attempt their own variation on the classic roll-up. Take something conventional and make it your own!
"There are a lot of fun things you could do with pickle wraps," Maulsby said, "and no one is going to get too worked up if you tweak the classic roll-up — at least I don't think they will."

Pickle wrap recipes
Here are culinary historian Darcy Maulsby's favorite pickle wrap and pickle wrap dip recipes. To learn more about her work and other classically Iowan foodstuffs, check out her website at Darcymaulsby.com.
Classic Iowa pickle wraps
1 jar dill pickles
Ham slices 
Cream cheese, softened
Lay the ham slices flat on a serving plate and pat dry. Spread with cream cheese. Place a pickle spear at one end of each slice and roll the slices into cylinders around the spears. Secure with toothpicks. Chill in refrigerator. Cut into bite-sized pieces.
Tortilla pickle-ham rolls
1 (32 ounce) jar dill pickles
1 (8 ounce) package cream cheese, softened and divided (make certain that the cream cheese is very soft for spreading)
1 pinch garlic powder, to taste (optional)
1 pound sliced cooked ham (I like to use honey ham)
6-inch flour tortillas
Mix the softened cream cheese with garlic powder (if using). Spread a thin layer of the cream cheese onto one side of a tortilla. Place 1 slice of ham over the cream cheese. Spread another layer of cream cheese over the ham. Roll a pickle up in the tortilla. Cover the roll with plastic wrap and chill for 2 hours (to make slicing easier). Remove the plastic wrap. Using a serrated knife, slice the roll into about 1-inch pieces or to desired size.
Dried beef pickle dip 
1 package (3 ounces) dried beef, finely chopped
1 package (8 ounces) regular or reduced fat cream cheese
1/2 cup reduced fat sour cream
2 tablespoons chopped green onion
1/2 to 1 cup coarsely chopped dill pickles (not dill relish)
1/4 teaspoon pepper
Soften cream cheese and combine with remaining ingredients. Chill until serving. Serve with crackers or fresh vegetables.
— Dip recipe from the Iowa Beef Industry Council. 
Savor more Iowa food history
Want more great recipes and Iowa food stories? Check out my top-selling "Culinary History of Iowa" book from The History Press, and order your signed copy today.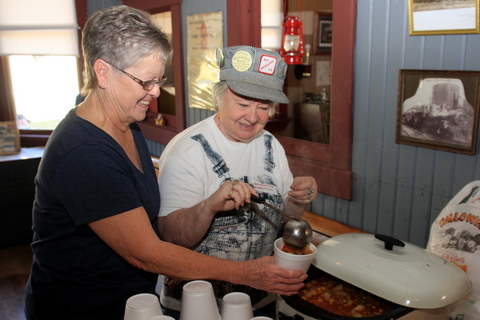 Eating like a hobo never tasted so good, at least when the "Depot People" are cooking. The savory aromas that emanate from the historic railroad depot in Rockwell City for one afternoon each fall signal that something good is coming down the line.
"I love this little museum and enjoy giving people a taste of the past," said Carol Hupton of Rockwell City, president of the board of "Depot People" who have transformed the 1899 depot and freight shed into a museum.
During the annual fundraiser, which Hupton has helped with for the past six years, home cooking offers a feast at the Rockwell City depot a block north of the Calhoun County courthouse. Guests can dine on homemade hobo stew, hot dogs, homemade cookies, bars and more, with all proceeds going to restoration projects at the depot.
Saving the depot has been a labor of love for the Depot People, a group of about 25 people who want to preserve their community's history. "There was a time when the depot was in danger of being torn down," said Hupton, who has been volunteering with the depot museum for 10 years. "People don't always realize the important role the railroad played to help Iowa and small towns like Rockwell City grow."
The first railroad to arrive in Rockwell City was the Des Moines & Northern line, which was later taken over by the Chicago, Milwaukee & St. Paul Railway. The first passenger train rolled into town in 1881.
Rockwell City's second railroad was the Illinois Central. Surveying the land between Fort Dodge and Rockwell City for this rail line began in 1899. Around 1903, the Newton and Northwestern Line, an interurban line, became the third rail line to Rockwell City. For decades, it brought passenger cars from Newton and Des Moines every two hours from 7 a.m. to 9 p.m.
During the heyday of the railroad, Rockwell City became a stop for multiple passenger trains and freight trains each day. Weary travelers could enjoy a meal at the nearby Hotel Brower or various restaurants in town.
In time, paved roads and interstate highways led to increased traffic from cars, pickup trucks and semi-trucks across Iowa and the nation, marking the end of an era for passenger trains. Railroad transportation itself changed as powerful diesel engines replaced the steam engines that once powered the many trains that rolled across the Iowa countryside. "Now the old depot here in town stands alone as a reminder of our history with the railroads," Hupton said.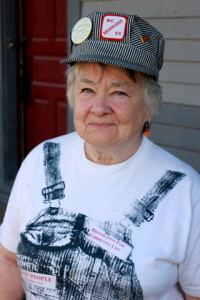 Sharing this history is important to Hupton and her fellow volunteers. The depot's fundraising meal offers another way to encourage people of all ages to visit the museum. "Many kids don't know anything about the history of the railroad in Rockwell City or other small Iowa towns," Hupton said.
That's why the Depot People have created historical exhibits in the depot, including vintage photos of the depot, to show the important role it once played in the community. A recreated hobo camp east of the freight shed also helps visitors learn how the railroad influenced people's daily life in various ways.
The Depot People continue to apply for grants and host fundraisers with meals to preserve local railroad history. A summer car show allows car, truck and motorcycle fans to display their prized vehicles, while guests can dine on pulled pork sandwiches, potato chips, homemade desserts.
In the fall, the depot becomes an informal dining room where guests can enjoy a hearty bowl of homemade hobo stew, sugar cookies, salted nut roll bars and other goodies prepared by some of Rockwell City's best cooks and depot supporters, including Maurine Zuetlau.
"Rockwell City's depot is a landmark," Hupton said. "We'll continue to do what we can to preserve this local history."
Savor more Iowa food history
Want more fun Iowa food stories and recipes? Check out my top-selling "Culinary History of Iowa" book from The History Press, and order your signed copy today. 
Hearty Hobo Stew
4 pounds rump roast, cut up into cubes
Olive oil
2 cups diced celery
1 1 / 2 cups carrots, sliced
2 cups apple-cider vinegar
2 cups French onion condensed soup
3 to 4 cups potatoes, cubed and cooked
2 cans diced tomatoes
Beef stock (use as much as desired for the right consistency of stew)
Corn kernels, optional
Peas, optional
Brown the cubes of beef in olive oil. Combine beef with remaining ingredients. Place stew in roaster and cook until heated through.
World's Best Sugar Cookies
These Amish sugar cookies come from Maurine Zuetlau of Rockwell City.
1 cup powdered sugar
1 cup granulated sugar
1 cup butter (can use half butter and half margarine)
1 cup vegetable oil
2 eggs
2 teaspoons vanilla
1 teaspoon salt
1 teaspoon cream of tartar
1 teaspoon baking soda
5 cups flour
Mix all ingredients. Roll dough into balls to form each cookie. Roll each dough ball in granulated sugar. Press down each ball with a glass dipped into granulated sugar. Bake cookies at 350 degrees for 13 to 15 minutes. Let cool on cookie sheet 2 to 3 minutes. Remove cookies and place on cooling rack.
Salted Nut Roll Bars
These tasty bars are reminiscent of salted nut roll candy bars and come from Maurine Zuetlau of Rockwell City.
1 package yellow cake mix
1 / 2 cup softened margarine
1 egg
3 cups mini marshmallows
2 / 3 cup white corn syrup
1 / 4 cup margarine
1 12-ounce package peanut butter chips
1 cup chopped, dry-roasted peanuts
Combine cake mix, 1 / 2 cup margarine and egg. Pat mixture into 9-inch by 13-inch pan. Bake at 350 degrees for 18 to 20 minutes. Cover bars with marshmallows. Return to oven for 2 to 3 minutes. (Marshmallows will puff up.) Cool.
Boil white corn syrup and 1 / 4 cup margarine. Remove from heat. Add peanut butter chips. Pour mixture over marshmallows and top with nuts. Cool completely, cut into bars.
P.S. Thanks for joining me. I'm glad you're here. 
@Copyright 2016 Darcy Maulsby & Co.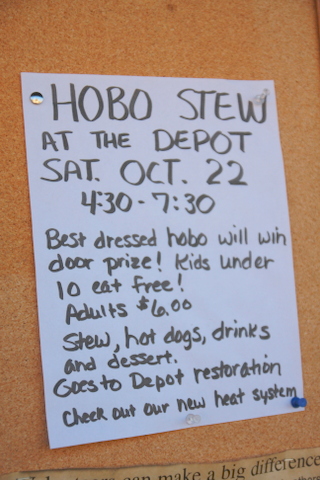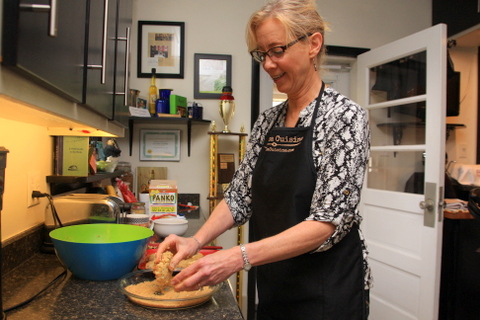 Call her a fusion of culinary creativity. While Robin Qualy has a strong German heritage, she loves Italian flavors. Although she didn't care for home ec (now family and consumer sciences) classes during her school years in Lytton, Iowa, this self-taught cook loves to experiment in the kitchen. Most of all, she's proud of her farm roots but takes a distinctly non-traditional approach to Iowa cooking.
It all started with a magnum of French champagne. "It was a gift from a client in Europe," said Qualy, a court reporter who lives in Lake City, Iowa. "It sounded fun to have a crab fest with the champagne, so we did."
The event evolved into a seafood fest with everything from clam chowder to crab cakes with remoulade (pronounced "rem-oo-laud") sauce. "Finding Emeril Lagasse's remoulade sauce recipe was a breakthrough," Qualy said. "While it had 18 ingredients, it showed me why chefs' food tastes so good, because everything is built up from all those layers of ingredients."
This also inspired Qualy's passion for showcasing global flavors. One of her favorite cookbooks is Marcella Hazan's "Marcella Cucina," which is filled with Italian recipes and interesting stories. Some of Qualy's creations, including Pain D'Epi, a wheat-stalk bread inspired by French baguettes, can take on a variety of flavors, from Italian to Greek. This offers her customers options if Qualy happens to be selling her baked goods at the Lake City Farmers Market or the Clear Lake Farmers Market.
Qualy's goal for this winter? Learn to prepare sushi. Through her part-time business, La Casa Cuisine, where she serves as an in-home guest chef, Qualy also enjoys sharing her best cooking tips, which include "reduce, reduce, reduce" to remove excess moisture and concentrate the flavors in sauces, "fresh, fresh, fresh" for everything from herbs to coffee beans, and "healthify" recipes by using more whole grains and vegetables, less sugar and healthier oils like olive oil.
By adding plenty of vegetables, Qualy "healthified" her chili recipe and took top honors in the 2016 Dell Blair Memorial Chili Cook-Off at Lake City's fall festival this September. "This contest has been around for a number of years, so I knew I needed to offer something unique," said Qualy, a first-time competitor. "Since there was no meat in the recipe, I used chipotle peppers in adobo sauce to add a hearty, smoky, spicy base."
Sharing her culinary creations with friends and family is important to Qualy, who credits her mother, Marlene Glasnapp of Lytton, for inspiring a love of family, food, cooking and baking. Qualy's advice to other home cooks? "Keep learning, and have fun refining your culinary techniques. Cooking is a skill you can use all your life."
Savor more Iowa food history
Want more fun Iowa food stories and recipes? Check out my top-selling "Culinary History of Iowa" book from The History Press, and order your signed copy today.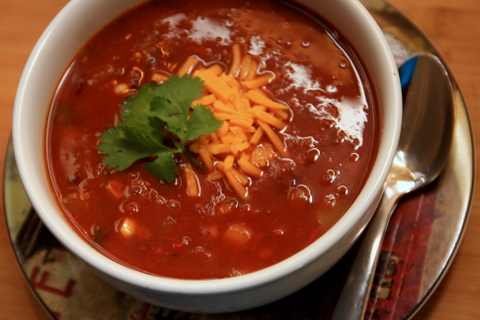 Championship Veggie Chili
Robin Qualy's unique chili won top honors in the 2016 Dell Blair Memorial Chili Cook-Off in Lake City this fall.
2 tablespoons canola oil
1 cup onion, diced
2 cups zucchini with skin, diced
1 / 2 cup red peppers, diced
1 / 2 cup yellow peppers, diced
1 / 2 cup orange pepper, diced
1 / 4 cup poblano or jalapeno pepper, diced (to taste)
2 teaspoons fresh garlic, minced
1/2 teaspoons salt
1/2 teaspoons black pepper
1 tablespoons cumin
2 tablespoons chili powder (to taste)
1 tablespoons sugar
1 box (32 ounces) unsalted vegetable stock (Qualy recommends the Kitchen Basics brand)
28-ounce can crushed tomatoes
28-ounce can garlic-celery-onion stewed tomatoes, diced or mashed
1 can green chilis, diced
2 tablespoons chipotle peppers in adobo sauce, diced
2 ears of sweet corn cut off cob, or 1 cup frozen corn, thawed
14-ounce can each white kidney, red kidney, and black beans – drained, rinsed, and mashed with potato masher
14-ounce can each white kidney, red kidney and black beans – drained and rinsed
In large pot, heat oil over medium heat. Add the onion and zucchini, cook about 5 min., then add peppers and garlic. Cook 5 more minutes. Add salt, pepper, cumin, chili powder and sugar. Cook until onion is translucent and zucchini is soft.
Pour in vegetable stock, crushed tomatoes, stewed tomatoes, green chilis and chipotle peppers in adobo sauce. Bring to boil, then reduce heat. Cover and simmer for 30 minutes. Add sweet corn, mashed beans and whole beans. Stir well; simmer another 30 minutes. Taste and adjust seasoning. Serve with shredded extra-sharp cheddar, snipped cilantro and blue corn chips.  Ole!  Ole!  Ole! Yield: 1 gallon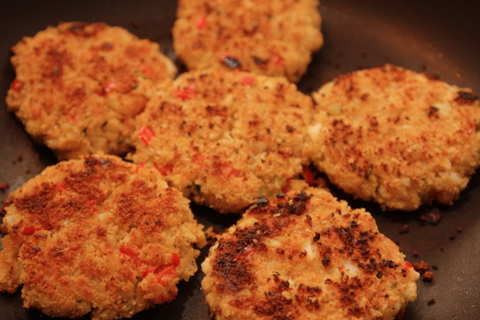 Crab Cakes with Remoulade Sauce
For the crab cakes:
2.5 cups crushed dry bread crumbs
3 6-ounce cans crab meat
1 / 3 cup salad dressing, Miracle Whip or mayo
1 / 2 cup red pepper, diced
2 stalks celery, diced
1 / 3 cup onion, diced
4 shakes of Louisiana hot pepper sauce (to taste)
2 teaspoons Old Bay seasoning
1.5 tablespoons lemon pepper seasoning
1 / 2 teaspoon salt
1 / 2 teaspoon black pepper
2 eggs
2 cups panko bread crumbs
Canola oil to generously coat surface of non-stick skillet
Combine bread crumbs, crab meat, salad dressing, red pepper, celery, onion, hot pepper sauce, Old Bay seasoning, lemon pepper, salt and black pepper. Taste test and adjust seasonings, as desired.
Add 2 eggs, lightly beaten. Form mixture into 10 2.5-inch patties. Firmly coat each crab cake with panko crumbs in pie plate. Heat canola oil until medium hot.  Patties should sizzle when touching oil. Fry five patties at a time, 5 minutes per side, or until dark brown.  Keep warm until serving with remoulade sauce on the side. Yield: 10 crab cakes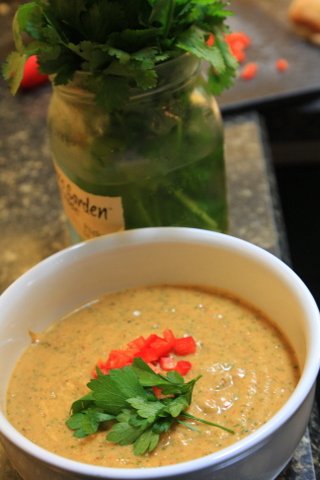 Remoulade sauce
1 cup salad dressing or Miracle Whip
1 / 4 cup ketchup
2 tablespoons extra virgin olive oil
2 tablespoons whole-grain mustard (such as whole-grain Dijon)
2 tablespoons horseradish
1 tablespoon Louisiana hot sauce
2 tablespoon lemon juice
2 tablespoons Worcestershire sauce
1 / 4 cup scallions (or regular onions), diced
1 / 3 cup celery, diced
1 / 2 teaspoon fresh garlic, minced
2 tablespoons fresh parsley, chopped
1 teaspoon Cajun seasoning
1 teaspoon Old Bay seasoning
1 teaspoon dill weed
1 / 2 teaspoon black pepper
2 teaspoons brown sugar
Blend all ingredients, using a blender or food processor with S-shaped chopping/blending blade. Pour into bowl, cover and refrigerate.  Best when served at room temperature. Laissez les bons temps rouler!  (Let the good times roll!)
Beef Asian Stir Fry
Brown sugar is a secret ingredient in this flavorful stir fry.
 1 pound lean steak (charcoal steak is a good option), sliced thinly against the grain into 2-inch-long strips
1 / 3 cup teriyaki sauce (liquid)
2 tablespoons canola oil for stir-frying
2 cups carrots, sliced
1 / 2 cup red peppers, sliced
8 ounces baby bella (cremini) mushrooms (one box), sliced
1 / 3 cup onion, sliced fairly big
1 / 2 of a fresh jalapeno pepper, seeded and deveined, small dice
8 ounces pea pods (can also substitute fresh green beans or broccoli florets)
1 8-ounce can bamboo shoots
1 8-ounce can water chestnuts, sliced
1 can baby corn
1 / 2 teaspoon fresh garlic, minced
1 / 2 teaspoon fresh ginger, grated (keep fresh ginger in freezer)
1 beef & broccoli seasoning packet (usually found near the gravy mixes in the grocery store)
1 cup water
6 tablespoons low-sodium soy sauce
1 / 2 cup teriyaki baste & glaze (thick consistency)
1 tablespoon cornstarch
2 tablespoons brown sugar
Red pepper flakes, as desired, for heat
Chopped cilantro, as desired, for flavor
8 ounces spaghetti, cooked and drained, or cooked rice
Marinate sliced beef in teriyaki sauce for 30 minutes to 1 hour. Heat oil in wok or large skillet to medium high. Add beef and stir-fry until almost fully cooked.  Remove and set aside.Add more oil if needed. Stir-fry carrots, red peppers, mushrooms, onion, jalapeno, pea pods, bamboo shoots, water chestnuts and baby corn until crisp-tender. Do not overcook the vegetables.
Note: if fresh green beans are substituted for pea pods, slice the beans on the diagonal. If using broccoli, do not add until the very end. Microwave broccoli until crisp-tender. Using the microwave method allows you to control the broccoli doneness, and keeps it bright green.
Add garlic and ginger, and stir-fry another minute.
In a separate bowl, whisk the contents of the beef & broccoli packet, water, soy sauce, teriyaki thick sauce, cornstarch and brown sugar until combined; add to hot wok mixture. Add beef.  Cook until hot and bubbling.
If using spaghetti, stir in drained spaghetti and combine. If using rice, do not combine with stir-fry mixture, but serve separately. Taste and adjust seasonings and heat.  Use red pepper flakes or jarred jalapeno juice to increase heat.  Top with cilantro, if desired. Serves 4.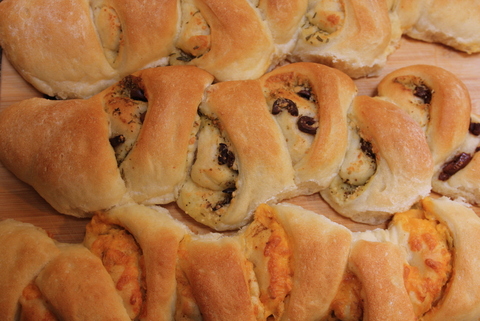 Pain D'Epi—Wheat Stalk Bread
This French-style bread can take on a variety of flavors, depending on the ingredients you add. Break off bite-sized pieces during the meal, and freeze the leftovers.

Prepare baguette dough:
1.5 cups warm water
1.5 tablespoons granulated sugar
1.5 tablespoons olive oil
4 cups bread flour
1 teaspoon kosher salt
2 teaspoons fast-rise (bread machine) yeast
Add ingredients to bread machine; let the machine handle the mixing and first rise.
 Spray countertop with cooking oil spray. Take dough out of bread machine and place on counter. Let dough rest 15 min. Divide into three portions.
Greek Pain D'Epi
2 teaspoons olive oil
1 teaspoon Greek seasoning (Cavender's is a good option)
8 Greek olives (Kalamata olives), sliced
2 tablespoons dry Parmesan cheese
Italian Pain D'Epi
2 teaspoons olive oil
One 6-inch length of fresh rosemary stripped and chopped (or 2 teaspoons dried rosemary)
2 tablespoons dry Parmesan cheese
Roll dough out with rolling pin to 14-inch by 5-inch shape. Pour on olive oil, sprinkle on other ingredients to make either the Greek or Italian Pain D'Epi. (Recipe yields three loaves.)
Roll up dough so it's 14 inches wide. Pinch to seal. Place dough on parchment-lined 11-inch by 17-inch cookie sheet (up to three bread loaves fit per cookie sheet). Using kitchen shears, make six cuts at a 45-degree angle to within half an inch of bottom of dough. Position each cut dough section in the opposite direction, keeping bottom of dough intact.
Cover with flour-sack cloth, or spray plastic wrap with cooking oil spray and cover. Let dough rise 45 minutes. Place pan in middle of preheated 425-degree oven. Mist inside of oven with water to create steam. Bake for 17 to 23 minutes, or until lightly browned.  Serve warm with olive oil for dipping.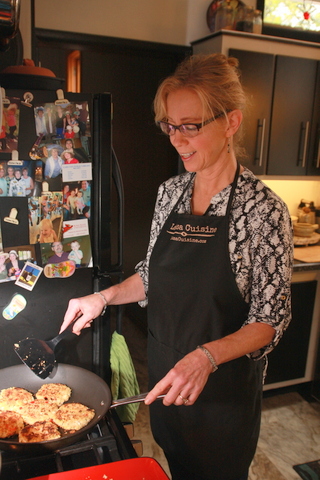 Chicken Piccata
3 tablespoons extra virgin olive oil
2 boneless, skinless chicken breasts, butterflied and pounded to approximately one-quarter inch thickness
Salt and pepper, to taste
Lemon & Butter Cream Sauce for Chicken Piccata
4 tablespoons butter
3 tablespoons shallots, minced
1 pound baby bella (cremini) mushrooms, sliced
1 / 3 cup white wine (Chardonnay is a good option)
1 tablespoon capers
1 / 4 cup lemon juice
1.5 tablespoons cornstarch
1 14-ounce can chicken broth or stock
3 / 4 cup heavy cream or half-and-half
Salt and pepper, to taste
1 pound angel hair pasta, cooked, drained and buttered
Parmesan or asiago cheese
Heat a generous amount of oil in large skillet over medium heat. Salt and pepper the chicken; sauté for approximately three minutes per side. Set cooked chicken aside, covered in foil, on baking sheet in 275-degree oven.  Continue sautéing all the chicken and place in oven.
Add butter to drippings in the skillet. Sauté shallots and mushrooms 5 to 7 minutes until browned. Increase heat and add wine, boiling 2 minutes to reduce the liquid.  Add capers and lemon juice; simmer two minutes. Dissolve cornstarch in chicken broth and add to pan. Boil mixture down for two to three minutes. Reduce heat and whisk in cream. Simmer until sauce thickens slightly.
Place chicken on pasta and ladle sauce over half the plate, top with Parmesan or asiago cheese.
Serves 4.
This article first appeared in Farm News, Oct. 2016 
P.S. Thanks for joining me. I'm glad you're here. 
@Copyright 2016 Darcy Maulsby & Co.