Books By Darcy Dougherty Maulsby
Love a Great Read?
"Just wanted you to know I read all your books. I love every single one of them and can't wait for your new one!" --Christine Walter, Burlington, Iowa
"I love how you pick out unique things in your books and bring these stories to light." –Ramah Husidic, former director of public affairs, Iowa National Guard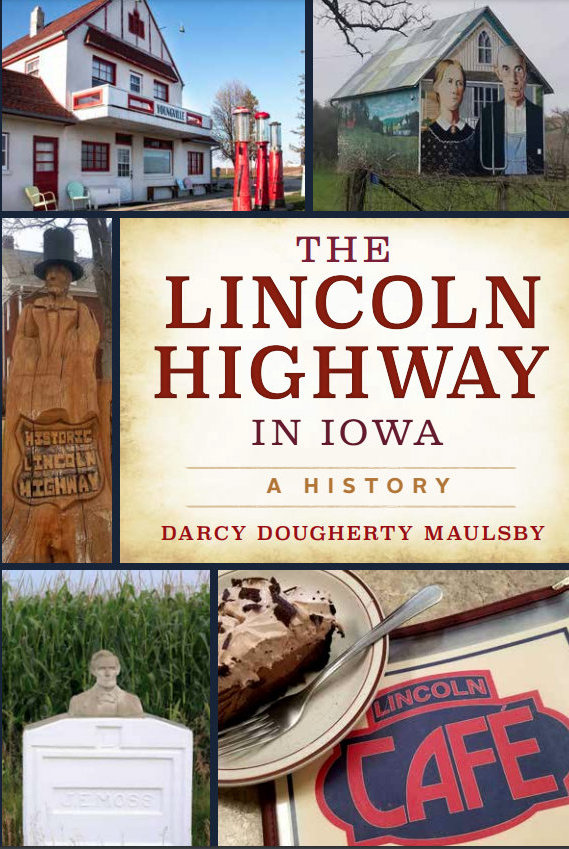 The Lincoln Highway in Iowa: A History
Nothing says freedom like the great American road trip, especially when you cruise the historic Lincoln Highway in Iowa. Better known today as Highway 30, the Lincoln Highway revolutionized Iowa and America when the historic route was developed more than a century ago. The development of the Lincoln Highway and its legacy today reflects a tremendous story of American innovation, community spirit, freedom and an unshakable belief in a brighter future."

The Lincoln Highway became the first coast-to-coast highway in 1913, connecting New York City to San Francisco. It passed right through Iowa, from Clinton to Council Bluffs. As much as 85% of the original highway is still drivable in Iowa, according to the Lincoln Highway Association. The Lincoln Highway in Iowa: A History contains fascinating history, contemporary stories, recipes and 100+ vintage and contemporary photos from sites along and near the Lincoln Highway, from Clinton and DeWitt in Clinton County to Council Bluffs in Pottawattamie County, and many communities in between
There are countless pieces of the past just waiting to be re-discovered around the Lincoln Highway in Iowa. Along the way, you can still find inspiring stories of dynamic entrepreneurs, people who care about their community, and rural revitalization, mixed with historic preservation. This is the ultimate Iowa road trip, especially if you want to experience the real America.
"You don't have to be an Iowan to enjoy reading Darcy Maulsby's latest book, The Lincoln Highway in Iowa: A History. The book is well researched and well written. If you are traveling though Iowa on I-80 and want to experience the Iowa history of the Lincoln Highway, veer off to the north about 30 miles and get off at Highway 30. Along with learning some Iowa history of the Lincoln Highway, you will experience the charm and hospitably of many small Iowa towns and good eating places along the way. Be sure to take Darcy's book with you as a guide." --Mick McCarville, Iowa native and history buff
"My husband, Tim just recently finished reading your Lincoln Highway book. He absolutely loved it! He has always enjoyed history, so it was right up his alley. Now when he retires, he wants to travel the Lincoln Highway (instead of Route 66). He mentioned several times what a wonderful author you are. I just wanted to pass that compliment along. Thank you for being our local author! Now, I need to read this book!" --Jeri Woodward, retired teacher, Lorhville, Iowa
___________________________________________________________________________________
Paperback: 128 pages
Publisher: The History Press (October 2022)
Chapters
1. Getting Iowa Out of the Mud
2. Clinton County
3. Cedar County
4. Linn County
5. Benton County
6. Tama County
7. Marshall County
8. Story County
9. Boone County
10. Greene County
11. Carroll County
12. Crawford County
13. Harrison County
14. Pottawattamie County
15. The Lincoln Highway Rolls On
Order your signed copy from Darcy today! Priceless memories of Iowa history make a great gift, too. Click here to order.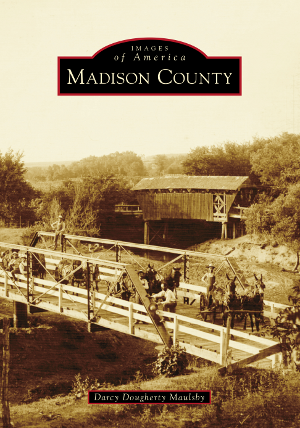 Madison County
Mention Madison County and many people think of the iconic covered bridges that have graced the landscape for more than 140 years. While Hollywood made the bridges famous, there are many more stories to share, thanks to Madison County's rich history and vibrant culture. These stories include unforgettable people who shaped America—the men and women of the Underground Railroad in Madison County; renowned scientist George Washington Carver; and social reformer Susan B. Anthony, who advocated for women's voting rights from the county courthouse in 1875. Madison County natives have also made their mark on the world. Marion Morrison, who became the movie star John Wayne, was born in Winterset in 1907. During World War II, Winterset native George Stout protected priceless works of art from being looted and destroyed by the Nazis. A visionary, steadfast spirit continues to thrive in Madison County, where time-honored values of faith, family, and friendship endure. Growing from its strong agricultural heritage, Madison County embodies modern Iowa, where charming small towns, family farms, thriving businesses, and innovative people reflect the best of the Midwest. Explore it all through nearly 200 vintage and modern images and stories of Madison County, an Iowa treasure.
"Darcy has a keen eye for what will interest the reader. Our various historical organizations - the Madison County Historical Society, Madison County Genealogical Society, and the Madison County Historic Preservation Commission - appreciate the accuracy of the book and its easily-to-read format that will introduce many our deep local history. We are also hoping that our three school districts will use it as an opportunity for students to dig further into their local roots and acquire research skills." --Jared McDonald, director of the Madison County Historical Complex, and Linda Griffith Smith, chair of the Madison County Historical Preservation Commission, Winterset, Iowa
___________________________________________________________________________________
Series: Images of America
Paperback: 128 pages
Publisher: Arcadia Publishing (March 15, 2021)

Chapters
1. Building on a Solid Foundation: The Quarry Story
2. Love of the Land: Farming Takes Root in Madison County
3. Guiding Freedom Seekers: The Underground Railroad
4. Madison County: Famous Covered Bridges
5. Winterset: The County Seat
6. St. Charles: Gateway to the Bridges
7. Earlham: Small-Town Roots Run Deep
8. Small-Town Living: At Home in Madison County
9. Famous Faces, Famous Places: Big Dreams Grow from Small Beginnings
10. Growing Opportunities: Madison County Reflects Past, Present, and Future
Order your signed copy from Darcy today! Priceless memories of Iowa history make a great gift, too. Click here to order.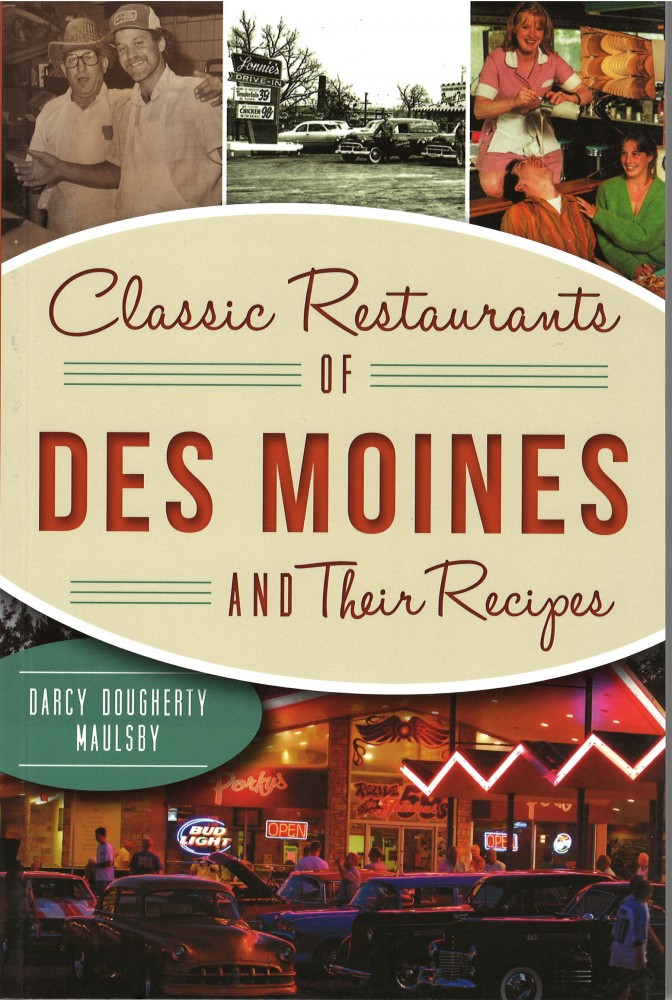 Classic Restaurants of Des Moines and Their Recipes
With Italian steakhouses, the Younkers Tea Room and Stella's Blue Sky Diner, Des Moines's culinary history is tantalizingly diverse. It is filled with colorful characters like bootlegger/"millionaire bus boy" Babe Bisignano, a buxom bar owner named Ruthie and future president of the United States Ronald Reagan. The savory details reveal deeper stories of race relations, women's rights, Iowa caucus politics, the arts, immigration and assimilation. As you read Classic Restaurants of Des Moines and Their Recipes, don't be surprised if you experience sudden cravings for Steak de Burgo, fried pork tenderloin sandwiches and chocolate ambrosia pie, à la Bishop's Buffet. Author Darcy Dougherty Maulsby serves up a feast of Des Moines classics mixed with Iowa history, complete with iconic recipes and vintage photographs and illustrations.
"Wow! Perhaps my most cherished book in my library! A must-have book for anyone that has ever enjoyed the food scene here in Des Moines. Thank you, Darcy Dougherty Maulsby, for such a fabulous trip down memory lane. This book is one of the best things to come out of the year 2020!"
--Chef George Formaro, Des Moines
____________________________________________________________________________________
"I love this book! It's so good. All the history is so interesting. The thing that really impacted me was how you tied in the restaurants to the history of Des Moines and Iowa as a whole. This was unexpected and very impactful, especially the racial inequality history. I also enjoyed learning about the styles of entertainment through the years-- such as the rise and fall of dinner theaters in Des Moines. I'm so happy you keep publishing such great books. Way to go!"
--Jennifer Welch, Woodward, Iowa
____________________________________________________________________________________
"I can't thank you enough for writing this book. It has brought back so many great memories for my mom and dad who are currently on COVID-19 restrictions in Des Moines. I am now going to buy one for my aunt. Thank you again."
-- Susan Fenton, Des Moines, Iowa
____________________________________________________________________________________
"Hi! I ordered multiple copies of you Des Moines restaurant book. I sent one to my 107-year-old aunt in Des Moines. I thought she might enjoy some of the history and remember hearing about the different places. Of course she knew Younkers Tea Room, and she knew Babe Bisignano enough to speak with him. And she had heard of Ruthie, too! My cousin's wife works as a nurse/aide where my aunt lives, and she has been enjoying the book, too, including the applesauce bread recipe. Your book is enjoyed!"
--Tedra Towne, Boone, Iowa
Classic Restaurants of Des Moines and Their Recipes book
Paperback : 208 pages
Product Dimensions : 6 x 0.31 x 9 inches
Publisher : The History Press (November 2, 2020)
Chapters
1. Midwestern Roots Mixed with Ethnic Accents (including King Ying Low and the chop suey craze)
2. Authentic Italian Influences
3. Babe, You've Got What it Takes (Legendary restauranteur Babe Bisignano)
4. Fine Dining: Steakhouses, Supper Clubs and Steak de Burgo
5. A Taste of Elegance at the Younkers Tea Room
6. Cooking Up Change: Restaurants, Race Relations and Civil Rights
7. Diners, Drive-Ins, Food and Fun
8. Eat, Drink and Be Merry: From Ronald Reagan to Ruthie (A Des Moines bar owner and legend)
9. Dinner Theaters in Des Moines Mixed Entertainment and Good Eats
10. Downtown Des Moines and the Revitalization of Court Avenue
11. Savor a Taste of the Iowa Caucus
12. Changing Times and the Future of Des Moines Dining
Darcy will be happy to sign each copy of Classic Restaurants of Des Moines you order. Click here to get started.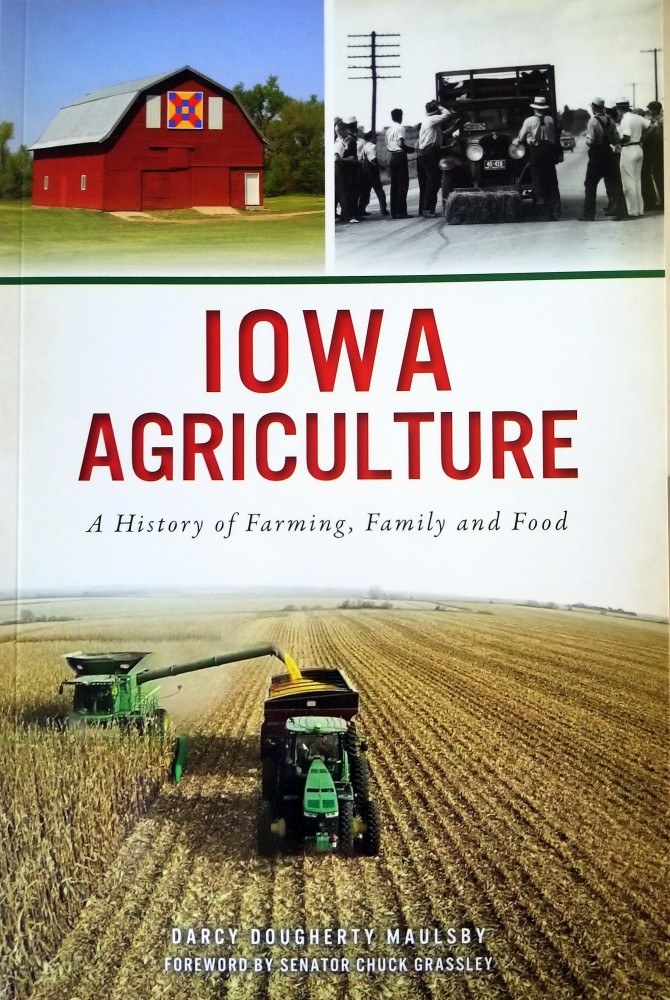 The Tall Corn State's agricultural history influences countless aspects of modern life. To truly understand Iowa, you have to understand the culture of agriculture--the stories of the people of the land. In many ways, these are untold stories, especially as more generations of families are further removed from living or working on Iowa farms. Visitors from around the globe travel to Iowa annually for major events like the Farm Progress Show, the World Pork Expo and the World Food Prize. Agriculture has shaped Iowa's landscape from the location of towns and the evolution of the world-famous Iowa State Fair to Iowa's beloved culinary traditions like breaded pork tenderloins, sweet corn and more. Join fifth-generation Iowa farmer Darcy Dougherty Maulsby as she details the fascinating history of agriculture in Iowa.
This one-of-a-kind book is Illustrated with vintage and modern photos from farms and ag leaders across Iowa. Order your signed copy today, and savor a fun, tasty adventure into Iowa history! ($30 price includes the book, tax, shipping and handling)
Iowa Agriculture: A History of Farming, Family and Food
Paperback: 224 pages
Publisher: The History Press (August 27, 2020)
Chapters
Foreward by Iowa Senator Charles Grassley
Chapter 1: Landscapes That Shape Us
Chapter 2: Iowa's First Farmers
Chapter 3: Pioneer Settlement and the Making of a Farm State
Chapter 4: Growing Iowa's Farms and Towns
Chapter 5: Bonanza Farming, Iowa-Style
Chapter 6: Rural Iowa Enters the Twentieth Century
Chapter 7: The Culture of Iowa Agriculture
Chapter 8: Hard Times and Farm Rebels
Chapter 9: Iowa Women Blaze New Trails in Agriculture
Chapter 10: Iowa's Ag Innovators
Chapter 11: Livestock Production Thrives in Iowa
Chapter 12: Crop Production and Iowa's Ever-Changing Weather
Chapter 13: Remembering the 1980s Farm Crisis
Chapter 14: Conserving Iowa's Natural Resources
Chapter 15: Making the Farm-to-Fork Connection
Chapter 16: The Future of Iowa Agriculture
What others are saying:
"Darcy is one of Iowa's most engaging and enthusiastic writers. Her book Iowa Agriculture: A History of Farming, Family and Food is a wonderful evolution of Iowa's agrarian history, delightfully stretching into its prehistorical roots, then quickly bringing us into the 20th and 21st centuries. Darcy's deft pen and illuminating wit give the reader, whether 'country kid or city kid,' a beautiful and captivating overview of Iowa's farming legacy. She takes us on an informative, captivating journey of Iowa's farming history, liberally seasoning her dish with delectable facts, images and a beguiling aura that is as irresistible as a fresh-baked apple pie cooling in the farmhouse kitchen window."
--John Busbee, host of "The Culture Buzz" radio show in Des Moines
Darcy will be happy to sign each Iowa Agriculture book you order. Click here to get started.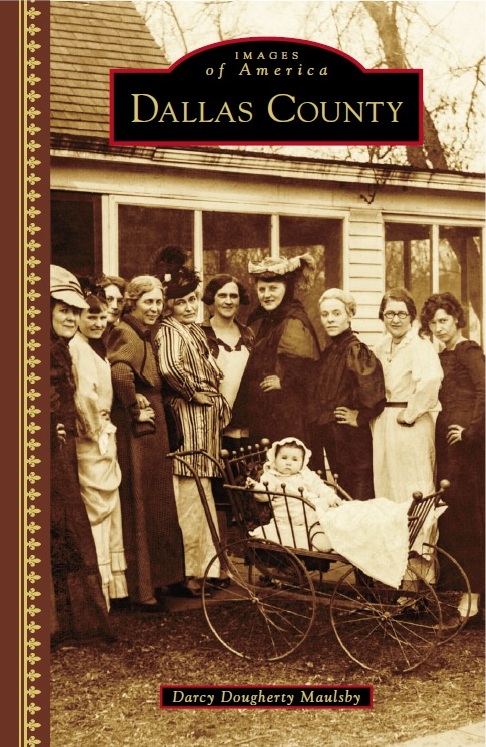 This hardcover, illustrated book is the first in-depth, non-fiction history of Dallas County, Iowa, in nearly 80 years! No Iowa county has influenced American history more than Dallas County. It propelled Harry Truman to an unlikely victory in the 1948 presidential campaign, following a fiery speech he delivered to 100,000 farmers on a sweltering September day at the National Plowing Match near Dexter.
Just 15 years earlier, a shoot-out near Dexfield Park marked the beginning of the end for infamous outlaws Bonnie and Clyde and the notorious Barrow Gang.
Dallas County, located just west of Des Moines, has produced several major-league baseball players (among them Bob Feller and Hal Manders), a US congressman (David Young), and Nile Kinnick, the 1939 Heisman Trophy winner and University of Iowa football legend whose grandfather George Clarke, of Adel, served as Iowa's governor from 1913 to 1917.
Today, Dallas County is one of the fastest-growing counties in America and remains a region of opportunity with a rich heritage of small-town living, farming, coal mining, and the immigrant experience. This 128-page book from Arcadia Publishing is filled with intriguing black-and-white, vintage photos on nearly every page, along with stories from Adel, Perry, Waukee, Granger, Woodward, Dexter, Linden, Minburn, Dawson, Dallas Center, Van Meter, Redfield, Bouton, surrounding rural areas and ghost towns.
Chapters
1. Adel: Dallas County's First Town
2. Redfield: A Crossroads of Local History
3. Dexter: The Original One-Horse Town
4. Dallas Center: Nurtured by Banking and Agriculture
5. Van Meter: Baseball, a Mystery and More
6. Perry: Northern Dallas County's Largest Town
7. Waukee: The Key to Good Living
8. Woodward and Granger: Growing Along Highway 141
9. Tiny Towns and Ghost Towns: Memories Live On
10. A Posse to a President: How Harry Truman, Bonnie and Clyde, and Dallas County Changed American History
"Such a delightful history! Who knew that Dallas County, Iowa, has an elephant graveyard? And that a winged monster terrorized one town repeatedly before disappearing. I didn't, even though I have decades of history with several Dallas County towns. Dallas County is famous for a shoot-out with the Barrow Gang (Bonnie and Clyde), athletes Nile Kinnick and Bob Feller, President Truman's 1948 speech to 100,000 farm families, one of the first amusement parks in the state, the Underground Railroad, and more. This enjoyable slim volume includes succinct histories of those towns, as well as dozens of historic pictures are accompanied by a pithy nuggets of information."
-- Joy Neal Kidney, West Des Moines, Iowa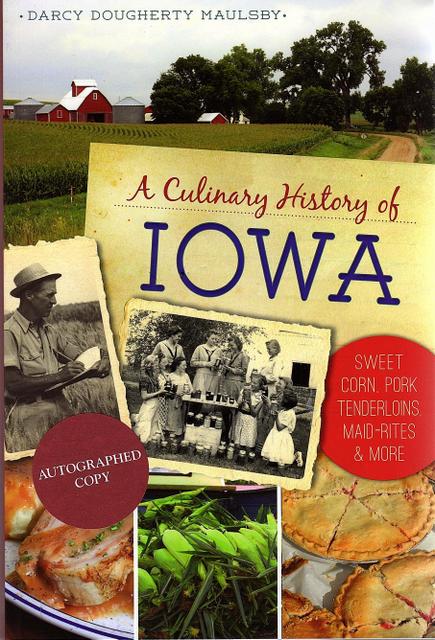 The Culinary History of Iowa: Sweet Corn, Pork Tenderloins, Maid-Rites and More
Pull up a chair to the kitchen table and prepare to enjoy a remarkable journey through 150+ years of Iowa's food history. Filled with recipes, stories and photos, this unique book showcases Iowa's delectable cuisine, which is quintessentially Midwestern, grounded in a rich farming heritage and spiced with diverse ethnic influences. Classics like fresh sweet corn and breaded pork tenderloins are found on menus and in home kitchens across the state. At the world-famous Iowa State Fair, a dizzying array of food on a stick commands a nationwide cult following. From Maid-Rites to the moveable feast known as RAGBRAI, discover the remarkable stories behind Iowa originals, and savor an array of mouthwatering photos. Find recipes for favorites ranging from classic Iowa ham balls and Steak de Burgo to homemade cinnamon rolls--served with chili, of course! Click here to shop Darcy's online store, order your signed copy directly from Darcy today, and savor a fun, tasty adventure into Iowa history!
Remember--books make a great gift!
A Culinary History of Iowa: Sweet Corn, Pork Tenderloins, Maid-Rites and More
Paperback: 192 pages
Publisher: The History Press (August 1, 2016)
Series: American Palate
Chapters
Chapter 1: Settling Iowa
Chapter 2: Immigrants Influence Food Traditions
Chapter 3: Farm Fresh Foods
Chapter 4: Meat Galore
Chapter 5: Small-Town Life
Chapter 6: City Style and Fine Dining
Chapter 7: Fairs, Traditions and Celebrations
Chapter 8: Dairy Good
Chapter 9: Bootlegging, Beer and Beverages
Chapter 10: Iowa Classics
Chapter 11: It Takes an Iowan
Chapter 12: The Future of Iowa Food
What others are saying:
Dear Darcy,
I so enjoyed your talk at the library in Monticello—every bit as much as I enjoyed your book. When I brought the book home from the library, I had a hard time putting it down. You put so much history in your book and showed how it defined the food habits [of Iowans]. Some of the history I remember from my school days and some from more recent reading. The most interesting "new" history was the information about the seed men [Earl May and Henry Field] from Shenandoah, Iowa; the sister [Jessie Field Shambaugh] who brought science and home economics to the country schools; and the KMA radio homemakers. I could go on and on, but suffice it to say---your book was pure enjoyment.
Sincerely,
Barb Ahlrichs, Monticello, Iowa
"We love this book! When I showed it to my brother, Bob, and my mom, and they also thought it was great. Our employees at Archie's Waeside are ordering it too, not just because of Archie's, but because a lot of them grew up throughout the state. I put "A Culinary History of Iowa" on my Facebook page and the Archie's Waeside Facebook page, so relatives and customers are very excited. It's a wonderful, historical book for all of us who love Iowa. This book is also a great gift idea for our children, other relatives, and friends. What a way to relive our memories of our childhood!"
--Lorrie Luense, LeMars, Iowa (Lorrie's family owns the James Beard-award-winning steakhouse Archie's Waeside, a three-generation business that has been a LeMars icon for more than 60 years)
"Here's a great gift idea!! I took 8 of these with me to California as gifts when I was there a few months ago, and they went over very well. It's a very well written book and was written with love from Darcy Dougherty Maulsby!"
--Patrick Palmer, Hampton, Iowa, owner of The Computer Guy
Click here to see why readers are giving A Culinary History of Iowa five-star reviews on Amazon!
​Darcy will be happy to sign each copy of a Culinary History of Iowa book you order. Click here to get started.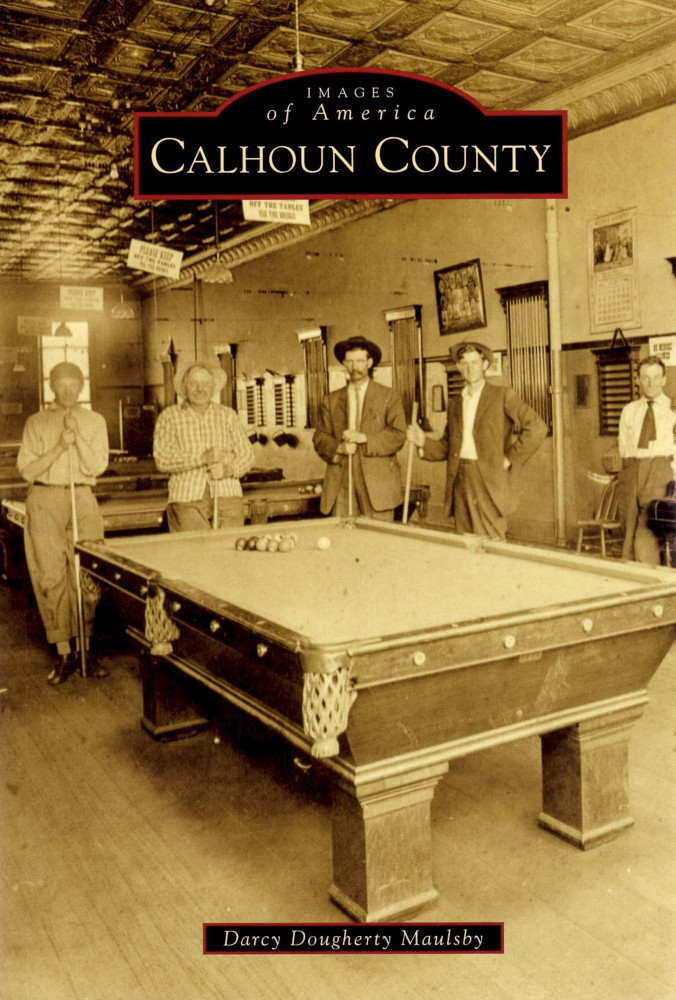 Calhoun County
Ready to unlock the secret history of Iowa? Calhoun County from Arcadia Publishing offers remarkable glimpses into the past and present. View the history of small-town, rural Iowa through the eyes of those who lived it, from the birth of the railroad and prairie towns to and the growth of some of most productive farms in the world. Intriguing stories abound in Calhoun County, which claims two nationally acclaimed authors as native sons, became the target of a daring bank robbery by Bonnie and Clyde in the 1930s, and welcomed Babe Ruth in 1940 (but not on the baseball field). Calhoun County offers a well-researched pictorial journey designed for native Iowans, transplanted Iowans, and those curious about the evolution of small towns and farms in the Midwest. Click here to order your signed copy today and enjoy rare glimpses into past eras that have shaped Midwestern life today.
Calhoun County
Publisher: Arcadia Publishing (September 14, 2015)
Series: Images of America
Paperback: 128 pages
Chapters
1. Lake City: Everything but a Lake
2. Twin Lakes: A Recreation Destination
3. Pomeroy: Spirit of the People Prevails
4. Manson: Making an Impact
5. Rockwell City: The Golden Buckle on the Corn Belt
6. Lohrville: Remembering the Railroads
7. Lytton: Rebuilding from the Ashes
8. Farnhamville: Retaining Its Ag Roots
9. Tiny But Mighty: Little Towns' History Lives On
10. Covering the County: From Somers to Knierim to Yetter
Want to see how others have reviewed Calhoun County on Amazon? Click here.

What others are saying:
"The time is right for this unique book. We're less than a generation away from some of this history being lost forever, so it's great to see it preserved through these interesting stories and pictures. "Calhoun County" is a fascinating journey that will keep you turning the pages to see what's next." --Duane Murley, broadcaster and host of the KWMT Power Lunch show


"If you want to understand today, you have to study yesterday, noted author Pearl Buck. In Iowa, studying yesterday means discovering the history of our great state's small towns and farms. Come along on this remarkable journey with Darcy Dougherty Maulsby, who not only knows Iowa agriculture, but is a skilled storyteller who brings history to life." --Iowa Secretary of Agriculture Bill Northey
-----------------
"To understand Iowa, you need to understand the legacy of its small towns and rural communities. "Calhoun County" shows these roots run deep and make Iowa what it is today--a special place where people care about their heritage, cherish their small-town spirit, and work together to create a better future." --Kim Reynolds, lieutenant governor of Iowa

-----------------
"I loved Iowa the minute I came here to play football for the Iowa Hawkeyes. The more I explore this great state, the more I appreciate Iowa's farms and small towns. The interesting stories and photos in "Calhoun County" reflect the competitive spirit, teamwork and strong sense of community that make rural Iowa such an extraordinary place." --Chuck Long, Iowa Hawkeye football legend, former NFL player, and CEO/executive director of the Iowa Sports Foundation
-----------------
"I bought this book as a Christmas gift for my father-in-law, and he loved it! When I visited him recently, he told me every story in the book. He loves history. Thanks so much!" --Kim Fjerstad, Lytton, Iowa
​Darcy will be happy to sign each copy of Calhoun County you order. Click here to get started.