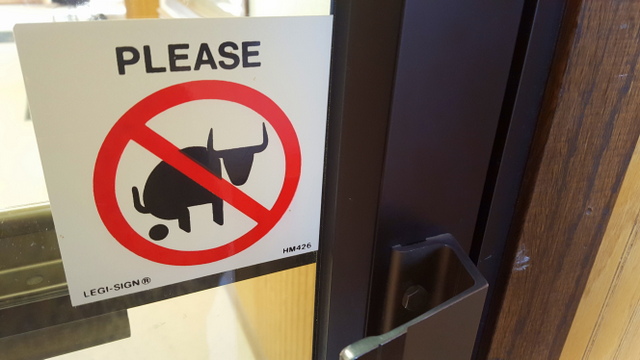 Ever get a nasty email or comment from a co-worker, client, or other acquaintance? You know you shouldn't let it bother you, but it does.
It's called being human. It happened to me recently when someone told me my writing is impersonal and I need to work on learning how to tell a story. (Kind of ironic to chastise a published author, but hey, crap happens.)
When you're verbally attacked, here are some "No BS" ways to handle it from this Iowa farm girl, who knows a thing or two about BS:
1. Stay calm, and try to uncover any miscommunication. While a rude person makes you want to dish it right back to them, don't respond with the first rebuttal that pops into your mind. Remember that sometimes rude comments stem from simple misunderstandings. If that's the case, take a deep breath, ask questions and try to clear up the miscommunication. (This situation still isn't an excuse for rudeness, but don't succumb to the temptation to be rude in return.)
2. Don't feed the trolls. When you're attacked online, don't take the bait. Trolls deliberately post inflammatory comments and start arguments to provoke, disrupt and upset others. Trolls love to create conflict for their own amusement. Don't reward this bad behavior. Just ignore the trolls' taunts.
3. Avoid the word "you." If you're dealing with a rude person who is not a troll, you don't have to put up with his or her verbal abuse. Stand your ground. I say, "I don't accept what I'm hearing, and I don't deserve to be treated like this." Notice I didn't say "you." Using that word in this case often escalates this situation, because "you" tends to make the other person feel attacked. When a person feels threatened, they often quit listening and get ready to fight.
4. Fire the person. If you have the choice to "fire" a rude person (such as an obnoxious client), do it. Life is too short to waste time with people like this. I usually say, "I really appreciate that you came to me with your marketing needs. I work hard to listen to you and share my writing skills to help you reach your business goals. It looks like we're just not a good fit, though. Feel free to find someone else who's better suited to you, and I wish you well." If you can't fire the rude person, try to minimize your time around him or her. If this person is negatively affecting your productivity and/or mental health, it's worth it to remove him or her as much as possible from your life.
5. Be grateful. That's right—be grateful. Once you've gotten immersed in a bad situation with an obnoxious person, start noticing how you interact with friends, family members, clients or colleagues who are pleasant to be around. Makes you pretty darn grateful for all the good, uplifting people in your life, right?
Do you have any "No BS" ways you deal with rude, obnoxious people? I'd love to hear your suggestions.
P.S. Thanks for joining me. I'm glad you're here. 
@Copyright 2017 Darcy Maulsby & Co.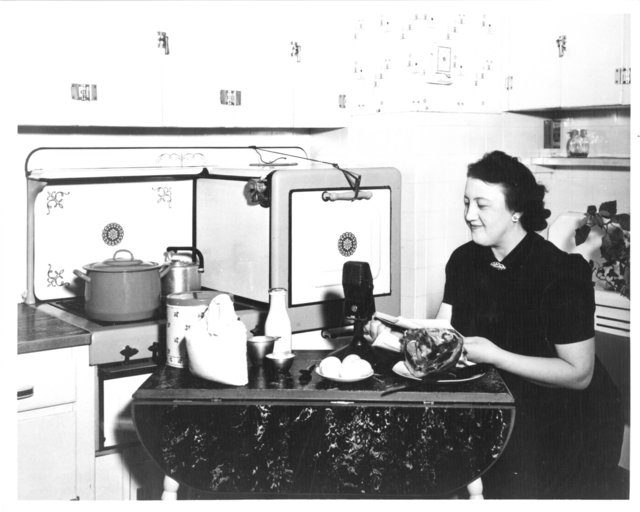 Long before there was Martha Stewart, there were KMA's radio homemakers. These creative, talented ladies from southwest Iowa revolutionized women's roles far beyond their humble farm kitchens starting in the 1920s. As they delighted Midwestern audiences by sharing their favorite recipes and providing down-home, daily visits with their radio friends, some of the women also became successful entrepreneurs along the way.
Their story begins in the early 1920s with the debut of a fabulous new invention called radio. In 1925, when a local businessman named Earl May began broadcasting KMA Radio-960 from Shenandoah, Iowa, to promote his seed and garden business. The station gained a following by airing practical information designed to help with the day-to-day life in Midwestern farm kitchens.
Before long, KMA was a trusted friend throughout the wide listening area, offering inspiration, companionship, and all manners of domestic counsel. The power of this connection can't be understated when you consider the era—a time when farm wives were much more isolated than today due to poor roads, limited social opportunities and long days filled with endless chores.
A roster of personable, lively women who quickly became known as the KMA Radio Homemakers hosted KMA's daily radio programs, including the Home Hour, the Stitch and Chat Club, and the KMA Party Line, while live cooking demonstrations drew thousands to the KMA auditorium in Shenandoah.
Broadcasts reached across the Midwest
The radio homemakers' history is also linked to Earl May's local competitor, Henry Field, another nursery and garden entrepreneur who seized on the power of radio to help expand his business. Field recruited family members to go on the air, including his sister, Leanna Field Driftmier, who began broadcasting "The Mother's Hour," which became "Kitchen Klatter." Without any training, Leanna sat down at the microphone and just started talking about her home, family, recipes, household tips, advice for child- rearing and whatever news seemed worth sharing during the afternoon show.
In 1930, Leanna broke her back in a car accident but wanted to continue her show, despite her injuries. The radio equipment was brought to her home, and she broadcast from her bed and later from her kitchen table. The show became so popular amongst listeners that it was eventually was broadcast in six Midwestern states.
Neighboring on the air
As the radio homemakers' concept gained momentum, local farm women like Evelyn Birkby began broadcasting from their kitchens in the 1950s. In her show "Down a Country Lane" on KMA Radio, Birkby would discuss her family and share snippets from her daily life, as well as offer suggestions for making the home a more pleasant place to live. Birkby called this phenomenon "neighboring on the air," and it met a vital need when farm life could often be isolating.
Fans would follow the doings of favorite homemakers for years, tuning in each day the same way they'd listen to episodes of radio soap operas. Of course, recipes figured prominently in the broadcasts, with old-fashioned, Midwestern fare focused on meat and potatoes, hearty casseroles, cakes, pies, cookies and more.
Kitchen Klatter became home-grown success
Through the years, a line of Kitchen Klatter products (including food flavorings, bleach and more) was developed and sold over the radio by broadcasters like Leanna Driftmier. In addition, a monthly Kitchen Klatter magazine was circulated to thousands of Midwestern readers who enjoyed the articles, letters and recipes like Company Ham and Potatoes, Emerald Mint Sauce (made from Kitchen Klatter Mint Flavoring), Mary's Pineapple Pie and Grandma's Oatmeal Cookies. The Kitchen Klatter enterprise and the radio homemakers endured for a number of years, with some of the broadcasts lasting until the 1990s.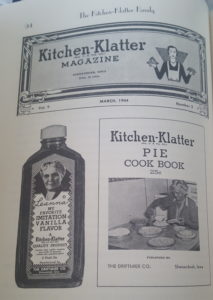 Recipes preserve a taste of Iowa history
In 1991, Evelyn Birkby published the fascinating book "Neighboring on the Air," where you can almost hear the voices of the KMA homemakers while you get a taste of their philosophy of life and sample their recipes. You can learn how to make hearty Midwestern fare ranging from Sour Cream Apple Pie from Florence Falk, "The Farmer's Wife," to Six-Layer Washday Dinner from Doris Murphy, who took to the air in 1949 with her "Party Line" broadcast.
You'll get a sense what a grueling schedule the radio homemakers often endured as they broadcast radio shows out of their kitchen while their own family life went on about them. These ladies also knew the needs and interests of their audience, because they, too, were well acquainted with hard work, hard times and making do.
Through it all, the radio homemakers were Martha Stewart and Dear Abby all rolled into one as they shared news about their children, home beautification tips and their trusted recipes. Thousands of devoted listeners depended on them for weekly entertainment, information, humor and continuity. These listeners considered the radio homemakers a valued part of their lives, which is reflected in the longevity of the radio shows. The radio homemakers' remarkable contributions are an enduring legacy to power of Iowa farm women and add unforgettable flavor to Iowa's rich culinary heritage.
Six-Layer Washday Dinner
Like today's busy working women, Iowa's radio homemakers like Doris Murphy knew the value of being able to put a hearty, nutritious meal on the table without a lot of fuss. No doubt her recipe featured home-grown and home-canned vegetables.
2 cups hamburger
1 small onion, chopped
2 cups diced potatoes, raw
½ cup uncooked rice
1 cup sweet peppers, cut fine
1 cup diced carrots, raw
1 pint tomatoes
Brown hamburger and onion together. Combine meat, onion, potatoes, rice, peppers, carrots and tomatoes. Season with salt and pepper. Cover with water. Cook 2 hours in 350-degree oven.
Want more Iowa culture and history?
Read more of my blog posts if you want more Iowa stories, history and recipes, as well as tips to make you a better communicator.
If you're hungry for more stories of Iowa history, check out my top-selling "Culinary History of Iowa: Sweet Corn, Pork Tenderloins, Maid-Rites and More" book from The History Press, as well as my Calhoun County" book from Arcadia Publishing, which showcases the history of small-town and rural Iowa. Order your signed copies today! Iowa postcards are available in my online store, too.
P.S. Thanks for joining me. I'm glad you're here. 
@Copyright 2017 Darcy Maulsby & Co.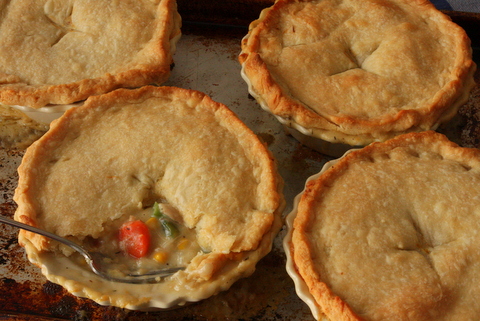 As a food writer, here's my foolproof equation: Pi Day (3/14) + old-fashioned chicken pot pie = true Iowa comfort food. Foodies like me aren't nearly as concerned about the ratio of the circumference of a circle to its diameter (which is approximately 3.14159), UNLESS that pie is either a sweet or savory creation. Check out my recipe for Old-Fashioned Chicken Pot Pie (it's what's on the menu for lunch at the farm today!), including a recipe for the easiest—and tastiest—homemade pie crust.
I tip my hat to my friend Marlene (Lasher) Glasnapp of Lytton, Iowa, for the fantastic, lard-based pie crust recipe I've included below the pot-pie recipe. When you compare notes with an experienced farm cook like Marlene, don't be surprised if you find new ways to break the "rules" of pie baking outlined in the cookbooks.
"I don't use ice water when I make my pie crusts, and I prefer old-fashioned enameled pie tins to other types of pie dishes," says Marelene, who grew up on a farm near Lake City and lives with her husband, Roger, on their farm south of Lytton. "Basically, I try to keep things as simple as possible."
That includes sticking with tried-and-true favorites, such as her mother's flavorful lard pie crust recipe, which Marlene has relied on for more than 60 years. I love this pie crust for three big reasons, including 1) it's so easy, 2) it tastes great, and 3) lard-based crusts are one of the most forgiving, easy-to-work with pie pastries I've encountered.
Enough talk–let's cook!
Old-Fashioned Chicken Pot Pie
This recipe is hearty, filling and makes enough for two 9-inch pot pies. If you're not feeding a crowd, this freezes well.
2 cups diced potatoes
2 cups sliced carrots
1 cup butter
1 cup chopped onion
1 cup all-purpose flour
2 teaspoons salt
1 teaspoon dried thyme
3/4 teaspoon pepper
3 to 4 cups chicken broth
1-1/2 cups milk
4 cups cubed cooked chicken
1 cup frozen green beans
1 cup whole-kernel corn
Pie crust (either 2 packages of refrigerated pie pastry or homemade pie crust—see recipe below)
Preheat oven to 425 degrees Fahrenheit. Place potatoes and carrots in a large saucepan; add water to cover. Bring to a boil. Reduce heat; cook, covered, 8-10 minutes or until crisp-tender; drain. (I save the vegetable broth for future cooking adventures.)
In a large skillet, heat butter over medium-high heat. Add onion; cook and stir until tender. Stir in flour and seasonings until blended. Gradually stir in broth and milk. Bring to a boil, stirring constantly; cook and stir 2 minutes or until thickened. Stir in chicken, green beans, corn and potato mixture; remove from heat.
Roll out your homemade pie crust, and cut the dough into a circle big enough to cover your pie plate. OR, unroll a pre-made pastry sheet into each of two 9-in. pie plates; trim even with rims. Add chicken mixture. Unroll remaining pastry; place over filling. Trim, seal and flute edges. Cut slits in tops.
Bake 35-40 minutes or until crust is lightly browned. Let stand 15 minutes before cutting.
Freeze option: Cover and freeze unbaked pies. To use, remove from freezer 30 minutes before baking (do not thaw). Preheat oven to 425°. Place pies on baking sheets; cover edges loosely with foil. Bake 30 minutes. Reduce oven setting to 350°; bake 70-80 minutes longer or until crust is golden brown and a thermometer inserted in center reads 165°. Yield: 2 potpies (8 servings each).
World's Best Pie Crust
For more than 60 years, my friend Marlene Glasnapp has relied on this classic Iowa recipe, which yields up to 6 crusts per batch.
5 cups flour
1 teaspoon salt
1 pound lard
1 cup water
Combine flour and salt. Cut lard into the flour mixture. Add water, a little at a time, mixing quickly and evenly until dough just holds together in a ball. Divide dough for six crusts. (The crusts can be frozen for later use, and Marlene often rolls hers out before freezing.)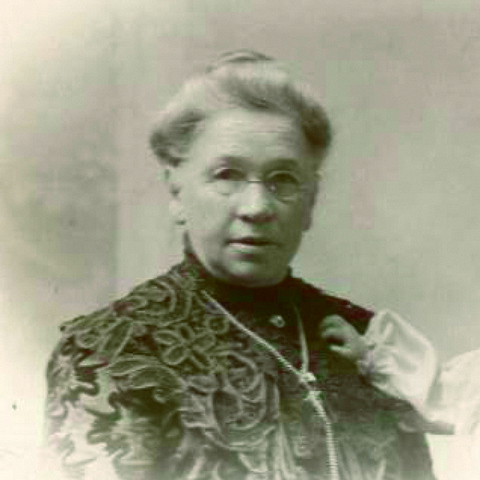 Long before there was an International Women's Day, there was Caroline (Rhomberg) Fischer, a savvy, spirited entrepreneur from Dubuque. After her husband died in 1875, the 31-year old widow and mother of five literally took the reins of her late husband's ice delivery business—and you won't believe what she did next.
You get a taste of Caroline's remarkable story when you dine at Caroline's Restaurant (named in her honor) in the historic Hotel Julien Dubuque. As you savor your banana bread French toast (yes, I recommend it!), it's amazing to think a hotel or inn has occupied the present site of Hotel Julien Dubuque (at the corner of Second and Main Street) since 1839.
Caroline became part of the hotel's storied history in the late 1800s. While Victorian-era ideals dictated that a woman's place was in the home, sheer necessity—and a healthy dose of moxie—ensured that Caroline would break the mold.
Death, drinking and destiny
In the days before electric freezers and electric refrigeration, Caroline's husband, Louis, was a partner in the Fischer ice business. After Louis contracted pneumonia and died in 1875 after falling into the Mississippi River while cutting ice, Caroline took over his ice business. The 31-year-old widow with five young children also took control of her family's destiny.
Caroline is said to have followed her ice deliverymen around town in her own horse-drawn buggy to be sure her men were doing their work properly. The many taverns to which they delivered would offer drinks to the drivers in an effort to persuade them to leave a little extra ice. On occasion, upon finding the drivers passed out in the ice wagon, Caroline would drive their team of horses and wagon back to the ice storage warehouse herself with her own horse and buggy in tow.
In 1878, long before the Fischer Company owned the Hotel Julien, the Fischer Wheeler & Co. ice business had a contract with the Hotel Julien Dubuque to supply ice to the guesthouse, then under management of W.W. Woodworth. The three-year contract was for "all the ice necessary" for $25 a month or $300 for the entire year.
Leaving a legacy
Caroline eventually bought out her partners, invested in downtown and riverfront property, and brought her family into the business that still exists today. Located in view of the Ice Harbor, where the Fischer family business started, Caroline's Restaurant at the Hotel Julien Dubuque today honors the family matriarch of the Fischer/Pfohl families.
The Pfohl connection goes back to 1962, when the hotel was purchased by Louis H. Pfohl. After extensive remodeling, many interesting and historic artifacts were incorporated into the décor, including the stunning stained glass that's now displayed in Caroline's Restaurant.
The menus at Caroline's Restaurant are influenced by what's grown locally and what's readily available. The talented culinary team at the restaurant also focuses on making dishes as aesthetically pleasing as they are delicious. This attention to detail and commitment to excellence is a fitting tribute Caroline, the great-great-grandmother of the three cousins who today manage the Fischer Companies and the Hotel Julien Dubuque, a landmark of Iowa history.
Savor more Iowa food history
Want more great Iowa food stories, history and recipes? Check out my top-selling "Culinary History of Iowa" book from The History Press, and order your signed copy today. 
P.S. Thanks for joining me. I'm glad you're here. 
@Copyright 2017 Darcy Maulsby & Co.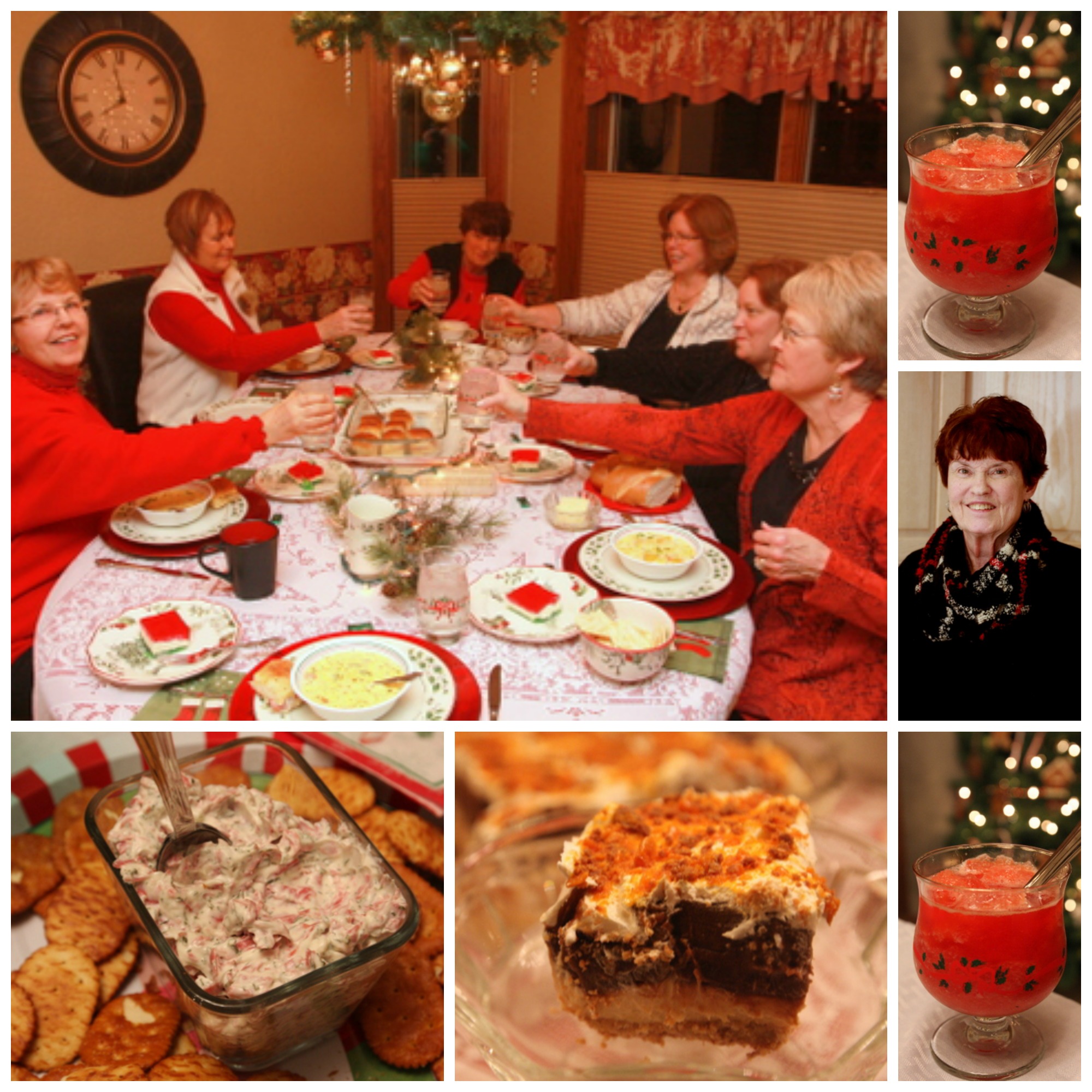 While one of Lake City's oldest clubs likely wouldn't have had any farm women for members when the group formed the 1890s, a farm wife (who is also my mom) is now the club's president and has belonged to the group longer than any other member.
"This was originally a very formal club where the ladies in town served white-tablecloth-style dinners and used their good china and silverware," said Jan Dougherty of Lake City, president, who joined the Shakespeare Club in 1972. "Now we're much more relaxed and just like to have fun."
Part of the fun involves cooking classes, preparing homemade treats for the "lunch" following the meeting and sharing recipes. The group has visited Sweet Things Bakery in Lake City and recently enjoyed a cooking class taught by Robin Qualy of Lake City, who runs La Casa Cuisine and teaches people how to make homemade pasta and more.
"I like the camaraderie and enjoy getting to know people better through Shakespeare Club," said Pam Feld of Lake City, who joined the group a few years ago.
Organized in 1894, the Shakespeare Club holds the honor of being the second oldest club in Lake City. It was organized by four young women interested in their social and intellectual advancement. Programs were arranged to study the lives and works of famous authors, although the greater part of each year was devoted to the works of Shakespeare. Later, the programs were diversified to include the study of music and the arts, as well as the cultures of Europe and South America.
During World War 1, Shakespeare Club members held benefit teas and auctions to raise money for the Red Cross. In the 1920s, a three-day celebration was held to commemorate the club's silver anniversary. Parties, picnics, and a presentation of a picture to the library were part of the festivities. "The Shakespeare Club is famous for doing things right," quoted the Lake City Graphic newspaper in 1923.
Through the years, club members have been instrumental in supporting the progress of schools and the local library, as well as civic improvements. As it has for years, the group continues to meet in members' homes, and each meeting includes a program or special activity and ends with a luncheon.
"I like meeting in people's homes," said Pat Albright of Lake City. "It's a comfortable feeling where we can be ourselves and enjoy each other's company."
This also appeals to Jan McClue, who hosted the group's 2016 Christmas party at her home near Lanesboro. "I like that we're a group for fun, and I enjoy the interesting outings we go on around the area."
One of the group's favorite destinations is Studio Fusion in Fort Dodge, where members design their own glass picture frames, dishes, jewelry and more.  No matter where they meet, however, snacks and homemade treats are always on the agenda. "Good food has always been part of Shakespeare Club, and I think it's neat the club has lasted all these years," Dougherty said. "Our motto could be, 'We don't meet if we don't eat.'"
Healthy Tortellini Corn Chowder
Smoky bacon combines with tender cheese tortellini for a creamy and comforting take on the usual corn chowder, which is one of my favorite soup recipes. I served it at the Shakespeare Club's 2016 Christmas party at Jan McClue's home near Lanesboro. 
5 slices bacon
1 large onion, chopped
2 ribs celery, chopped
1 cup red, orange, yellow peppers, diced
2 cups fresh, canned or frozen corn kernels (about one and a half cans of canned corn)
2 cups chicken broth
1 cup sliced carrots
⅓ c unbleached or all-purpose flour or Wondra flour
3 cups 1% milk
⅓ cup chopped fresh basil, or 1 teaspoon dried basil
½ teaspoon salt
¼ teaspoon fresh ground pepper
8 ounces low-fat fresh or frozen cheese tortellini, cooked and drained
1 cup frozen green beans
1 to 2 cups diced ham, optional
Set a Dutch oven over medium heat. Add the bacon. Cook for 1 minute, or until it releases some of its moisture. Add the onion, celery, and bell peppers. Cook for 5 minutes, or until the vegetables are soft. Add the corn, broth and carrots. Bring to a boil over high heat. Reduce the heat to medium. Simmer for 15 minutes.
Place the flour in a medium bowl. Gradually add the milk, whisking until smooth. Pour mixture into the Dutch oven. Stir until well-blended. Add the basil, salt and pepper. Cook, stirring occasionally, for 3 minutes, or until the soup thickens. Add the tortellini, green beans and ham, if desired. Cook for 2 minutes, or until heated through.
Beef Dill Dip
This tasty dip from Jan McClue is simple to make and can be served with bagel wedges or crackers. 
1 16-ounce carton sour cream
2 tablespoons parsley
2 teaspoons Accent seasoning
2 packages dried beef, chopped
1 1 / 2 cup Miracle Whip
2 teaspoons dill weed
1 medium onion, finely chopped
Mix all ingredients together. Serve with crackers or bagel wedges.
Cheesy Artichoke Dip
This three-ingredient appetizer from Jan Dougherty of Lake City takes only minutes to make.
1 package cream cheese
1 can artichoke hearts, drained
2 cups shredded mozzarella cheese
Combine all ingredients. Bake at 350 degrees, or until top of the dip lightly browns.
Celebration Slush
This simple slush from Jan McClue, a Shakespeare Club member who lives on a farm near Lanesboro, makes any party more festive.
12 ounces frozen lemonade
12 ounces frozen limeade
1 1 /2 quarts cranberry-apple juice
1 / 2 cup granulated sugar
2 cups strawberry schnapps
2 cups water
Combine all ingredients and freeze in a plastic container, like an ice cream bucket. To serve, add a splash of lemon-lime soda pop, raspberry vodka or strawberry daiquiri.
Taco Soup
This flavorful soup from Marie Schwarm of Lake City is sure to please on a cold winter day.
1 pound of ground beef (cooked and drained)
1 can of corn 1 can great northern beans
1 can black beans
1 can red beans
1 medium size can of diced tomatoes
1 packet of Hidden Valley dressing mix
1 packet of taco seasoning
1 cup of water
Tortilla chips
Sour cream
Shredded cheese
Combine all ingredients in crockpot (do not drain the beans) except tortilla chips, sour cream and cheese.  Cook on low for 6 to 8 hours. Serve with chips, sour cream and cheese. To spice up the soup, add a small can of diced green peppers.
Chili Bean Salad
This fresh, healthy recipe comes from Sharon Richardson of Lake City.
1 15-ounce can chili beans, heated Chopped tomatoes
Fresh spinach or lettuce, chopped
Corn chips
Make a bed of fresh spinach or chopped lettuce on plate. Top with chopped tomatoes and chili beans that have been heated. Top with crushed corn chips.
Peanut Butter Dessert
This creamy, sweet Peanut Butter Dessert from Shakespeare Club member Pam Feld of Lake City offers an enticing ending for any meal. 
For the crust:
1 cup finely-chopped cashews
1 cup all-purpose flour
1 / 2 cup butter
Cream cashews, flour and butter together. Press mixture into baking pan. Bake at 350 degrees for 25 to 28 minutes.
First layer of filling:
8 ounces cream cheese
1 / 3 cup creamy peanut butter
1 cup powdered sugar
1 cup whipped cream topping
Combine cream cheese, peanut butter, powdered sugar and whipped cream topping. Spread over cooled crust.
Second layer of filling:
2 2 / 3 cups milk
1 package chocolate instant pudding
1 package vanilla instant pudding
Combine milk and the two pudding mixes. Chill in refrigerator. When set, layer mixture on top of peanut butter layer.
Top dessert with whipped cream topping and pieces of chopped candy bars. Butterfinger and Heath work well.
Savor more Iowa food history
Want more great recipes and Iowa food stories? Check out my top-selling "Culinary History of Iowa" book from The History Press, and order your signed copy today. 
P.S. Thanks for joining me. I'm glad you're here. 
@Copyright 2017 Darcy Maulsby & Co.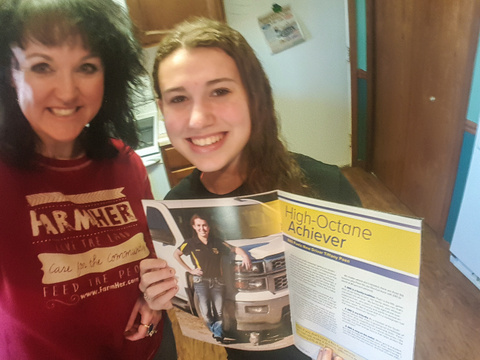 Most of us can vividly remember getting our driver's license and our first car—our first taste of independence and grown-up responsibility. Fuzzier, however, is our first solo trip to fill up at the pump and the likely confusing choice we made purchasing gas. Not for Tiffany Poen, a new driver (and my awesome neighbor!) who is deliberate with her fuel choice.
Ethanol fuels her new adventure and, just like the truck she inherited from her grandfather, the choice was a matter of passing down a family tradition.
"I really looked forward to getting my license and inheriting my grandpa Bob's truck," said Poen, 17, a high school junior from Lake City, Iowa. "This truck is special because my grandma Betty used to ride in it before she passed away in 2013 from complications of cancer."
Family is important to Poen, who credits her grandfather, mom, and dad for teaching her to drive on the gravel roads near her family's farm. After completing a driver's education course, Poen was excited to receive her official driver's license, which has opened up a new world of possibilities.
"I can go where I want," said Poen, a high school basketball cheerleader and dancer who drives to practices at the local dance studio and joins friends at the community-owned movie theater where she volunteers.
No matter where she's headed, there are three big reasons why Poen fills her flex-fuel truck with E85 (a blend of 85 percent ethanol):
1. E85 is a family tradition. Poen is the fifth generation of her family to farm. Her family raises corn that's converted into ethanol. "My family only uses ethanol," explained Poen, who plans to study agricultural business at Iowa State University and wants to pursue an ag sales career. "We're proud that it's a homegrown fuel that supports America's farmers."
2. E85 is eco-friendly. As a member of the South Central Calhoun FFA, Poen is growing her knowledge of agriculture while expanding her leadership skills. "Farming is focused on preserving our natural resources. I like how E85 is a clean energy source that helps protect the environment."
3. E85 is easy on the wallet. When you're a student, you have to make your money count. Poen appreciates how E85 and other ethanol blends are budget-friendly. "I want to make the best choices, and that includes E85."
It was so much fun to interview Tiffany for this article, which appeared in the Winter 2017 issue of American Ethanol magazine, which is distributed nationwide. As you can see, even one of the Poen's kittens got in on the act!
P.S. Thanks for joining me. I'm glad you're here. 
@Copyright 2017 Darcy Maulsby & Co.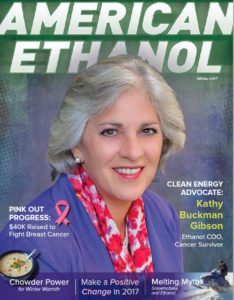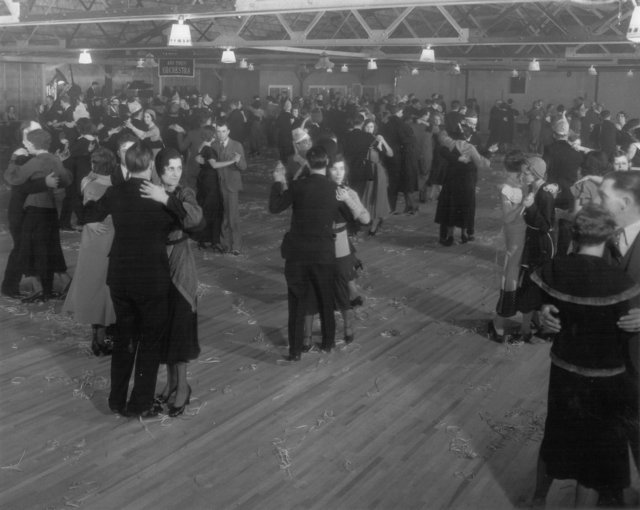 There was a time when THE hottest place to be for New Year's Eve was at one of Iowa's ballrooms, which could be found across the state in cities, small towns and even in the country. While most of these iconic places are gone, Lake Robbins south of Woodward carries on a proud Dallas County tradition since 1931.
Here's a glimpse of what makes Lake Robbins such a remarkable piece of Iowa history (photos courtesy Lake Robbins Ballroom):
Ringing in the New Year. The legendary Lake Robbins Ballroom opened Nov. 11, 1931, and soon became one of the hottest entertainment venues in Dallas County. With its 10,000-square-foot white oak dance floor (which is still in place), spacious interior and music from popular dance bands of the day, the ballroom became a destination. The photo at the top of this blog post which shows people dancing was likely taken on New Year's Eve, circa 1933. Notice what appears to be confetti on the dance floor.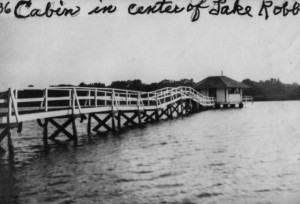 The beginnings of Lake Robbins. Located southwest of Woodward, Lake Robbins started as a natural pond. In the 1920s, Riley Robbins and his son, Mervin, built a man-made lake dredged out by teams of horses. Robbins built an eight-sided cabin with a boardwalk to the edge of the area that would become the famous Lake Robbins Ballroom. A drought in 1936 decimated the lake, which was not rebuilt.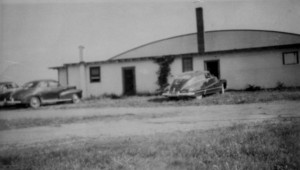 One of Iowa's last ballrooms. Lake Robbins has always been in the country, and there's only one way to get there—an unpaved country road. While the ballroom has always had a simple exterior, the magic occurs inside. Through the years, countless married couples first met at Lake Robbins. While many Iowa towns used to have ballrooms, Lake Robbins is one of the few that remains.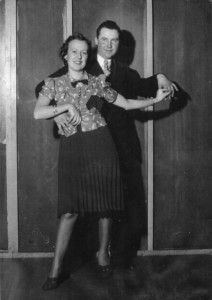 Soon-to-be-married dance champions. While they were not yet married when this photo was taken in 1938, Jacob Cushing of Adel and his future bride, Florence, won a dance contest at Lake Robbins Ballroom. The event was sponsored by Chaplin Gas & Oil. This photo was taken by Edmondson Studio in Perry.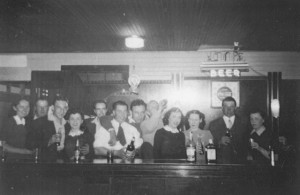 Celebrating the good times. Young people from Dallas County and beyond flocked to Lake Robbins Ballroom, which was one of the few places in the country that had electricity in the early 1930s. Some say future president Ronald "Dutch" Reagan patronized the ballroom when he was a broadcaster at WHO Radio in Des Moines. Lake Robbins was inducted into the Iowa Rock & Roll Music Association in 2007.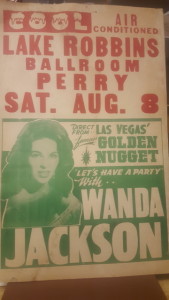 Let's have a party! While some Lake Robbins performers slipped into obscurity, others became stars. Herbie Kay's orchestra from Chicago that played opening night in 1931 featured 17-year-old vocalist Dorothy Lamour. In 1936, Lamour moved to Hollywood and made a series of successful comedies starring Bing Crosby and Bob Hope. Another Lake Robbins singer, Perry Como, had huge hits in the 1950s with "Magic Moments" and "Catch a Falling Star."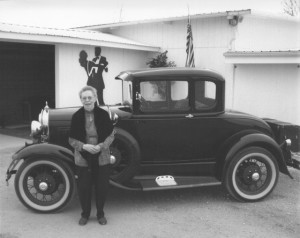 Kip Shannon's 80+-year career. While she didn't work on the opening night (Nov. 11, 1931), 23-year-old Coloma "Kip" Shannon stopped by the new Lake Robbins Balloom with her family. She got a job selling tickets there soon after and also handled practically every job at the ballroom during her career, which spanned nearly 80 years at Lake Robbins. Kip died at age 105 in 2014.
Today, owner Lyn Wilkinson carries on the Lake Robbins Ballroom Iowa legacy, caring for the beloved ballroom that she has owned since 1993. Stop by this remarkable venue for an evening of music, dancing and an unforgettable piece of Iowa history.
Want more Iowa culture and history? Lake Robbins Ballroom will be featured in my upcoming book, Dallas County, a pictorial history from Arcadia Publishing, which will be released in the summer of 2017. In the meantime, check out my top-selling "Calhoun County" book, which showcases the history of small-town and rural Iowa, as well as my "Culinary History of Iowa" book from The History Press. Order your signed copy today!
P.S. Thanks for joining me. I'm glad you're here. 
@Copyright 2017 Darcy Maulsby & Co.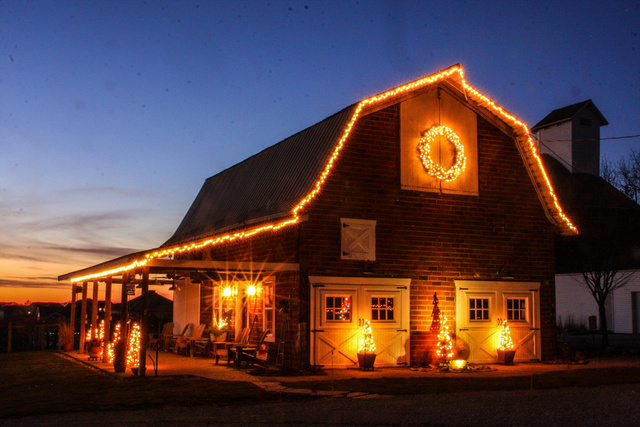 It started as a dairy barn in the 1920s on a farm north of Adel. By the mid-1990s, the farm was gone but the barn remained part of an acreage surrounded by new housing developments. In 2006, the barn became the hub of Penoach Winery and remains a big draw at this central Iowa destination.
"I like the fact that the barn is rustic and has lasted all these years," said Joanie Olson, who runs Penoach Winery with her husband, Stan. "Our customers also love the old barn."
The clay-tile barn was built on the H.B. Kinnick farm north of Adel to house dairy cattle. It was likely constructed with clay-tile blocks made in Adel. Olson recently met an 89-year-old gentleman from Arizona who is related to the Kinnick family and grew up on the farm.
"His father lost the farm during the Great Depression of the 1930s," Olson said. "This man recalled sitting on the back porch and crying during the farm auction."
In 1960, Olson's parents, Paul and Mildred Hufferd, purchased the 240-acre farm, where they raised crops, cattle and hogs. Olson moved back to her family's farm around 1980-81 with her husband, Stan, who had grown up on a farm near Lake Mills. The couple farmed for about 15 years. "My dad raised pigs in the barn, and then Stan did, too," Olson said.
Although Stan began selling insurance after he quit farming, he never lost his passion for agriculture. "Stan missed growing things, so he planted 50 grape plants in 1999," Olson said. In 2000, the Olsons started a grape nursery to supply grape vines to wineries that were taking root across Iowa.
Within a few years, the Olsons decided to start their own vineyard and winery. Penoach Winery, which reflects Adel's original name, opened in 2006. Today, the operation includes 4 acres of grapes behind the barn, not far from areas once covered by cornfields and a hog lot.
"The barn was in pretty good shape when we started remodeling it for the winery," Olson said. "We worked from top to bottom, starting with cleaning out the hay and pressure washing the barn."
The transformation also included new floors, electrical wiring, plumbing, windows, doors and a covered patio on the south side of the barn. "Stan did most of the work," Olson added.
While couple installed their wine-making equipment in the back of the barn, the space wasn't quite large enough. About four years ago, the couple moved this equipment to a nearby shed and transformed the back room of the barn into a gathering space, complete with comfortable chairs. In the adjoining room, guests can browse the gift shop, which showcases 18 varieties of wine made at Penoach Winery.
"We enjoy meeting lots of people who visit our winery," Olson said. "We're glad we can share our barn with them."
Want more Iowa culture and history? The barn at Penoach Winery will be featured in my upcoming book, Dallas County, a pictorial history from Arcadia Publishing, which will be released in the summer of 2017. In the meantime, check out my top-selling "Calhoun County" book, which showcases the history of small-town and rural Iowa, as well as my "Culinary History of Iowa" book from The History Press. Order your signed copy today!
P.S. Thanks for joining me. I'm glad you're here. 
@Copyright 2017 Darcy Maulsby & Co.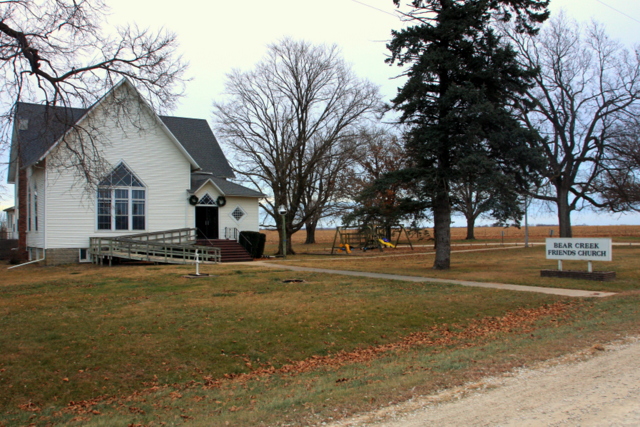 Imagine you're a fugitive slave on the run in 1850s Iowa. You've managed to escape from Missouri and have made it all the way to Dallas County, but your owner and bounty hunters are close behind. If youor the people who are helping you escape on the Underground Railroad—get caught, the consequences are terrifying.
This really happened near the Quaker Divide northeast of Dexter, Iowa, around 160 years ago. It occurred after the federal Fugitive Slave Act of 1850 made it easier for southern slave owners to recovery their property and levied harsher punishments for anyone interfering in the capture of runaway slaves.
I'm going to include the story in my upcoming "Dallas County" book from Arcadia Publishing, which will be released in the summer of 2017. This will be my third book that helps bring Iowa history to life, along with Calhoun County and A Culinary History of Iowa.
Here's a first-person look into the Underground Railroad in Iowa, as told by those who lived it. This excerpt comes from the "History of the Quaker Divide" by Darius B. Cook, published by the Dexter Sentinel, Dexter, Iowa, 1914. The story of the Underground Railroad documented here was written by Harmon Cook, who shared his personal experiences as one of its conductors:
Running away to freedom
In the days before the Civil War, Dallas County was on the frontier. Slavery was recognized as a product of Missouri. Iowa being a free state naturally proved a highway for the Underground Railroad. John Brown came through the area. The route started from Tabor in Fremont County and crossed diagonally Adair County, striking Summit Grove, where Stuart is now located.
"From there, one line went east down Quaker Divide, and the other crossed the Raccoon River near Redfield, then through Adel. Both lines came together at Des Moines, on to Grinnell to Muscatine and up to Canada. Many times I have seen colored men and women crossing the prairie…slaves running away to freedom.
In the winter of 1859-60, I was going to school to Darius Bowles, and one Friday evening I was told if I wanted to go to Bear Creek, I would not have to walk, if I wanted to drive a carriage and return it Monday morning. I drove the carriage, and in it were two young colored women. They were sisters and from the west border of Missouri. Their master was their father, and they had both been reared in the family.
War was apparent, and their master decided to sell them "down south." They heard the plotting, and found out that they were to go on the auction block, and made a run for the North Star. They had been on the road seven weeks when they arrived at A.W.L's at Summit Grove. Before daylight Saturday morning, they were housed at Uncle Martin's.
You won't find any slaves here
One Monday afternoon, one of the sisters, Maggie, who had been out in the yard came running in and told grandmother, "Master is coming up the road!" Grandfather went out in the front and sat down in his chair against the side of the door.
By this time, a number of men had ridden up and asked him if he had seen any slaves around. He told them slaves were not known in Iowa.
Then one of them said, "I am told that you are an old Quaker and have been suspected of harboring black folks as they run away to Canada. I have traced two girls across the country, and have reasons to believe they have been here."
Grandfather said, "I never turn anyone away who wants lodging, but I keep no slaves."
"Then I'll come in and see," said the man, who jumped off his horse and started for the house. Grandfather stood up with his cane in his hand and stepped into the door when the man attempted to enter. Grandfather said, "Has thee a warrant to search my house?"
"No, I have not," replied the man.
"Then thee cannot do so," Grandfather said.
"But I will show you," said the man. "I will search for my girls."
While this parley was going on, and loud words were coming thick and fast, Grandmother came up and said, "Father, if the man wants to look through the house, let him do so. Thee ought to know he won't find any slaves here."
Grandfather turned and started at her a minute, then turning to the men, said, "I ask thy forgiveness for speaking so harshly. Thee can go through the house, if Mother says so."
Grandfather showed him through all the rooms but stayed close to him all the time. After satisfying himself that they were not there, he begged the old man's forgiveness, mounted his horse and rode away.
When the coast was clear, it was found that when Maggie and rushed in and said, "Master is coming," Grandmother hastily snatched off the large feather bed, telling both the girls to get in and lie perfectly still. She took the feather bed, spread it all over them, put on the covers and pillows, patted out the wrinkles—and so—no slaves were seen.
Almost caught
One time a big load was being taken down the south side of the Coon River and had reached the timber on the bluffs near Des Moines. About 3 o'clock in the morning as the carriage was leisurely going along, the sound of distant hoofbeats were heard coming behind. At first it was thought the carriage could outrun its pursuers, but prudence forbade.
A narrow road at one side was hastily followed a few rods, and the carriage stopped. The horseman passed on, swearing eternal vengeance on the whole "caboodle," if captured. When sounds were lost in the distance, a dash was made for the depot in Des Moines, and all safely landed before daylight.
John Brown came to Dallas County
One evening some months after I was returning from Adel on horseback and when opposite Mr. Murry's farm east of Redfield when I saw Old Man Murry and a stranger back of the barn. I was met by an old man, rather stoop-shouldered and of stern aspect. "Mr. Murry said, "Here's the youngster who came so near getting caught going to Des Moines." The stern man with shaggy eyebrows almost in my face said, "Young man, when you are out on the Lord's business, you must be more discreet. You must always listen backwards, as you are always followed. I'm responsible for that track of the Underground Railroad, and I want my conductors to be more careful in the future, as things are coming to a head, and somebody is going to get hurt."
I was dismissed with this admonition: "Young man, never do so rash a thing again as to talk and laugh out loud on the way." A few months later, when Harper's Ferry was known to fame, I remembered John Brown as the old man at Murry's.
Editor's note: In 1859, John Brown led a small group of men who plotted to overthrow the institution of slavery by violent means, starting with a raid on the U.S. arsenal at Harper's Ferry, West Virginia. Brown intended to incite a slave insurrection. Although he was suppressed by federal forces, Brown became a martyr in the eyes of the Abolitionist movement. Brown's unsuccessful raid, along with the election of Abraham Lincoln in 1860, led Southern states to believe that they could never survive under an anti-slavery president. South Carolina led the Southern states in secession from the Union in December 1860, followed by Alabama, Mississippi, Georgia, Florida, Louisiana and Texas.
Reconnecting with a fugitive slave
Harmon Cook continued with his memories of the Underground Railroad in Dallas County:
When I enlisted in Company C, 46th Iowa Infantry, and arrived at Memphis, Tennessee, in 1864, I first saw a regiment of colored soldiers. They were in camp and the first opportunity I was over to see how they looked as soldiers. One of the camp scenes was some of the soldiers conducting a school to teach these poor people their ABCs.
Chaplain Ham and I had gone together, and the teacher, who was the lieutenant colonel, asked us to speak to the colored school. When I had spoken, a strapping fellow in blue uniform came rushing up to me, shouting, "I know you! You belong to the Quaker Divide in Iowa. You drove me one night when we were trying to get into town and were followed by our masters, and you drove off into the woods and we got out and hid."
It was Henry who had been one of the party in that wild midnight ride. He never got to Canada, but stopped in Wisconsin, and when the war came on he enlisted. He was lieutenant of the colored regiment and was a trusted scout for the general of our division."
Background notes on the Underground Railroad in Dallas County
The Bear Creek Settlement, also known as the "Quaker divide" in southern Dallas County north of Dexter, is located between the South Raccoon River on the north and Bear Creek on the south.
In the early 1850s this area was open prairie without a single settler. But a Quaker family (including Richard Mendenhall and his wife, Elizabeth) from Marion County, Indiana, settled in Dallas County in 1853 in Union Township in what would become the Quaker Divide.
While the Quakers were among the most prominent slave traders during the early days of America, paradoxically, they were also among the first religious denominations to protest slavery. While not all Quakers participated in the organized anti-slavery movement, many did—including many in Iowa.
Traces of the Underground Railroad remain in Iowa—see for yourself
There are remarkable places across Iowa where you can see the few remaining stops on the Underground Railroad that are still standing and open to the public. I've toured many of these remarkable sites, and they are well worth a road trip. Click here to get more details on the Hitchcock House in Lewis, the Jordan House in West Des Moines and the Lewelling House in Salem and more. I encourage you to visit these Underground Railroad sites and reconnect with this powerful chapter of Iowa history.
Want more Iowa culture and history? Check out my top-selling "Calhoun County" book, which showcases the history of small-town and rural Iowa, as well as my "Culinary History of Iowa" book from The History Press. Order your signed copy today!
P.S. Thanks for joining me. I'm glad you're here. 
@Copyright 2017 Darcy Maulsby & Co.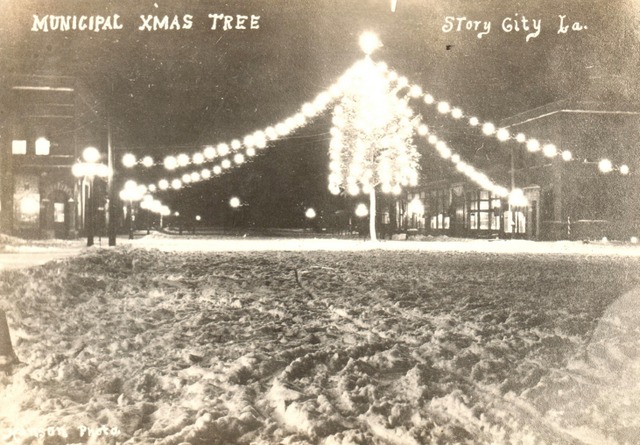 For a select group of small Iowa towns, it just wouldn't be Christmas without a lighted tree downtown—right in the middle in the street. In Story City, the community has celebrated this beloved holiday custom for more than 100 years.
"I'm not surprised this tradition has lasted all these years," said Kate Feil, director of the Story City Historical Society. "Keeping traditions alive are a big part of Story City, from the annual Scandinavian Days Festival to the municipal Christmas tree."
This year's evergreen tree was donated by Ole and Jackie Skaar of Story City and was installed by the Municipal Electric Company at the corner of Broad Street and Pennsylvania Avenue. Hundreds of people attended the Yulefest tree lighting ceremony on the evening of Nov. 25. Excitement intensified during countdown from 10 to 1 before the lights were flipped on. Then the high school choir led the singing of Christmas carols, and guests could warm up with cups of hot chocolate. The Story City Fire Department hosted their annual chili supper following the tree lighting ceremony.
"Families plan their Thanksgiving gatherings each year so they can attend the tree lighting ceremony," said Abby Huff, executive director at Story City Greater Chamber Connection. "It's a tradition we hope to carry on for many more years to come."
Let there be light
In 1914, Story City became one of the first towns in Iowa to display a municipal Christmas tree with electric lights. While many Iowa communities had begun to offer electrical service in the late 1890s and early 1900s, electricity was still a novelty that held the power to fascinate, especially in rural areas.
At that time, electricity was out of reach for thousands of farm families, many of whom wouldn't receive electrical service until the federal Rural Electrification Act of 1936 brought power to rural America in the late 1930s and into the 1940s.
When Story City harvested its first municipal Christmas tree in town in 1914, local citizens decorated the tree with large, multi-colored lights. The lighting of the tree became a memorable event for a town that had not fully integrated electricity into all homes. A man who was visiting Story City during the Christmas season in 1914 described the tree as "the biggest stunt the town ever pulled off."
Other communities took note. After Story City celebrated its first lighted Christmas tree, the event attracted newspaper coverage across the Midwest, and the concept of municipal Christmas trees started gaining popularity in small towns across Iowa and beyond.
Story City's municipal Christmas tree has even reflected noteworthy moments in American history. No municipal Christmas trees were displayed in Story during World War 2 from 1942 to 1944, Feil said. Also, there was no tree in 1973, and no street ornaments were lit that year, due to the nation's energy crisis.
Nothing caused more consternation, however, than a decision in 1948 to place a decorative Santa and sleigh with four horses from the town's iconic carousel at intersection of Broad Street and Pennsylvania Avenue instead of a tree. It didn't go over well, Feil said. "People like the tree."
Today, many community members, including Mayor Mike Jensen, have helped make sure Story City has a municipal Christmas tree each year. Since it can be a little difficult to find trees that are right for the municipal tree, community leaders have begun planting evergreens near the soccer fields in the northwest part of Story City, said Huff, who noted that Story City is a member of Trees Forever. These trees will help ensure this beloved tradition lives on.
"From the first tree in 1914 to our current tree, I love the feeling of community our municipal Christmas tree continues to bring each year," Feil said.
Christmas tree helps define Exira
On the other side of the state in Exira, population 840, local residents also cherish the tradition of a municipal Christmas tree that stands tall in an intersection downtown near the town square.
"We've had a tree each Christmas for many years," said Lexi Christensen, Exira's city clerk. "A lot of people compliment us on this tradition."
This year's tree, which was donated by Lana Wiges of Hamlin, was set up the Saturday after Thanksgiving. The tree was officially lit when Santa Claus came to town during the first weekend in December. Has anyone ever crashed into the holiday icon? "Fortunately not," Christensen said.
As part of the tree lighting celebration, guests enjoyed soup and homemade treats at the local recreation center, while the Exira Community Club collected food and toys to donate to local families in need. "The Christmas tree is unique feature of Exira," said Christensen, who added that Exira is also known for its 4th of July celebration. "It's a proud tradition we want to keep around for years to come."
Remsen revives Christmas tree tradition
Municipal Christmas trees used to be a much more common sight in small Iowa towns, but the tradition faded away in many communities due to the work involved, declining populations and other factors. To Tammy Maaff-Portz, it was a tradition worth reviving in her hometown of Remsen, population 1,663.
"I'd say the tradition had died out by the mid-1960s, but a group of us wanted to bring back an old-fashioned Christmas with a tree in the middle of the road. We made it happen in 2003 and have been carrying on this tradition ever since."
This year's municipal Christmas tree stands about 30 feet tall on Main Street and is covered with an array of oversized green and red ornaments and approximately 3,000 lights, including a lighted star on top. The massive tree sits in a permanent hole dug into the street downtown and is held in place with a support system designed for this purpose. The hole in the street is covered with a steel plate the rest of the year.
The lighting of the municipal Christmas tree, which took place the first Monday evening in December, started with a blessing of the tree by local religious leaders. Then Santa arrived on a vintage fire truck and lit the tree before heading to the Remsen Heritage Museum, where children could share their wish list with him and receive a candy cane.
Remsen's businesses stayed open that evening until about 8 p.m. Carolers walked from shop to shop, singing songs of the season, while visitors enjoyed horse-drawn wagon rides as sleigh bells rang throughout Main Street. Children took advantage of Kids' Korner, where they could shop for gifts for their family and either wrap the presents themselves or get a little help from the business owners.
"Living windows" in local stores have also become a popular part of the celebration. This year, members of the St. Mary's boys' basketball team were at Schorg's Custom Cabinetry, where visitors could visit with them while decorating their own Christmas cookies.
"All these events are free and open to the public," said Maaff-Portz, who owns Furnishings on Second At Muller's. "People of all ages love it."
Remsen's municipal Christmas tree stays lit all through the night, every night, until the tree is taken down during the first few weeks of January. Maaff-Portz is already looking forward to a gala event in a few years to celebrate the 15th anniversary of the municipal Christmas tree's triumphant return to Remsen. "It's definitely a community effort. We want to make this a family and community tradition as long as we can."
Christmas Trees Thrive in Iowa
The modern Christmas tree is believed to have originated in Germany in the 16th century. Here are some other Christmas tree facts from the Iowa Department of Agriculture and Land Stewardship:
Iowa has more than 100 Christmas tree farms in all parts of the state.
These farms devote more than 1,500 acres to Christmas tree production in Iowa and harvest approximately 39,500 Christmas trees each year.
It takes 6 to 12 years to grow a Christmas tree before it is ready to be sold.
Christmas tree farms in Iowa are part of a $1 million industry that contribute to the state's economy.
*This article first appeared in Farm News, December 2016 
Want more Iowa culture and history? Check out my top-selling "Calhoun County" book, which showcases the history of small-town and rural Iowa, as well as my "Culinary History of Iowa" book from The History Press. Order your signed copy today!
P.S. Thanks for joining me. I'm glad you're here. 
@Copyright 2016 Darcy Maulsby & Co.